Tayshia Adams Sparks Debate with her Recent Instagram Post
Tayshia Adams recently sparked quite a debate on Instagram. Fans of The Bachelorette have a lot to say about her choice of photo.
Tayshia Adams has never been more popular. Ever since the news broke that she would be replacing Clare Crawley as the next lead of the popular reality TV show, The Bachelorette, her name has been all over the news. Adams has also seen increased her popularity on social media. On Instagram alone, the California native boasts over 857,000 followers. And, fans can expect that number to grow once her season of The Bachelorette airs.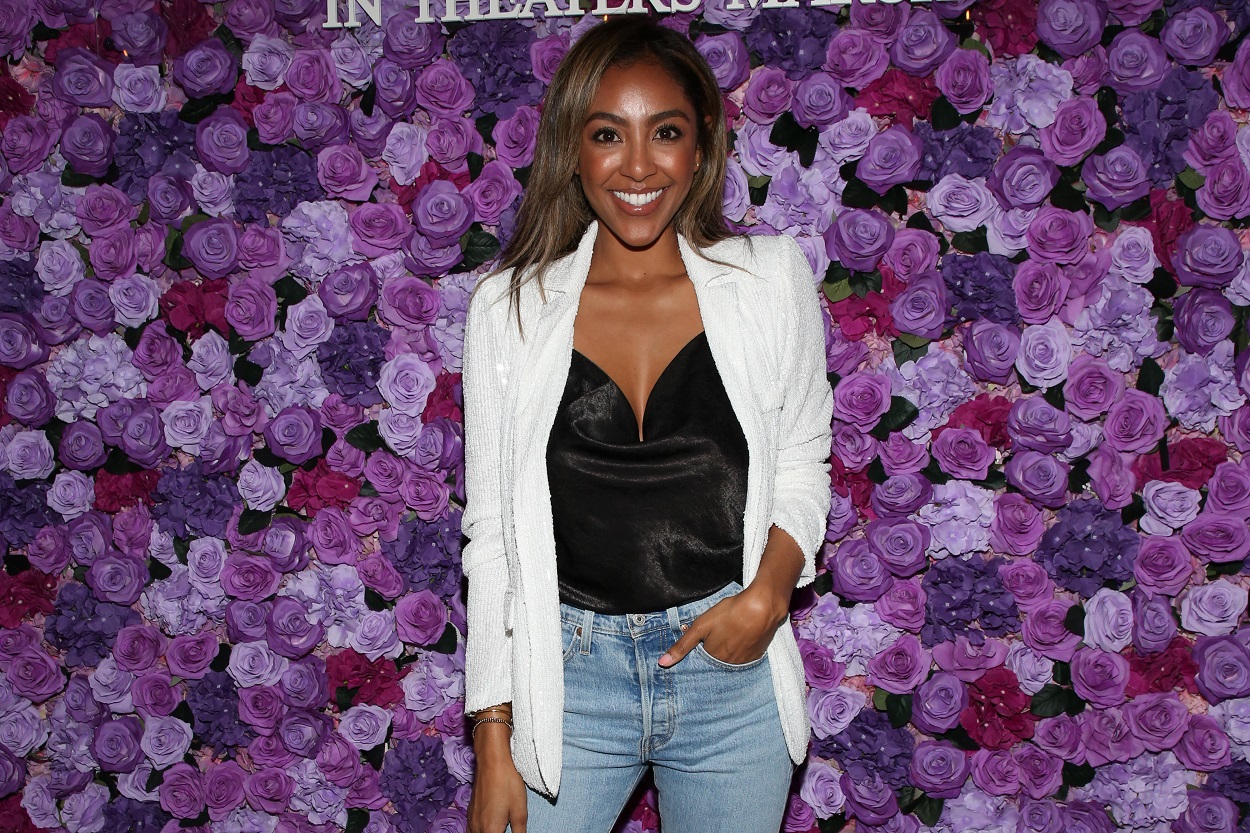 Of course, with increased popularity comes increased scrutiny. Now, more than ever, people have more opinions about every choice that Adams makes. In fact, a recent Instagram post that The Bachelor alum created, which honored the late Ruth Bader Ginsburg, sparked a bit of controversy on the popular app.
Tayshia Adams sparks controversy with a recent Instagram post
On September 20, 2020, Adams took to her Instagram page a posted a selfie of herself to her page. With one hand in her hair, Adams smiles softly at the camera. The photo managed to receive over 60,000 like and upwards of 300 comments. Meanwhile, the caption paid respect to the late Supreme Court Justice.
"Thanking God for another opportunity to live to see another day," Adams captioned the selfie. "We lost a champion for women's rights yesterday, adding to the sadness of this already difficult year. But here's a reminder to keep your head up, smile and use any opportunity to turn things around! #RBG Rest In Peace & Power"
Fans of 'The Bachelorette' think posting a selfie was an inappropriate choice
While many people respected the sentiment of Adams' Instagram post and agreed that Ginsburg was worthy of a tribute, other people felt that the photo Adams selected was inappropriate. They felt that a "real tribute" should have featured a photo of RBG herself in lieu of the selfie that Adams posted. Thus they opted to express their disappointment.
"But who posts a tribute posts with a picture of themselves?" one person wrote to Adams, taking issue with her tribute. "I get it it's your Insta but take this moment to spread RBG so little girls see her and remember her as a powerful woman. It's only one post I'm sure your Instagram will survive it."
Critics think Adams should have posted a photo of Ruth Bader Ginsburg instead
"It's better if you post a photo of the real hero… JUST SAYING… you are being giving [sic] a wonderful opportunity and I hope you use it for good," another person wrote to Adams, citing the unique position she is in because of her ever-expanding popularity.
Others even cited the comments as reasoning that Adams should've chosen a photo of RBG rather than herself for the tribute. "The fact that most of these comments are about how great you look is the reason why a post in tribute to a legendary jurist does not need a selfie accompanying it," one person added.
Some fans jumped to Adams' defense
Of course, there were plenty of people who jumped to Adams' defense. They shared that it was Adams' Instagram page and she should feel free to post whatever she wanted to. Furthermore, they added that the choice of photo hardly took away from the overall sentiment of the post and commended Adams for speaking out about an important woman and her legacy.
"It's HER page and she can include a tribute to RBG and still convey HER message to remain positive, using HER picture," one fan shared. Clearly, people are split about Adams' choice of picture. But, at least she's using her platform to speak out about things that actually matter, which is more than what many of her Bachelor franchise peers are doing.