Tayshia Adams Reveals if She Looked up the Men of 'The Bachelorette' Before Doing the Show
Tayshia Adams got a late start on 'The Bachelorette'. She answers if she looked up the cast before going on the show.
Social media played an important part in this season of The Bachelorette. It was a big reason why the star walked away early. Tayshia Adams is now the new star, but did she also look up the men before filming?
Clare Crawley looked up Dale Moss before 'The Bachelorette'
The timing of Clare Crawley's season was odd given filming started then almost immediately stopped because of the pandemic. That meant Crawley was sent home and the cast of the season was already revealed.
One man did reach out to Crawley before the season. Crawley revealed that when the cast returned to film. But she also claimed she looked up Dale Moss before the season started and fell for him.
"I would look at all of the guys' social media pages just to see what kind of guys are coming on," Crawley explained to Harrison on the show. "Which kind of guys I'm gonna meet and I was excited for it. But when I would see Dale's it just was like he's somebody I can see hanging out with."
She revealed that he posted about his mother on Mother's Day and it was close to the anniversary of her death. Crawley said she could relate so much to him because she lost her father. She also found out his sister is in a care facility and she related to that because his mom is in the same situation.
Dale proposed to Crawley and they left the season early. Adams was then brought on to continue the season.
Tayshia Adams became the new bachelorette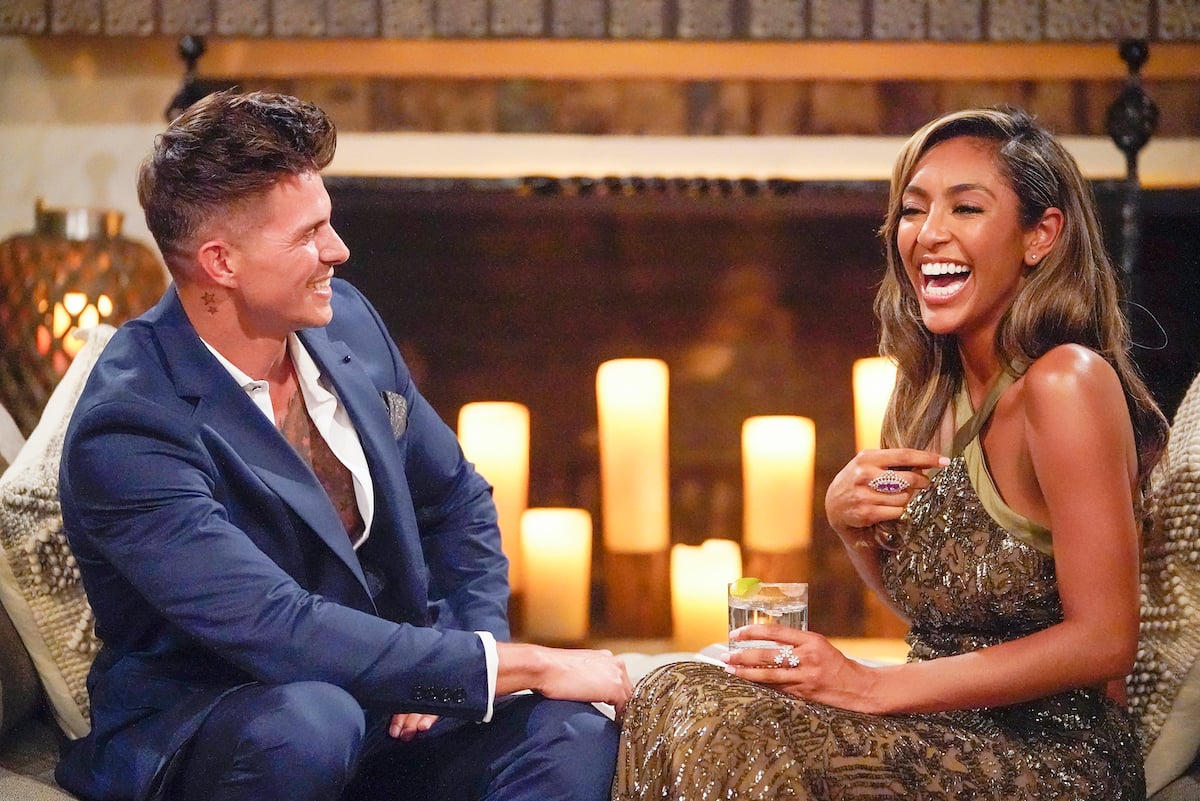 Week 4 ended with Adams talking to Chris Harrison about being the new star. She seemed ready to have some tough conversations with the men.
"I just know that this process moves very quickly and you start to invest a lot of feelings really early on," Adams told the host. "I don't know if that's the case for some of them. And if so, I'm more than happy to have that conversation with them, if they don't feel like it's the right time for them. Or if I'm not right for them."
Did she look up the men before doing the show?
Obviously having access to the men's profiles changed things for Crawley. Could the same thing happen with Adams?
"I looked at them when they were first released for Clare, so that was months ago," she told Entertainment Tonight. "Because of quarantine, everything got moved back. But I did not look them up after that, and I was really happy I didn't because I didn't really know what I was walking into. I had forgotten about everybody at that point."
There were more men that were added for Adams' part of the season. So there is even more mystery there.
"There's some new faces and it's going to get really juicy the second that happens," Adams said. "Just wait and see." This could mean fans will be able to watch Adams get to know the men in person and possibly find love.