Tayshia Adams Reveals Why She Was Ready for 'The Bachelor' After Her Divorce
[Spoiler alert: The Bachelorette Season 16.] In case you haven't heard, Bachelor Nation star Tayshia Adams is reportedly the new bachelorette after replacing Clare Crawley midway through the 16th season. The news broke in August. So naturally, fans are digging into everything they know about Adams while they wait for more intel about the sudden switch-up. Then recently, Adams opened up about her divorce from her ex-husband, Josh Bourelle, and how it impacted her journey on The Bachelor.
Who is Tayshia Adams from 'The Bachelor' franchise?
Adams was first introduced to Bachelor Nation through Colton Underwood's season. She made it to the top three. However, Underwood left the show for his final pick, Cassie Randolph. 
Nevertheless, Adams moved on to Bachelor in Paradise. She met John Paul Jones on the summer spinoff. The couple didn't get engaged in the finale. Then a few months after filming the reunion, Jones and Adams went their separate ways.
Meanwhile, Adams has always been open about her divorce on The Bachelor franchise. During Underwood's season, the 30-year-old opened up about her previous marriage for the first time. 
Adams revealed she got married to her first boyfriend, and they divorced a year and a half before filming The Bachelor. The reality star also shared that they were together for six years, and she had a difficult time letting go. 
"I guess I could kind of sense we weren't doing very well, and I think that's why I fought so hard to just try to do as much as I possibly could," Adams said, adding she thought she would only get married once. 
She later added, "It's the toughest thing I've gone through, and I think that's what's made me so strong and fearless."
Tayshia Adams opens up about her divorce before filming 'The Bachelor'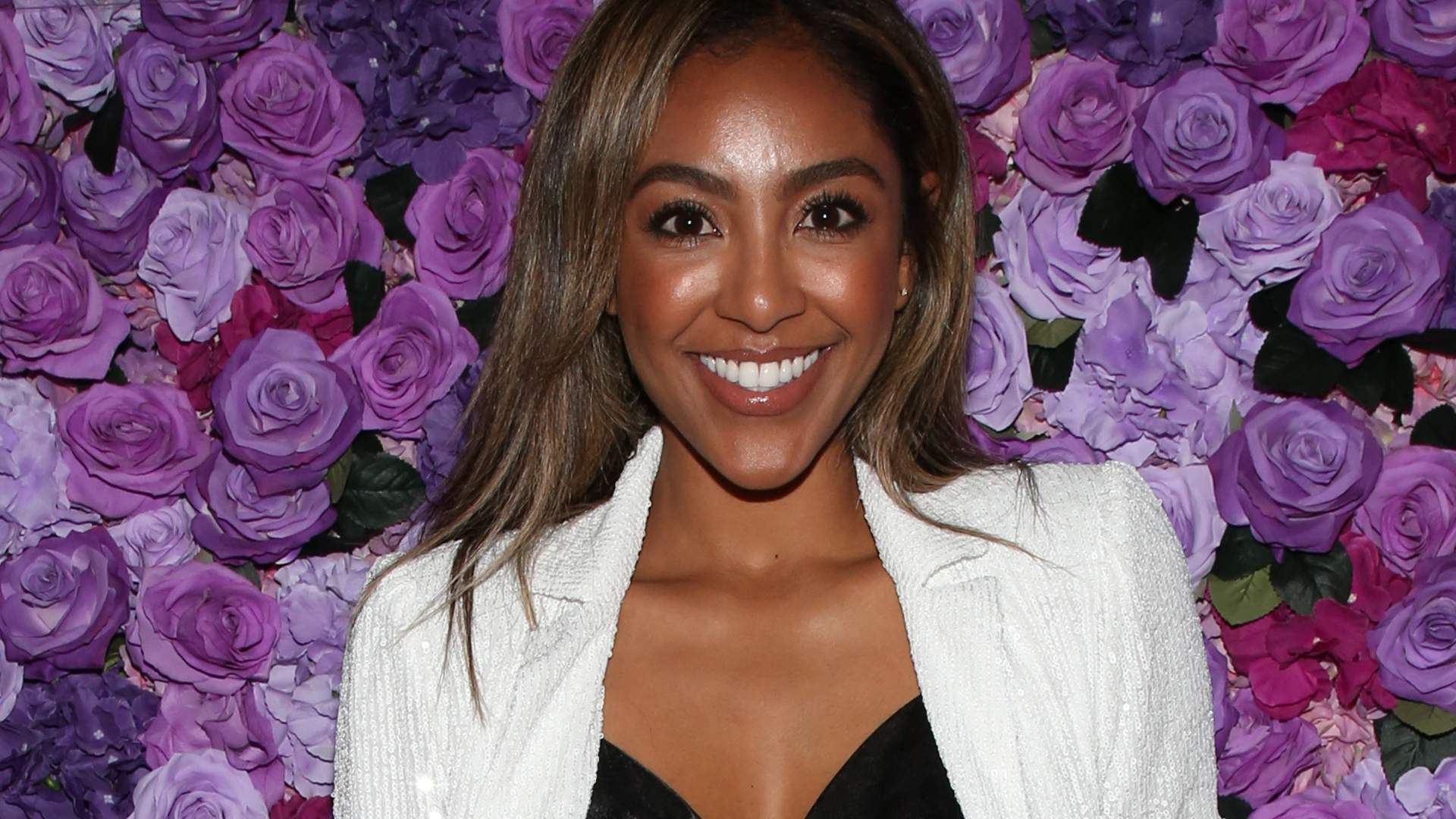 On the Click Bait podcast published on Oct. 22, Adams discussed Kristin Cavallari and Jay Cutler's divorce with co-hosts Joe Amabile and Hannah Ann Sluss. Then Adams revealed she split with Bourelle after two years of marriage. But the couple went through marriage counseling before separating.
"Just because you're mad or unhappy about something, doesn't mean you jump to divorce right away," Adams said. "My opinion is you try to work it out as and do much as you possibly can. See it through."
She later added, "I knew I needed to do absolutely everything in order to know that was the end of the road. In my mind, divorce isn't a thing. Marriage is forever. So I kicked and screamed and made sure that we did marriage counseling."
Adams also hinted how she knew the relationship was over. "You kind of walk through some things and you try as hard as you can. But you can't force someone to love you," she said. "So, if you do that for a couple of months, and it's still not working, you're trying to do everything you can and the other person's not … you have got to go your own separate way."
Then Amabile noted that people can truly move on once they've exhausted all the possibilities. Meanwhile, Adams agreed with her co-host and pointed out that's the reason why she was able to go on The Bachelor.
"That's why I was so happy and content to go look for love when I went on The Bachelor — because I knew I did everything," Adams said. "That was a chapter closed. It's a very different scenario when there's still open doors. People never knew the real story, and I was ready for it."
Tayshia Adams is reportedly the new bachelorette
Now, it seems Adams is ready to open a new chapter on The Bachelorette Season 16. As mentioned, the BIP alum is reportedly the next bachelorette after replacing Crawley. A source told E! News:
The producers have told her that the season will still lead with Clare and her short-lived journey, and will show Clare falling in love with one of her suitors. Clare will then conclude her journey and announce that Tayshia is the lead.
Of course, The Bachelorette team has yet to confirm the rumors. But when asked about Adams, host Chris Harrison revealed she was always in the running for the lead role.
"Tayshia is a very good friend of mine," Harrison told Entertainment Tonight in October. "I absolutely love and adore this woman, and I would love for her to have that opportunity to be the bachelorette, should that ever arise. She would be a great candidate. … She was on the top of our list from the start."
Check out Showbiz Cheat Sheet on Facebook!