'Ted Lasso': Creator Bill Lawrence Asked 1 Star of 'Scrubs' to Direct an Episode and Now He Is Nominated for an Emmy
Ted Lasso co-creator Bill Lawrence has had a long television career. Before collaborating with Jason Sudeikis, Brendan Hunt, and Joe Kelly on the soccer comedy, Lawrence's most famous work was on the hospital comedy Scrubs.
The 17-time-Emmy nominated show followed John 'J.D.' Dorian as he learned how to be a doctor. The role started Zach Braff's career. After the show ended in 2010, Braff and Lawrence remained close as they worked on other projects.
A decade later, Braff would go on to direct season 1 episode 2 of Ted Lasso. For his efforts, he is now nominated for an Emmy award.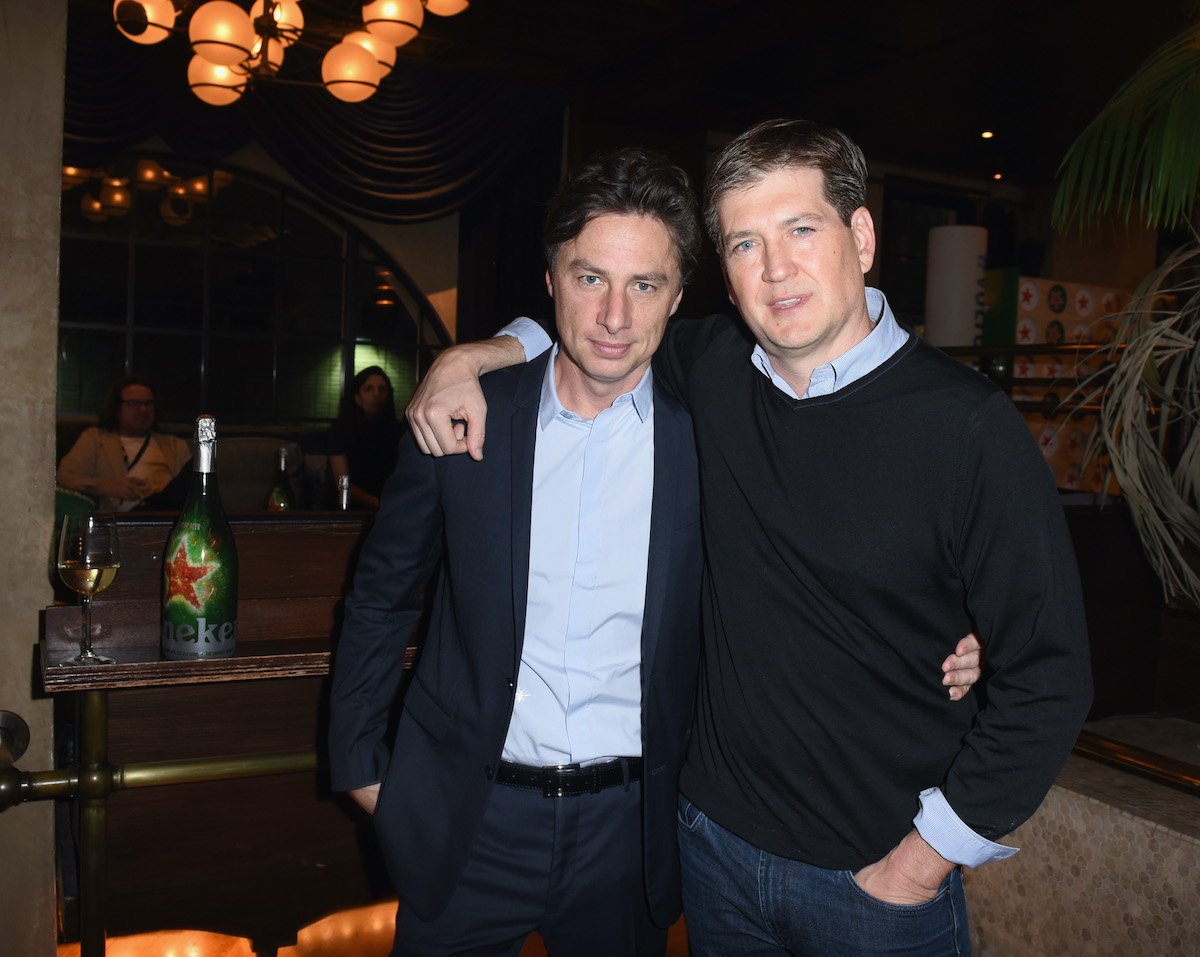 Directing wasn't new to Zach Braff
Before Braff was even cast in Scrubs, the actor went to film school. Early in the show's run, Lawrence gave Braff a chance to direct the Scrubs theme song, which included various characters from the show cut together to hang up an x-ray.
Eventually, Lawrence let him direct full episodes of the show. Braff would direct the hit independent film Garden State, which earned him a Grammy for best soundtrack.
In 2014, he would direct Wish I Was Here, which he followed with the Morgan Freeman, Michael Caine, and Alan Arkin vehicle Going in Style.
Zach Braff didn't get to choose which 'Ted Lasso' episode he would direct
Even though Braff took Lawrence up on his offer, he didn't have much control over which Ted Lasso episode he would direct. He told Awards Daily that "I didn't get to choose, but I'm so happy I did [the second episode]." He noted that he did tell Lawrence he wanted as early in the series as possible.
"I feel like in season 1 of a show, the earlier you are, the more you're actually helping contribute to the look and style of what the rest will be. So I wanted to do that, to be a part of establishing the look and the feel, and the tone. And the pilot was so wonderful, and then I was thrilled to see in my episode the way that Bill and Jason had written it. It also introduced the idea that the show would break your heart at times. It wasn't just going to be a straight comedy, which is something that I really love; it's my favorite style of art. So that was really special for me."
'Ted Lasso' is not Zach Braff's first Emmy nomination
On July 13, 2021, Braff was nominated for Outstanding Directing for a Comedy Series. The actor expressed his gratitude on Twitter, writing, "I'm so honored and happy about this!" He later tweeted his thanks to Bill Lawrence "for inviting [him] to the party."
This is not the first time Braff was nominated for an Emmy. In 2005, he was honored for his work on Scrubs. Though he did not win, his most recent nomination proves that working with Bill Lawrence has positive outcomes.
The 'Scrubs' star figured out how to shoot 'Ted Lasso's' signature soccer scenes
Fans of the show would notice that episode 1 of Ted Lasso didn't feature much soccer playing. Braff was tasked with figuring out how to shoot the fast-paced scenes without tearing up a professional soccer field.
"It was extra tricky because we weren't allowed to bring equipment on the field or the pitch, as they call it. So that was really tricky. Me and the cinematographer and the key grip—we had to figure out how to move fast, faster than someone with a steady cam could go. If there weren't these restrictions, we'd have electric golf-cart-like things that are tricked out to hold cameras, but we weren't allowed to put them on the field."
Braff, along with the rest of the production staff, came up with a tricycle-looking rig with giant rubber tires, which they put the camera on. "The key grip and another grip would put on cleats and it had a bar and they would literally sprint and pull it like a sled almost," Braff told Awards Daily. Like a giant tricycle. "The [stadium's] greenspeople were OK with that, so that allowed us to sprint as fast as we could and keep up with them and get really cool shots."
RELATED: 'Ted Lasso': How Jason Sudeikis 'Sold' Uber-Producer Bill Lawrence to Make His Character Into a TV Series