Tekashi 6ix9ine Explains Why He Snitched, Says He Doesn't Regret Gang Ties
Tekashi 6ix9ine is not moving quietly. Ever since his release from U.S. custody, he's been trolling his critics online, promoting new music, and doing things for attention.
These days, the "Trollz" rapper is flanked by a security entourage wherever he goes to discourage any would-be threats from taking their chances. 6ix9ine recently sat down for his first interview since his prison release and explained why he snitched.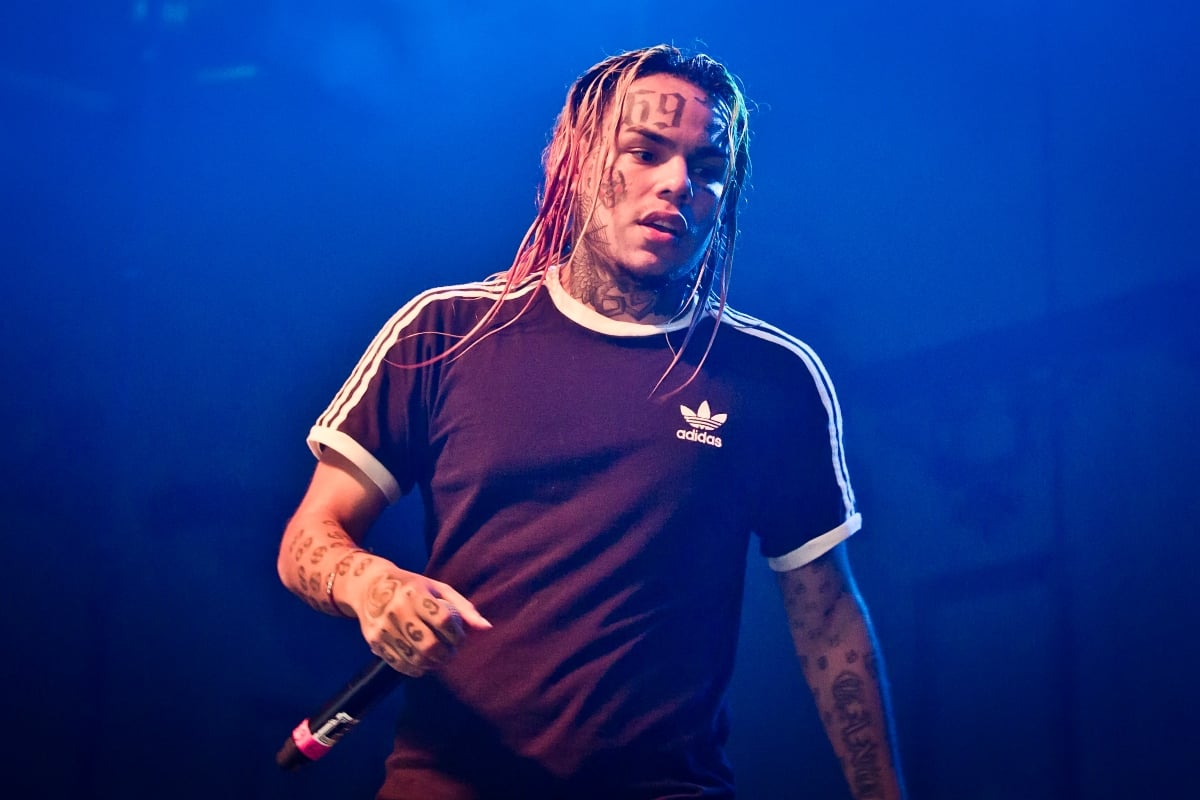 Why Tekashi69 testified against the Nine Trey gang
Branded a rat/snitch for his cooperation in a federal case, 6ix9ine is somewhat free now. In 2019, he testified against members of the Nine Trey Bloods gang and connected them to scores of crimes including robbery and racketeering. But how did he get there?
In a new interview with The New York Times, 6ix9ine stated that after he spoke out about being kidnapped, the feds and Nine Trey were watching him. That's when the tide turned.
"I know the feds are monitoring me, making sure no one comes to hurt me, but I don't know why at this point — I'm pretty scared. I'm tired," he said. "I'm ready to snitch now."
The rapper added that federal agents were worried something was going to happen to him so they arrested members of Nine Trey and brought him to their office to start talking.
Tekashi69 said he followed street code at first
Scour social media videos and you'll find instances of 6ix9ine saying he stopped being loyal to Nine Trey because they were disloyal to him first.
He alleged they kidnapped him, stole money from him, and threatened him. He also accused one of them — who was a close member of his inner circle — of sleeping with his girlfriend.
6ix9ine told The Times he didn't cooperate with the feds at first but later changed his mind. "I was following a street code that was upheld by me and that I thought was real. Before I broke the street code, how many times was it broken to me?"
6ix9ine questioned his cohorts' actions and loyalty (i.e. kidnapping, stealing from him) and decided what they did wasn't street code. He pointed out that people say snitching isn't street code and posed, "But street is taking advantage of one of your homies?"
The "GOOBA" rapper added that he had no worries about testifying because he wanted to tell his truth.
Tekashi has no regrets about falling in with Nine Trey crew
When 6ix9ine testified back in September 2019, multiple news outlets such as The Associated Press reported on it. He admitted he used the Nine Trey gang for street credibility in exchange for financial support. They also served as a form of protection for him.
He told The Times he does not regret his involvement with Nine Trey because he knew what they were about when he linked up with them. 6ix9ine said what he didn't expect was to be betrayed by people so close to him. However, he stated his career wouldn't have taken off without the gang affiliation.
He realizes he'll be looking over his shoulder for life, but he feels safe with his security team.