Why Thandiwe Newton Found It 'Sad' Working With Eddie Murphy on 'Norbit'
Eddie Murphy has spent his career putting smiles on people's faces. If he wasn't bringing the laughter through his stand-ups, he was bringing it with a string of successful comedy films. But that wasn't the case for Thandiwe Newton, who once found it sad working with the legendary comedian on Norbit.
Thandiwe Newton went through several breakdowns after starring in Crash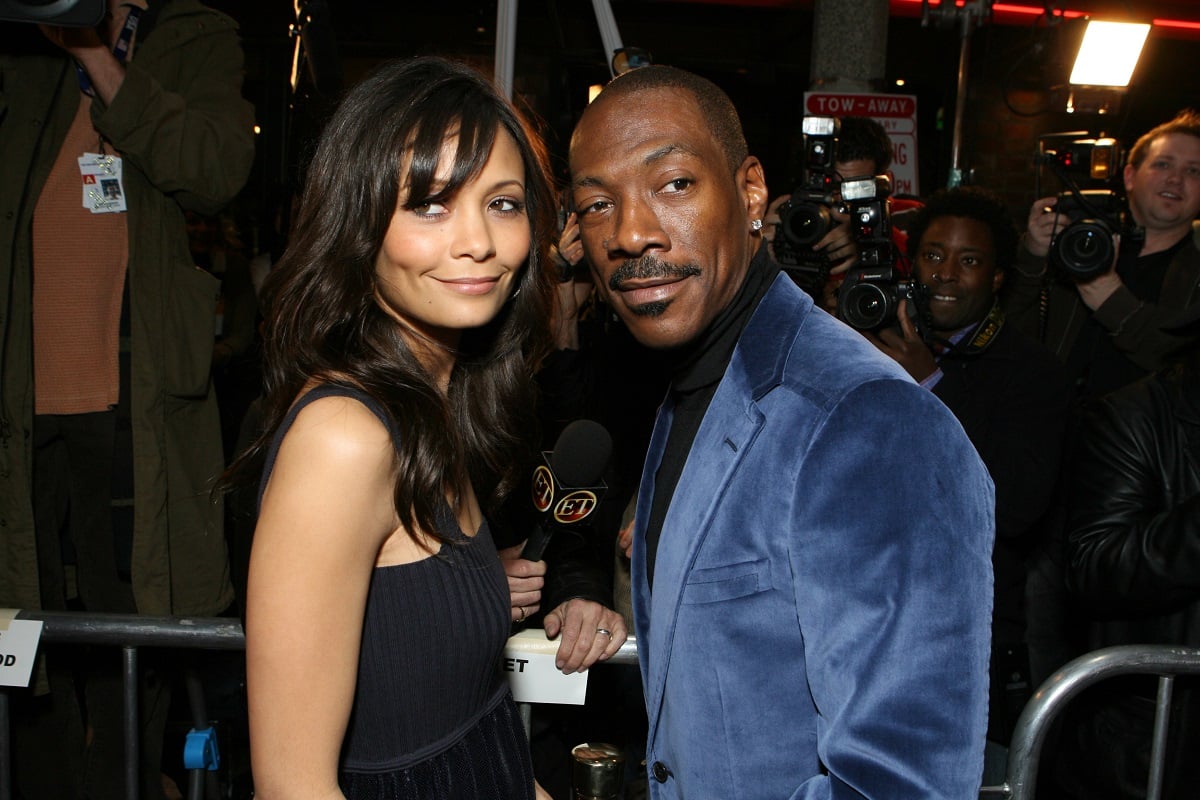 Crash was a career highlight for the Solo actor. She was featured in a film with a star-powered ensemble cast that also managed to win best picture at the Oscars. But shortly afterward, Newton found herself going through personal issues that adversely affected her career.
"I remember going to the audition for the new Bond movie, the first one with Daniel Craig. I'd just done Crash, and yes, I was really hot, and it was my moment," Newton revealed to Vulture. "And I remember going into that audition, and I was so thin and so messed up. It doesn't have as much to do with the business as you might think."
She filmed the critically panned Eddie Murphy film Norbit around that time period. But for Newton, working with Murphy on the film sometimes wasn't what she thought it would be.
Why Thandie Newton found it sad working with Eddie Murphy
It took a lot of effort for Thandiwe Newton to get the role in Eddie Murphy's Norbit. The actor had to prove her comedic skills to the Beverly Hills Cop star.
"Oh my God. Eddie Murphy. They made me jump through hoops for it, too. 'Can you really be funny?' People love Norbit, though," Newton said.
Although she put in a lot of effort to get a spot in the film, the actor found Norbit a bit offensive.
"I haven't seen it for a very, very long time. I mean, it's so offensive that it's not offensive, I guess," she explained. "Because I remember when we first did it, the background to Eddie writing the script was that he found himself watching these online home movies where really large women, African-American women, would beat up their tiny husbands."
But the sad part about doing Norbit was how Newton hardly spent time with the real Eddie Murphy while filming.
"Eddie was hardly ever there, which was really sad. He has the best stand-ins you've ever seen. Literally, from five feet away, you would think they were Eddie. I think I probably did most of the movie with his stand-ins," Newton shared.
Eddie Murphy did 'Norbit' because he wanted to be more edgy
Before Norbit, Eddie Murphy was starring in several comedy films that were aimed more toward families. But Murphy thought it might have been time to go back to his roots as a comic by starring in edgier material.
"I wanted to do something edgy because I'd been doing a lot of family movies, lots of stuff with kids like Shrek and Daddy Daycare and Haunted Mansion, which were terribly cute films, but I wanted to do something edgy," Murphy once shared according to BBC World News.
He also admitted that his fan base was constantly inquiring about edgier material from the comic. This further motivated him to write Norbit.
"People had been coming to me 'when you gonna do standup, I wanna see the Eddie Murphy with a little edge'. So we gave them something a little edgy that they've been waiting on. That's what I've been wanting to do for a while," he said.
Norbit may have been panned by critics, but BBC noted that the film was a hit. It grossed $33 million at the box office when it first debuted. By comparison, another film he did in Dreamgirls, which was critically acclaimed and highly regarded, drew in far less.