How 'That '90s Show' Is Mirroring 'That '70s Show' Behind the Scenes Too
It's once again going to be a little hazy in Red and Kitty Forman's basement. Almost 17 years after That '70s Show wrapped its 200-episode run, the spinoff That '90s Show is set to bring us a new generation of teenage misadventures and tough love. The original creators even worked with their daughter to pinpoint the right vibe, blending the creative process with real life to revamp a TV classic. With nearly everyone returning from the original cast, the mid-1990s are about to be reborn on Netflix this January.
'That '90s Show' took some time to develop
Following a string of 1990s TV revivals, That '90s Show felt like the perfect high-concept series when Netflix producers first pitched the concept. Unfortunately, That '70s Show creators Bonnie and Terry Turner disagreed. According to an interview with Variety, the Turners turned Netflix down a couple of times before finally seeing some light through the smoke clouds. Ultimately, it took some fresh perspective from their daughter, Lindsey, to get the ball rolling.
Explaining the new show's concept, Lindsey said, "…the 90s was the last time that people were looking up, they weren't looking at their phones. It was that last place of a real kind of engagement, having to make your own fun and really connecting with each other."
After some key contributions from That '70s Show writer Gregg Mettler, the Turners found a lane that would help take audiences on a trippy journey into the near past. For Mettler, who wrote the series finale of That '70s Show and 15 total episodes, returning to a recreated version of the Formans' house gave him chills, according to IMDb. He told Variety, "When do you get this chance ever in life, to go back home again like this?"
Kurtwood Smith and Debra Jo Rupp immediately jumped on board
This idea of returning home and tapping real life has always been a central part of what made the original series tick. In a 2006 interview (also with Variety), Bonnie pointed out that she regularly borrowed from her own high school experiences. She even converted real high schoolers into characters, which included Kelso (Ashton Kutcher) and Fez (Wilmer Valderrama). This time, it was her daughter helping to supply the teenage inspiration.
However, they needed Kitty and Red to return to the kitchen above the basement to make it work. Without them in place to make threats and provide a generational perspective, a new show didn't stand a chance. Luckily for Netflix, Debra Jo Rupp and Kurtwood Smith agreed to headline the cast and quickly began collaborating with the Turners. This time around, Rupp and Smith also serve as producers and appear to be the show's anchor amid a slew of fresh faces.
Bringing together generations with That '90s Show was also on the mind of Smith when he sat down with Looper. Although he initially worried about returning as Red, his grandkids helped to shift his mindset. "It lasts through the generations," he said, explaining how much his grandkids loved watching That '70s Show. "There are qualities to it that all kids and parents recognize." Fittingly, the entire plot of That '90s Show revolves around the antics of Red and Kitty's granddaughter, who takes up residence in the basement for the summer.
'That '90s Show' is (almost) a full-cast reunion
With Red and Kitty there to provide the boomer POV, the rest of the regular cast is comprised of young actors who haven't had much mainstream exposure. At the center is the aptly named Leia Forman (Callie Haverda), the daughter of Eric (Topher Grace) and Donna (Laura Prepon). Leia heads to Point Place, Wisconsin, for some quality time with her grandparents, although she soon ends up hitting it off with the neighborhood kids and following in her parents' footsteps.
While Haverda leads the new clan of teenagers, Grace, Prepon, Kutcher, Valderrama, and Mila Kunis will all make appearances in That '90s Show. According to BuzzFeed, Prepon will be taking to the director's chair for a few episodes in addition to returning as Donna. Previously, Prepon directed three episodes of Orange is the New Black for Netflix, according to IMDb. Iconic stoner Tommy Chong, who plays Leo, is also set to make a brief return to the circle.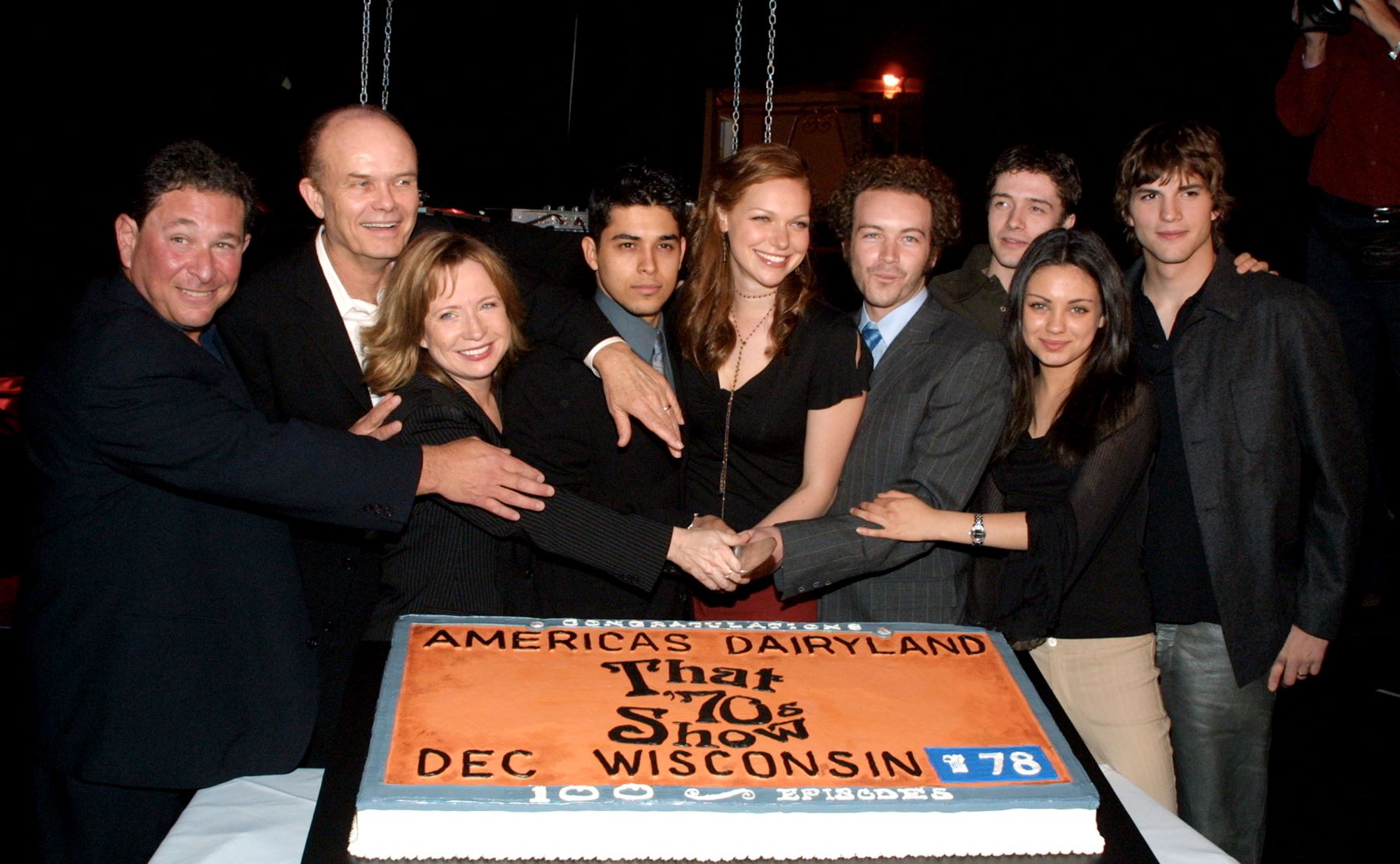 Danny Masterson, who is facing up to 45 years in prison with his upcoming retrial, is the only main cast member not returning for the spinoff, according to The NY Times.
The new show is also being made from a similar perch as the first one. The pilot of That '70s Show launched in 1998 but took place 22 years earlier, in 1976, according to Screen Rant. This time around, That '90s Show is set in 1995, giving it a slightly longer time gap than the original. That '90s Show streams on Netflix on Jan. 19, 2023, for a 10-episode first season. Although nothing is set in stone, Bonnie told Variety there is a framework in place for more seasons if it catches on with audiences.