The 1 Surprising Similarity Between 'The Sopranos' and 'Seinfeld'
Most fans don't immediately associate the classic NBC comedy Seinfeld with HBO's dark and murderous series, The Sopranos. The two shows are both extraordinarily popular even years after they ended. But beyond having faithful fan bases, it looks like Seinfeld and The Sopranos have nothing in common.
Upon closer inspection, these two seemingly opposite shows have similar themes that manifest in different ways. Tony Soprano and Jerry Seinfeld didn't exist in the same world, but they did face many of the same challenges in life.
Both 'Seinfeld' and 'The Sopranos' changed television forever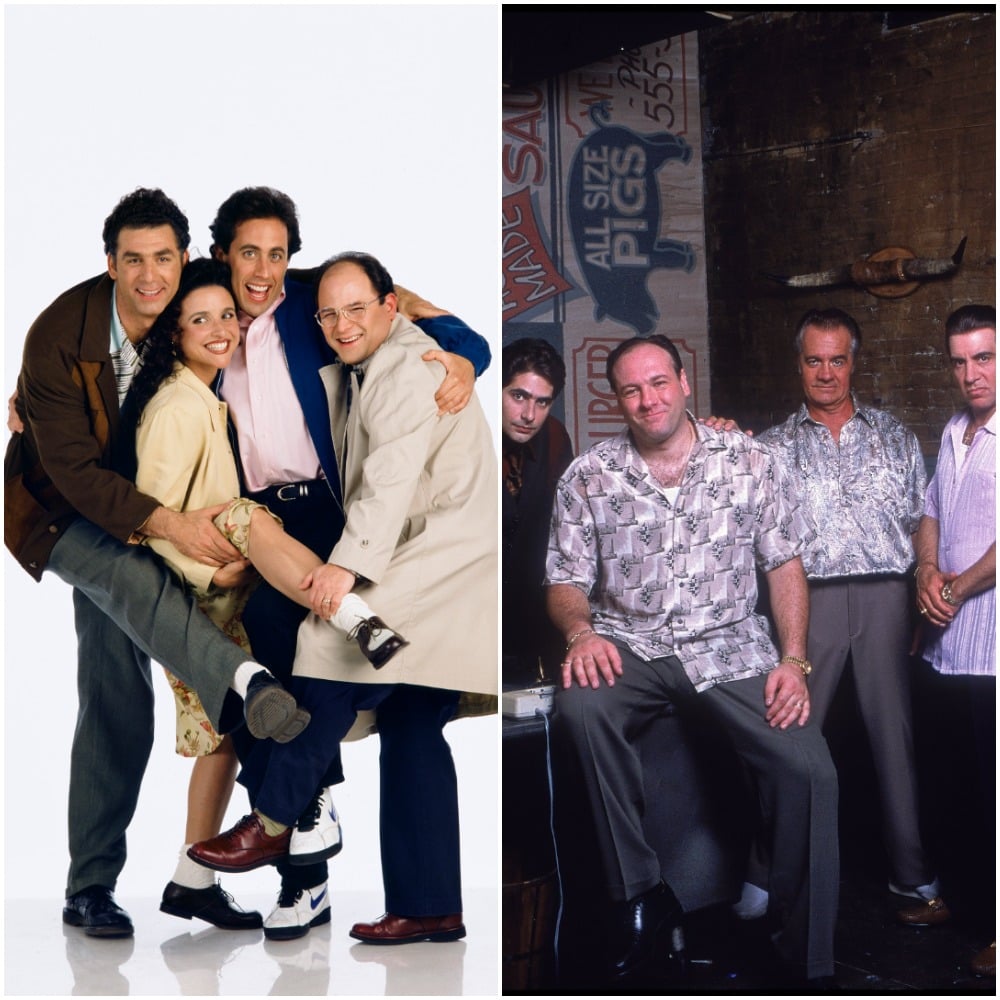 Before Seinfeld came along, comedies relied on tried and true structures for getting laughs. Audiences didn't know what to make of the new format proposed by comedian Jerry Seinfeld and co-creator Larry David, which instead seemed like a "show about nothing."
The series followed Jerry, Elaine, George, and Kramer as they navigated everyday life situations in New York City. The humor was more cringe-worthy and far-fetched than other shows. But it was also relatable.
Meanwhile, The Sopranos was a drama based on mob boss Tony Soprano and his family. It also broke the mold for storytelling by delving deep into relationships and character development that slowly built over episodes and seasons.
Now, character-driven dramas with subtle references sprinkled throughout are ubiquitous. It's all thanks to the success of The Sopranos.
Both shows explore the human condition in a realistic way
The characters on The Sopranos and Seinfeld aren't necessarily realistic but are instead extreme examples of hidden truths about human nature. Before Tony Soprano and Jerry Seinfeld became lead characters in their respective shows, television had never presented antiheroes in quite that way before.
As journalist Drew Auger wrote of 6 News, "Seinfeld and The Sopranos hit so close to home for so many people because of their ability to use these characters as ciphers for life's vices, insecurities, and idiosyncrasies."
He continued: "These two shows are both understandably cynical about the nastiness of the human condition, as they both understand the ebbs and flows of all of the bad things it takes to survive as a functioning human being."
'Seinfeld' used humor like 'The Sopranos' used murder
RELATED: Jerry Seinfeld Accused 'Friends' Creators of Ripping Off His Show With 'Better Looking People'
The difference between Seinfeld and The Sopranos ultimately comes down to tone. For example, the secondary character Ralph is the thorn in everyone's side on The Sopranos, which leads to his rivals wanting to kill him based on derogatory comments he made about Johnny Sac's wife.
But put in a different setting, Ralph's words would become a running gag on Seinfeld with Kramer mocking one of Jerry's or George's girlfriends. The point wasn't the insult itself, but rather the brutal honesty of people who say whatever they're thinking regardless of who gets hurt.
The line between good and bad is blurred
Seinfeld is a show about four nihilistic, pessimistic, bitingly sarcastic individuals who ponder the futility of existence. In The Sopranos, Tony Soprano becomes consumed by his own worst traits and loses everything he values. Both shows take an honest look at pitfalls of human nature in the extreme — and exemplify what can happen to those who are willing to become terrible people.
Seinfeld and The Sopranos have different audiences, different intentions, and different lasting impressions. But the core message for both remains identical.