The 2022 Isaac Awards: Best Crowd-Pleasing Moment Nominees
You've heard of the Oscars, but have you heard of the Isaacs? The Isaac Awards, in honor of the great Oscar Isaac, are Showbiz Cheat Sheet's unique spin on the Academy Awards. However, the Isaac Awards are different from the Oscars in that they celebrate the best movies of 2021 that deserve recognition but will not receive that recognition through Oscar nods. The 2022 Isaac Awards feature five categories: Best Performance, Best Scene-Stealer, Best Crowd-Pleasing Moment, Best Action Sequence, and Fan-Favorite Movie. Voting will be open via this form from March 7-20. Winners will be announced on March 24.
When the lights dim and a new movie begins, audiences have no clue what they're in for. They may laugh. They may cry. And in some cases, a movie presents an opportunity for fans to unite in cheers. The 2021 year in film offered plenty of such moments, perhaps most notably those multiple reveals in Spider-Man: No Way Home. But that Marvel adventure was far from alone. Here are the 2022 Isaac Awards nominees for Best Crowd-Pleasing Moment.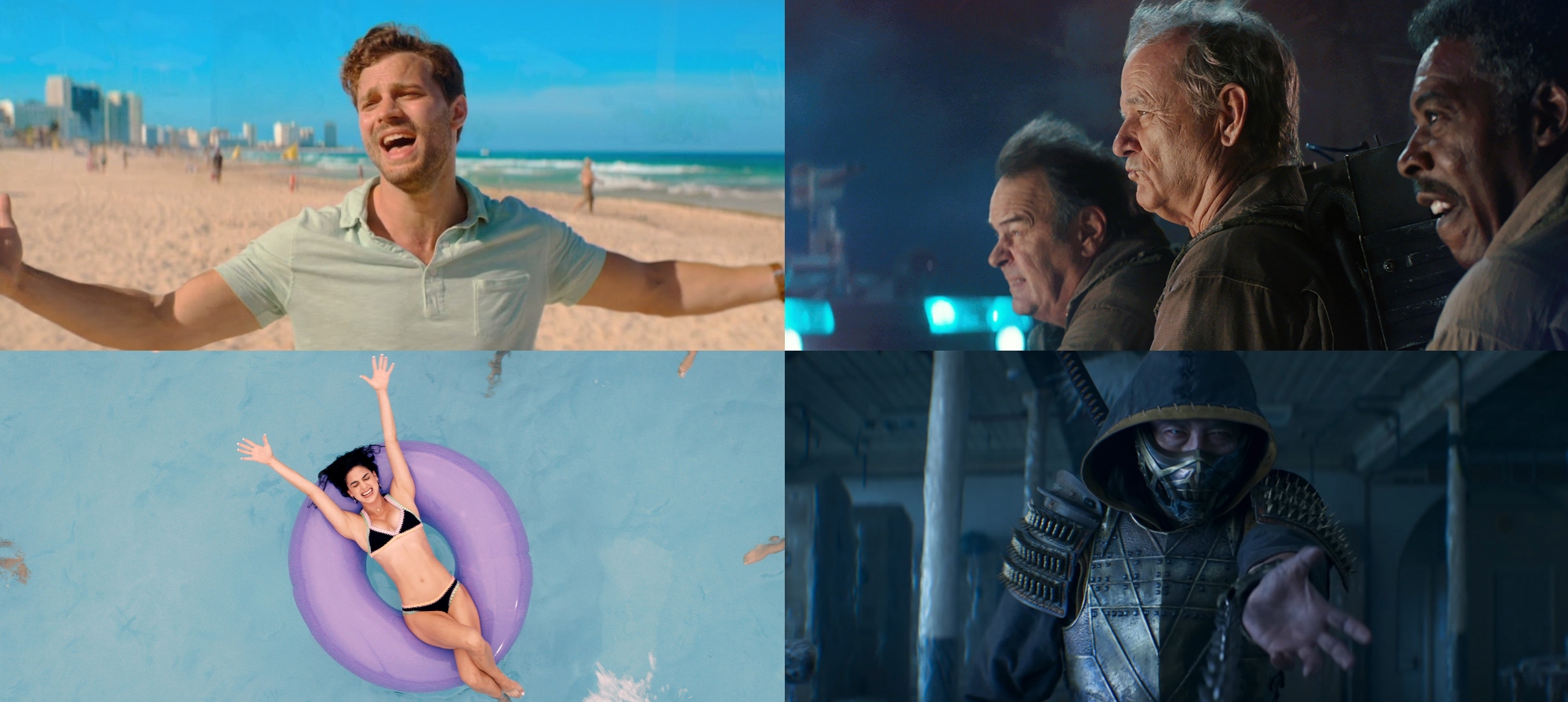 'Barb and Star Go to Vista Del Mar': 'Edgar's Prayer'
In this underrated comedy, Kristen Wiig and Annie Mumolo play two best friends who take a chance on a vacation to the titular Florida town. While there, Barb (Mumolo) and Star (Wiig) cross paths with the mysterious Edgar (Jamie Dornan), who's in Vista del Mar on a deadly mission. But his heart isn't in it. Rather, Edgar's motivated only by love. Overwhelmed by emotion, he pleads to the "seagull on a tire" for guidance. And audiences couldn't get enough.
Even though Barb and Star Go to Vista Del Mar isn't a musical, it employs the same age-old movie musical logic. Because Edgar's emotions are too big to express any other way, he bursts into a rousing — and wildly catchy — power ballad. It's one of many instances in which the film rewrites its own rules, dipping into absurdity and surrealist humor. Seeing Dornan — still perhaps best known as the brooding Christian Grey — let loose is a definite highlight.
'Ghostbusters Afterlife': Original Ghostbusters
For decades, all Ghostbusters fans wanted was the four leads to reunite. This follow-up released 33 years after Ghostbusters II finally delivered just that. Faced with the return of Gozer, young Phoebe (Mckenna Grace) and her mother (Carrie Coon) appear doomed until a familiar voice chimes in. The camera cuts to Ray Stantz (Dan Aykroyd), Peter Venkman (Bill Murray), and Winston Zeddemore (Ernie Hudson) suited up and ready to bust some ghosts.
If that reveal doesn't leave audiences cheering, the next moment certainly will. With the trio of Ghostbusters down, Phoebe faces Gozer herself and is joined by the ghost of her grandfather, Egon Spengler (the late Harold Ramis). For a brief, shining moment, the four stars of the 1984 classic then lay their original foe to rest. And Aykroyd, Murray, and Hudson get to bid a final farewell to their real-life friend and co-star. Not a dry eye is left standing.
RELATED: Is The New 'Ghostbusters' Movie Still a Comedy? This Star Has the Answer
'In the Heights': '96,000'
Unfortunately, the film version of Lin-Manuel Miranda's Broadway musical didn't light up the box office. But In the Heights remains one of 2021's most energetic and crowd-pleasing movies. Director Jon M. Chu's film — inspired by Miranda's own life — is largely a celebration of culture and community. Musical numbers like the title track and "Carnaval del Barrio" brilliantly capture that. But this slot goes to perhaps the most undeniable sequence: "96,000."
Upon learning that his bodega sold a winning lottery ticket, Usnavi (Anthony Ramos) and company imagine what they would do with the $96,000 payout. Benny (Corey Hawkins) wants to attend business school. Vanessa (Melissa Barrera) would move away and never return to Washington Heights. As for Usnavi, what is he doing? This discussion culminates in an intricately choreographed poolside dance number sure to inspire crowds to dance and sing along.
'Mortal Kombat': 'Get Over Here!'
The long-standing rivalry between Sub-Zero and Scorpion has been a key part of the Mortal Kombat video games since the franchise started. So it stands to reason Simon McQuoid's big-screen reboot would open with an extended sequence featuring Hanzo Hasashi/Scorpion (Hiroyuki Sanada) and Bi-Han/Sub-Zero (Joe Taslim). And then the former largely disappears for most of the movie, returning at last during a climactic fight scene.
Just as Sub-Zero is about to defeat Cole Young (Lewis Tan), Scorpion's blade pierces his enemy's skin. Scorpion then utters his most famous line, "Get over here!" as he overwhelms Sub-Zero. And after watching the ice-powered baddie prey on Earth's champions, audiences finally see him reach his own grisly end. And Scorpion — for his part — gets revenge for the death of his family centuries earlier. In a film loaded with fun callbacks, this is easily the best.
Vote for the 2022 Isaac Awards here now through Sunday, March 20. Winners will be announced on March 24.
RELATED: 'Mortal Kombat 2' Writer Jeremy Slater Teases a 'Bigger, Better, and Bloodier' Sequel