The 2022 Isaac Awards: Best Scene-Stealer Nominees
The 2022 Isaac Awards are Showbiz Cheat Sheet's unique spin on the Academy Awards. Here are the nominees for the Best Scene-Stealer.
You've heard of the Oscars, but have you heard of the Isaacs? The Isaac Awards, in honor of the great Oscar Isaac, are Showbiz Cheat Sheet's unique spin on the Academy Awards. However, the Isaac Awards are different from the Oscars in that they celebrate the best movies of 2021 that deserve recognition but will not receive that recognition through Oscar nods. The 2022 Isaac Awards feature five categories: Best Performance, Best Scene-Stealer, Best Crowd-Pleasing Moment, Best Action Sequence, and Fan-Favorite Movie. Voting will be open via this form from March 7-20. Winners will be announced on March 24.
Despite the best efforts of a lead actor, some movies just can't help but be overwhelmed by the star power of one of their supporting players. In 2021, this trend was particularly strong, with a wide variety of scene-stealing performances to choose from. In this category, we're pitting Marvel versus DC. Which comic book titan will reign supreme? Or will one of the two other wild cards steal the win? Here's are the nominees for Best Scene-Stealer.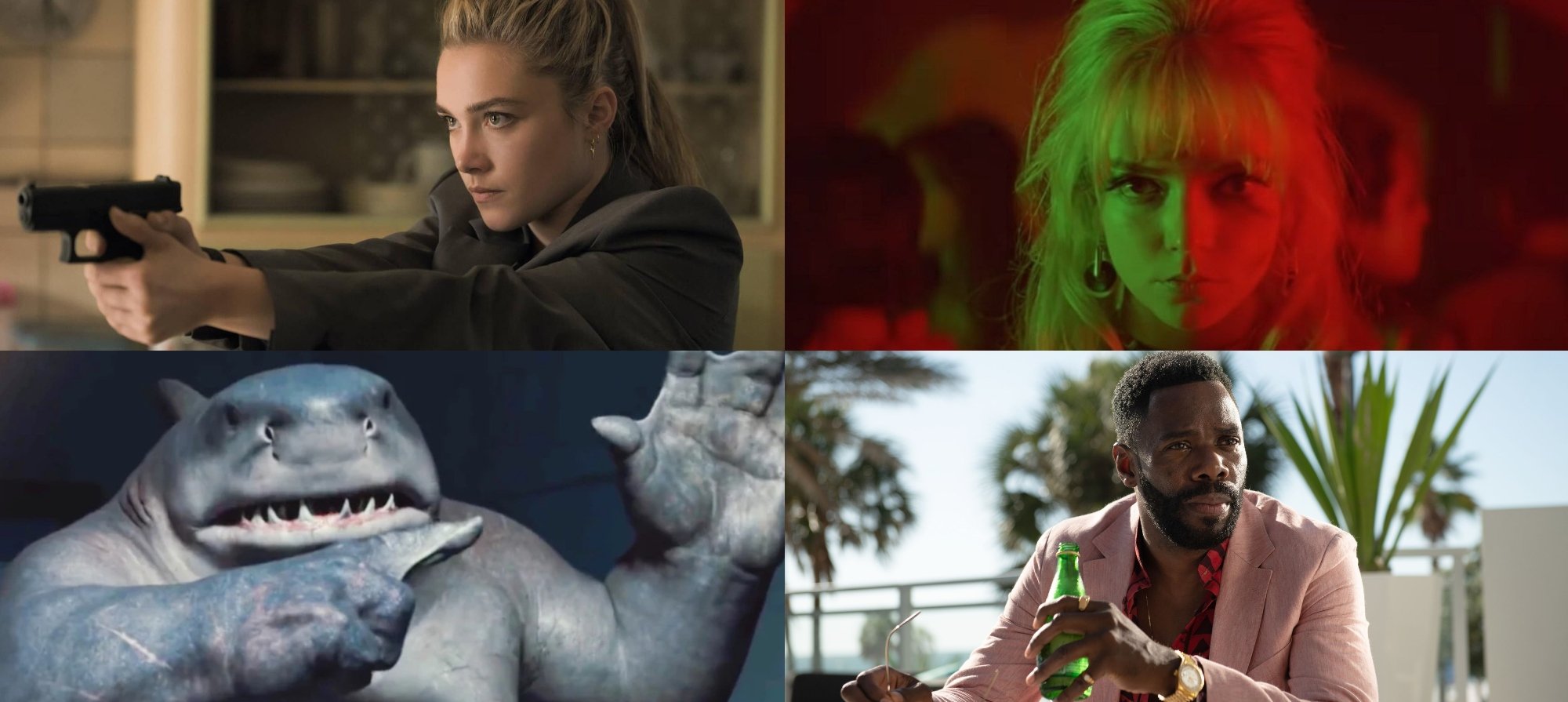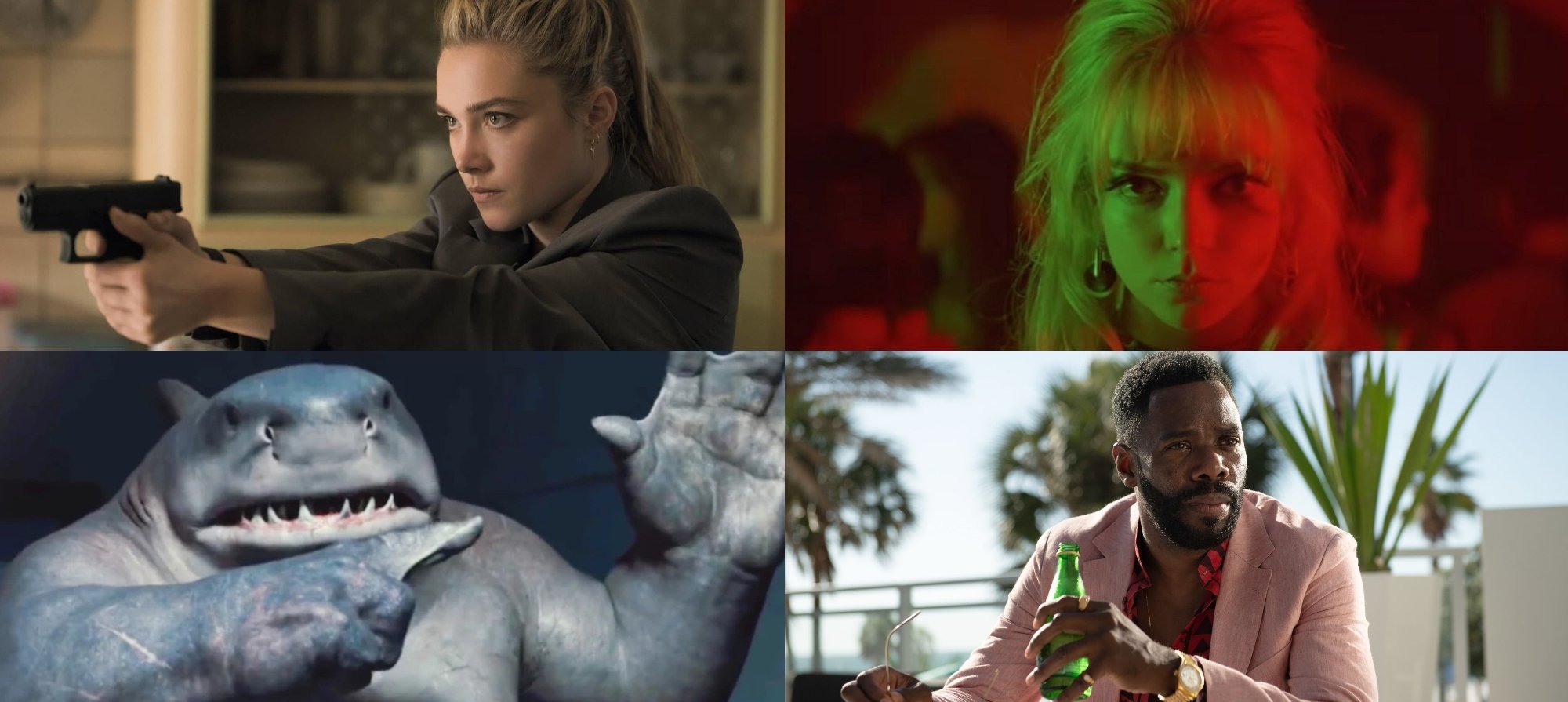 Florence Pugh, 'Black Widow'
For years, fans of the Marvel Cinematic Universe were asking for a Black Widow (Scarlett Johansson) movie. So imagine their surprise when — after Black Widow finally released — all anyone could talk about was Florence Pugh. The Oscar-nominated actor (Little Women) was already among the most acclaimed new stars prior to joining the MCU. And as Yelena Belova, she proved to be fans' first indication that the next generation of heroes would deliver.
After all, Avengers: Endgame didn't only mark the end of Natasha Romanoff but the original Avengers line-up. Thankfully, Pugh brought so much personality, ferocity, and vulnerability to Yelena. Her chemistry with Johansson was both poignant and hilarious. And as she already further proved on the Disney+ series Hawkeye, Pugh isn't only the scene-stealing star of Black Widow but easily among the most exciting new addition to the MCU in general.
Anya Taylor-Joy, 'Last Night in Soho'
This psychological horror film was a departure for Edgar Wright (Shaun of the Dead). But the filmmaker shifts into a new genre with aplomb, thanks to a stellar cast led by Thomasin McKenzie. A fashion student adjusting to life in London, McKenzie's Eloise is transported to the 1960s each night. There she gets wrapped up in the tumultuous tale of an ambitious singer named Sandie (Anya Taylor-Joy). And that's where the movie perhaps shines brightest.
Sandie's story runs the gamut from glamorous to gruesome. It's all there in Taylor-Joy's performance, as she exudes both wide-eyed naïveté and fierce determination. Last Night in Soho divided critics with where its unpredictable plot ultimately leads. But one element everyone can agree on is how mesmerizing Taylor-Joy's Sandie is. The role asks her to do everything including sing and dance. And she not only rises to the occasion but elevates the entire movie.
Sylvester Stallone, 'The Suicide Squad'
Ahead of The Suicide Squad, many fans wondered how such a wild assortment of DC Comics characters could all appear. The answer, of course, is that director James Gunn kills many of them off in the opening sequence. Thankfully, one character who sticks around for the film's conclusion is Nanaue aka King Shark. And rarely has such an inherently violent character — who has some of the most gruesome kills in the movie — been quite this cuddly.
Steve Agee — who also appears in the movie as A.R.G.U.S. agent John Economos — developed the King Shark performance on set. But Sylvester Stallone's unmistakable voice goes far in making the character so endearing. Despite his fierce facade, King Shark really just wants to feel like he can belong. He hungers for not only fresh meat but also friendship. And in an ensemble cast filled with standouts, King Shark makes the most of his screen time.
Colman Domingo, 'Zola'
Of all our nominees, this is perhaps the most obscure. But considering its wild story — inspired by, believe it or not, a Twitter thread — that's a blind spot many movie fans might want to clear up. If nothing else, Zola is worth watching for Colman Domingo's commanding, layered performance as the mysterious X. The movie follows the title character (Taylour Paige) as she is swept up in a potentially lucrative trip to Tampa, Fla. that naturally goes awry.
Domingo previously appeared as a key part of the ensemble cast in movies such as Selma and Ma Rainey's Black Bottom. But in Zola, his volatile, intimidating character ultimately surpasses even the extraordinary work of his co-stars and director Janicza Bravo. A critical darling that sadly got lost during awards season, Domingo's performance isn't that should be lost to time. Instead, the actor's efforts here are as bold as the movie they're featured within.
Vote for the 2022 Isaac Awards here now through Sunday, March 20. Winners will be announced on March 24.