The 2022 Isaac Awards
Showbiz Cheat Sheet's The Isaac Awards 2022 brings 5 categories of nominees that the Academy Awards didn't honor. Here's a closer look at some of 2021's most impactful films.
Showbiz Cheat Sheet is ecstatic to introduce the 2022 Isaac Awards, which is named after the talented actor Oscar Isaac. The Academy Awards is the film industry's biggest night, but the ceremony often fails to honor some of the year's biggest movie moments that impacted audiences around the world. However, the 2022 Isaac Awards seeks to celebrate the films that didn't get any nominations at the Oscars.
The 2022 Isaac Awards nominees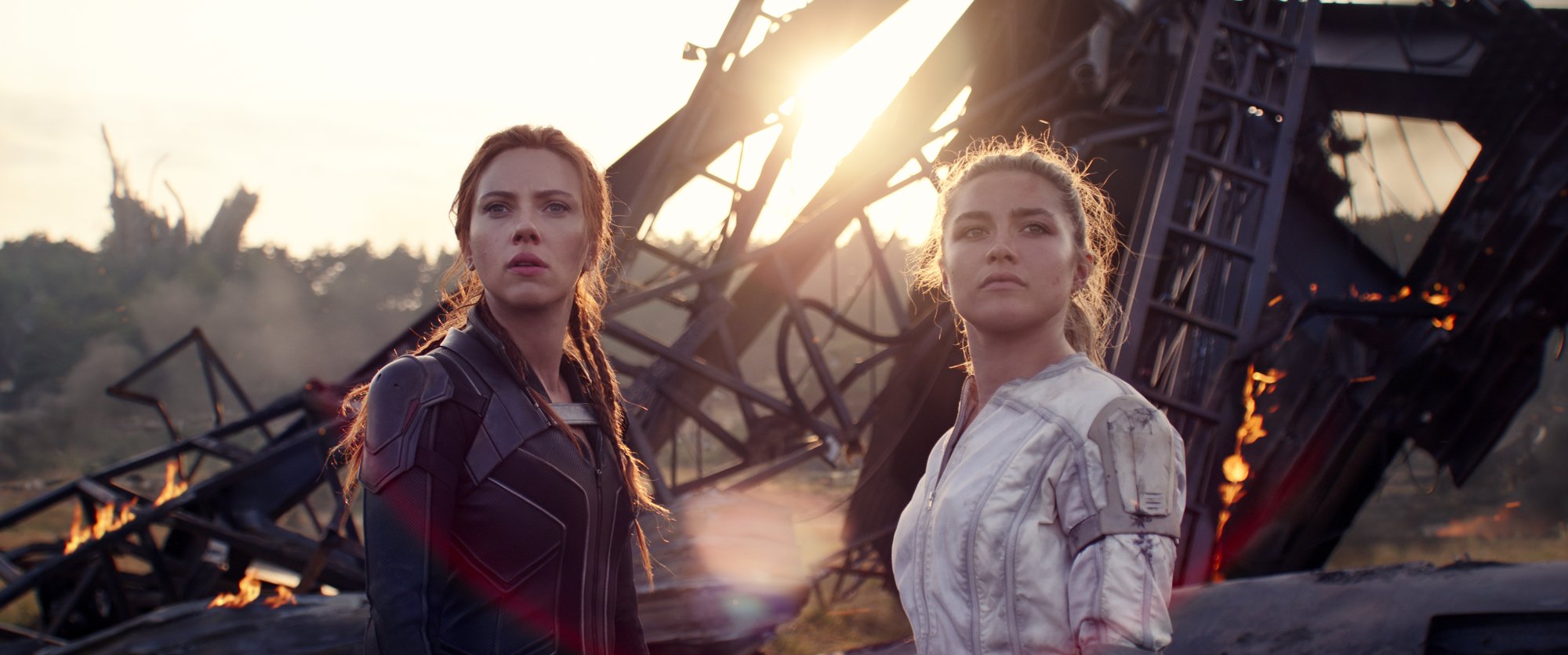 The 2022 Isaac Awards features five categories, including Best Performance, Best Scene-Stealer, Best Crowd-Pleasing Moment, Best Action Sequence, and Fan-Favorite Movie.
Each nominee displays an extraordinary display of their craft in their given category. Let's take a closer look at some of the fascinating behind-the-scenes facts that went into bringing these defining movies to the silver screen.
Jodie Comer in 'The Last Duel' for Best Performance
The Last Duel explores Sir Jean de Carrouges' (Matt Damn) request to battle his longtime friend, Jacques Le Gris (Adam Driver), to the death after Jean's wife, Marguerite (Jodie Comer), accuses him of raping her. The story explores each of their perspectives over the course of this passage of time.
'The Last Duel': Jodie Comer Opened Up About 'Delirious' Kissing Scene
Nicolas Cage in 'Pig' for Best Performance
Pig tells the story of Rob (Nicolas Cage), a truffle hunter living in the Oregon wilderness. However, he must return to face the demons of his past in the city of Portland when unknown robbers kidnap his foraging pig. Rob must be willing to go to some dark places to retrieve the precious animal.
Rebecca Hall in 'The Night House' for Best Performance
The Night House finds Beth (Rebecca Hall) returning from the funeral of her late husband, Owen (Evan Jonigkeit). However, she begins to discover some disturbing truths as she digs through his belongings. As a result, Beth believes that she might not be all alone inside of the beautiful home he built for them.
'The Night House': Rebecca Hall Recalls Filming 'Embarrassing' Ghost Scene
Simon Rex in 'Red Rocket' for Best Performance
Red Rocket tells the story of Mikey (Simon Rex) after he returns to his small Texas hometown from Los Angeles beaten and bruised. He's a washed-up porn star, who seeks out his estranged wife, Lexi (Bree Elrod), and her mother, Lil (Brenda Deiss) for a place to stay. However, everything changes when Mikey meets a 17-year-old girl named Strawberry (Suzanna Son).
'Red Rocket': Simon Rex Explains 'Bizarre' Casting Process That Made Him No Money
'Red Rocket': 1 Real-Life Simon Rex Comparison He Thinks Is 'Beaten to Death'
Florence Pugh in 'Black Widow' for Best Scene-Stealer
Black Widow gives the Marvel Cinematic Universe's (MCU) Natasha Romanoff (Scarlett Johanson) her long-awaited solo film. She confronts her family that she hasn't seen in years, including Yelena (Florence Pugh), Alexei (David Harbour), and Melina (Rachel Weisz). They must work together if they hope to save the world from an old, yet familiar danger.
'Black Widow': Florence Pugh Was 'Scared' of Her Russian Accent
Anya Taylor-Joy in 'Last Night in Soho' for Best Scene-Stealer
Last Night in Soho follows Eloise (Thomasin McKenzie), who's an aspiring fashion designer. She discovers a way to enter the 1960s, where she becomes infatuated with an up-and-coming singer named Sandie (Anya Taylor-Joy). However, Eloise's dreams quickly turn into horrifying nightmares.
'Last Night in Soho': How Anya Taylor-Joy Related to the Movie's Darkness
Does Anya Taylor-Joy Really Sing and Dance in 'Last Night in Soho'?
Sylvester Stallone in 'The Suicide Squad' for Best Scene-Stealer
The Suicide Squad brings supervillains Harley Quinn (Margot Robbie), Bloodsport (Idris Elba), Peacemaker (John Cena), King Shark (voiced by Sylvester Stallone), among others for a top-secret mission. The shady Task Force X leaves them with no choice but to complete their search-and-destroy mission or die trying.
'The Suicide Squad': Sylvester Stallone Felt King Shark Was 'Looking for Love'
Colman Domingo in 'Zola' for Best Scene-Stealer
Janicza Bravo's Zola tells the wild journey of its title character (Taylour Paige). She's a server in Detroit who decides to go on a weekend trip to Florida with her new friend, Stefani (Riley Keough), to strip for cash. However, Zola doesn't expect to also travel with Stefani's strange roommate named X (Colman Domingo) and her sheepish boyfriend, Derrek (Nicholas Braun).
'Zola' Star Colman Domingo Wanted to 'Throw People Off' With His Performance
'Zola': Colman Domingo Did Not Want to Play the 'Real Guy' His Character is Based on
'Barb and Star Go to Vista Del Mar': 'Edgar's Prayer' for Best Crowd-Pleasing Moment
Barb and Star Go to Vista Del Mar finds lifelong best friends Barb (Annie Mumolo) and Star (Kristen Wiig) heading on the trip of their dreams. However, this is the very first time that they have ever left their small Midwestern town to embark on such a journey together.
Jamie Dornan Reflects on 'Barb and Star': 'You Had to Go for It'
'Ghostbusters: Afterlife' – Original Ghostbusters for Best Crowd-Pleasing Moment
Ghostbusters: Afterlife follows a single mother and her two children after they move to a new town. However, they soon discover that they have an unexpected link to the original Ghostbusters. The legacy that their grandfather left behind will inform their destiny.
'Ghostbusters: Afterlife' Director Says Movie is Dedicated to Harold Ramis in 'Every Way'
'Ghostbusters: Afterlife': Bill Murray Had 'Shockwaves of Memory' While Shooting Reunion Scene
'In the Heights': '96,000' for Best Crowd-Pleasing Moment
In the Heights is a film adaptation of the original Broadway musical. The story is told from the perspective of Usnavi (Anthony Ramos). He's a bodega owner in New York with a dream of saving enough money to have a better life away from his complicated hardships.
'In the Heights': Why '96,000' Was the 'Hardest Sequence' in the Film
'Mortal Kombat': 'Get Over Here!' for Best Crowd-Pleasing Moment
Mortal Kombat is based on the original video games, but the film follows a new character named Cole Young (Lewis Tan). He must fight alongside Earth's mightiest champions in order to have any chance of fighting the chosen fighters of Outworld. The universe's fate hangs in the balance.
How Many Mortal Kombat Movies Are There?
'Godzilla vs. Kong': Aircraft Carrier Fight for Best Action Sequence
Godzilla vs. Kong continues the battle across the cinematic Monsterverse. Godzilla and King Kong are some of Earth's most powerful kaiju but are also territorial creatures who will fight for dominance. Human civilizations are caught in the crossfire.
'Godzilla Vs. Kong': Why the Shot of Kong Punching Godzilla Almost Got Cut
'The Matrix Resurrections': Neo and Trinity Chase for Best Action Sequence
The Matrix Resurrections brings audiences back into the famous action sci-fi franchise. Neo (Keanu Reeves) lives as Thomas A. Anderson in San Francisco as a game designer. He runs into Trinity (Carrie-Anne Moss), but they don't recognize one another. Morpheus (Yahya Abdul-Mateen II) arrives to free their minds.
'The Matrix Resurrections': 1 Paul Thomas Anderson Movie Inspired the 'Nasty' Dive Bomb Finale
Stunt Coordinator Scott Rogers Talks a 'Lot of Chaos' Working on 'The Matrix Resurrections,' 'John Wick 4,' and 'Batgirl' (Exclusive)
'My Hero Academia: World Heroes' Mission' – Deku vs. Flect Turn for Best Action Sequence
My Hero Academia: World Heroes' Mission finds a city's fate on the line as a result of a cult of terrorists on the rise. They release a dangerous toxin that goes completely out of control. Izuku Midoriya (voiced by Daiki Yamashita), Katsuki Bakugo (voiced by Nobuhiko Okamoto), and Shoto Todoroki (voiced by Yûki Kaji) must join together with other heroes to bring the mastermind to justice.
'My Hero Academia: World Heroes' Mission' Is Now the Franchise's Highest-Grossing Movie
'Nobody': Bus Fight for Best Action Sequence
Nobody tells the story of Hutch Mansell (Bob Odenkirk), who lives a seemingly mundane life as a family man. However, his brutal past comes to light when two petty thieves break into his house and scare his family. As a result, Hutch ends up in a war with a Russian crime boss.
'Nobody': How the Bus Fight Transforms Bob Odenkirk into an Action Hero
'The Green Knight' for Fan Favorite Movie
The Green Knight explores the fantasy world of King Arthur's nephew, Gawain (Dev Patel). He must set off on a long journey to confront the Green Knight (Ralph Ineson) after engaging in a dangerous game. Gawain must choose between his honor and potentially his own life.
Dev Patel Landed His Role in 'the Green Knight' Because He Would Be an 'Incredibly Beguiling Hero'
'The Green Knight': David Lowery Wanted to Give the Film a 'Happy Ending'
'Malignant' for Fan Favorite Movie
Malignant follows Madison Mitchell (Annabelle Wallis), who suddenly begins having terrifying visions of grisly murders. However, she discovers that they aren't just visions, but they are happening in real life. Madison must get to the bottom of the mystery and uncover what's going on before more people die.
'Malignant': James Wan Explains Why the Gabriel Police Station Fight Scene Was 'Really Dangerous' to Film
'A Quiet Place Part II' for Fan Favorite Movie
A Quiet Place Part II continues Evelyn (Emily Blunt) and her children's story after the events of the original film. They're now out in the open world, but with a newborn baby. However, the sound-hunting creatures are still hunting and they must continue to keep absolutely quiet if they hope to survive.
'A Quiet Place Part II': Why Comparisons to the First Movie Miss the Point
'A Quiet Place Part II': John Krasinski's 'Small Idea' Cracked the Story
'A Quiet Place Part II' Is Actually Getting 2 Follow-Up Films
'A Quiet Place Part II': This Character Reflects the 'Heart of the World Right Now'
'Titane' for Fan Favorite Movie
Titane brings audiences into the world of a serial killer named Alexia (Agathe Rousselle). But, when the crimes begin to catch up with her, she decides to take the identity of a boy who went missing 10 years prior. Alexia lives with the boy's father, Vincent (Vincent Lindon), but their relationship becomes more than they ever could have imagined.
'Titane' Director Reveals the 'Disturbing Recurring Nightmare' That Inspired the Car
'Titane' Director Explains Why the 'Macarena' Was the 'Worst' for Vincent Lindon
How to get help: In the U.S., call the RAINN National Sexual Assault Telephone Hotline at 1-800-656-4673 to connect with a trained staff member from a sexual assault service provider in your area.
Vote for the 2022 Isaac Awards here now through Sunday, March 20. Winners will be announced on March 24.