Mark Ruffalo's Hulk Likely to Appear in These Phase 4 Installments
If Mark Ruffalo appears in Phase 4 of the MCU, these three projects will be the most likely to feature the Hulk. Get the full breakdown here.
Phase 4 of the Marvel Cinematic Universe (MCU) will serve to transition the landscape out of the Infinity Saga, setting up a new core element via the multiverse and bidding farewell to several of our original saviors. Captain America and Iron Man already received their tear-jerking denouements in Avengers: Endgame, yet the other primary faces have yet to take their final bows.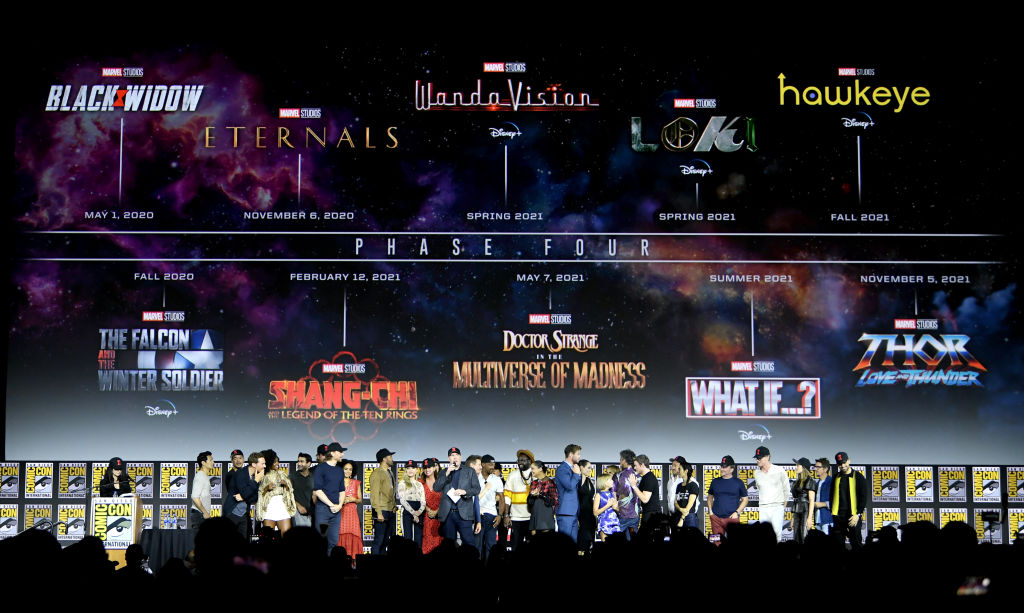 Natasha Romanoff will likely exit the franchise following Black Widow, which may set up Yelena Belova as her successor. The God of Thunder will presumably hand the hammer over to Natalie Portman's Jane Foster, and Disney+'s Hawkeye is set to introduce Clint's successor, Kate Bishop. However, what about Mark Ruffalo's Hulk? Where does the big, green guy fit in the fourth phase? Does he have a place among any of the new or familiar faces?
Considering Mark Ruffalo's narrative arc occurred over the span of several movies — as legal issues with Universal Studios prevents a standalone installment under Disney's umbrella — the character can only appear in mash-ups. And, according to his Marvel contract, he has one appearance left. So, if he is set to appear in Phase 4 — and Kevin Feige isn't holding on to him for a later presence — which project is he most likely to appear in? The top three most likely candidates are below. 
1. 'She-Hulk'
If Mark Ruffalo appears in Phase 4, She-Hulk is one of the most viable options. In the comic books, Bruce Banner is responsible for transforming his cousin, Jennifer Walters, into She-Hulk. Meaning, if the MCU decides to follow comic book trajectory, he can be responsible for her transformation in the Disney+ show as well. 
Mark Ruffalo's Hulk could also serve as a link between Captain Marvel and She-Hulk; since the A-Force is presumably on the horizon, Marvel Studios must begin cementing the foundation for the all-female team soon. And, Banner's presence in Walter's life could provide a very seamless way to bring these two characters together (since Hulk and Captain Marvel have previously fought side-by-side). 
2. 'Moon Knight'
Moon Knight — allegedly set to place Daniel Radcliffe in the title role — will be another Phase 4 TV show. And, if the narrative focuses on the character's origin story, there is a known connection to Banner's Hulk. 
Moon Knight gained a backup strip in Hulk! magazines 11-15, 17, 18, and 20. First drawn by artist Bill Seinkiewics, the black and white illustration helped cement Moon Knight's early perception. The character receives a partial origin story in the Hulk strips and Marvel Preview issues. However, considering the MCU does not always start with origin stories, this remains a mere possibility at this point. 
3. 'Thor: Love and Thunder'
While the above two theories rely on narrative plausibilities, seeing Hulk appear in Thor: Love and Thunder would be largely in service of fan satisfaction. However, considering Ruffalo and Hemsworth's chemistry, and the fact that this will be Hemsworth's last appearance, Marvel Studios may team these two up once more, providing the fun nature inherent to Ragnarok for a second round. Seeing Thor and Hulk go out together would be poetic, and it wouldn't be a huge surprise to see this emotional ploy come to fruition.