The 7 Best Episodes of 'Killing Eve,' According to IMDb
Killing Eve is certainly worth the hype it elicits from fans. It's entertaining and the writing is clever. But, of course, the biggest draw is Sandra Oh's Eve and Jodie Comer's Villanelle. Alone, they're astounding. But whenever they're together on-screen? Pure magic. And even the tension that builds when they're apart is addicting. But which episodes are the best? Here are the top 7 ranked from IMDb. [Spoiler alert: Spoilers ahead for Killing Eve].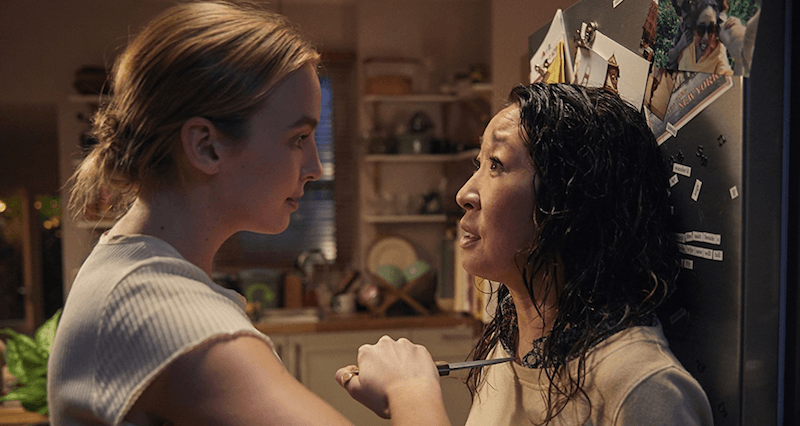 RELATED: What Did The 'Killing Eve' Season Finale Mean For Villanelle and Eve's Relationship?
1. 'You're Mine' — Season 2, Episode 8 finale
If you want an episode that really highlights all of the angst and tension between Villanelle and Eve, the Season 2 finale is the one for you. Season 2 was a turning point for the pair since they worked on a "team" together for the better part of the season. This allowed them to get closer to their respective objects of obsession.
The end scene leaves fans with Villanelle desperately clinging to Eve, declaring her love, and Eve snapping out of her obsessive haze. This is a psychopathic assassin she's dealing with, and she nearly forgot. Villanelle reminds her, though, with a nice little shot to the back.
2. 'I Have a Thing About Bathrooms' — Season 1, Episode 5
It makes sense that the second-best Killing Eve episode is when Villanelle and Eve first meet in Season 1. The two, of course, can't stop thinking of each other up until this point, but this is the fated first time they're both physically together. All of that angst is built up into a truly seat-clutching moment. 
3. 'Sorry Baby' — Season 1, Episode 4
This episode is right before they meet for the first time, and features the scene where Villanelle finally gives away her hand, so to speak. She lets Eve know that she took her suitcase, rummaged through it, and sends the now infamous note that reads, "Sorry Baby x" with the La Villanelle perfume. 
4. 'Don't I Know You?' — Season 1, Episode 3
This is the episode that went a little too far, even for Jodie Comer (who plays Villanelle). Eve and Bill head to the site of Villanelle's most recent kill in Berlin, and try to piece together more about the Twelve and their favorite, elusive assassin. But unfortunately, it's also where Bill meets his demise at the hands of said elusive assassin. 
5. 'Nice Face' — Season 1, Episode 1
The episode that started it all, the pilot reels audiences into the kooky character that is Villanelle and into Eve's soon-to-be action-packed life. It does an excellent job of showcasing who these two characters are on the surface and left a lot to be desired so you come back for more. 
6. 'Wide Awake' — Season 2, Episode 7
This is right before the finale and Villanelle heads to Italy as Billie, still on her "mission" for Eve and MI6. It also shows she's still not someone to be trusted nor has she gone soft because she corners Niko and Gemma at his storage facility, and we later find out she brutally murders Gemma. But still, this episode also shows that, to Eve's face at least, Villanelle's still within her good graces (sort of). 
7. 'I'll Deal with Him Later' — Season 1, Episode 2
Finally, last on this list is the second episode of Killing Eve Season 1. It builds on the introduction of these characters, of course, and does a great job of fleshing them out. Eve is just starting to get her hands onto information regarding Villanelle, and Villanelle is just minding her own business, killing people as a part of her job. But her creativity is on full display, which fans will only fall more in love in as the series progresses. 
While there are, of course, so many more amazing episodes, these first 7 are what audiences love the most. 
RELATED: Will 'Killing Eve' Season 4 Get a Rewrite Amid Backlash Over Lack of Diversity?