'The Andy Griffith Show': Why Andy Taylor Had To Wear a Bandage for 2 Episodes
The Andy Griffith Show ran on CBS from 1960 to 1968. While the show has been off the air for decades, it is still a favorite of fans, and re-runs are aired consistently on TV. Andy Griffith is the star of the show as Sheriff Andy Taylor in the fictional town of Mayberry, N.C. In two episodes on The Andy Griffith Show, Griffith's character is seen wearing a bandage on his hand.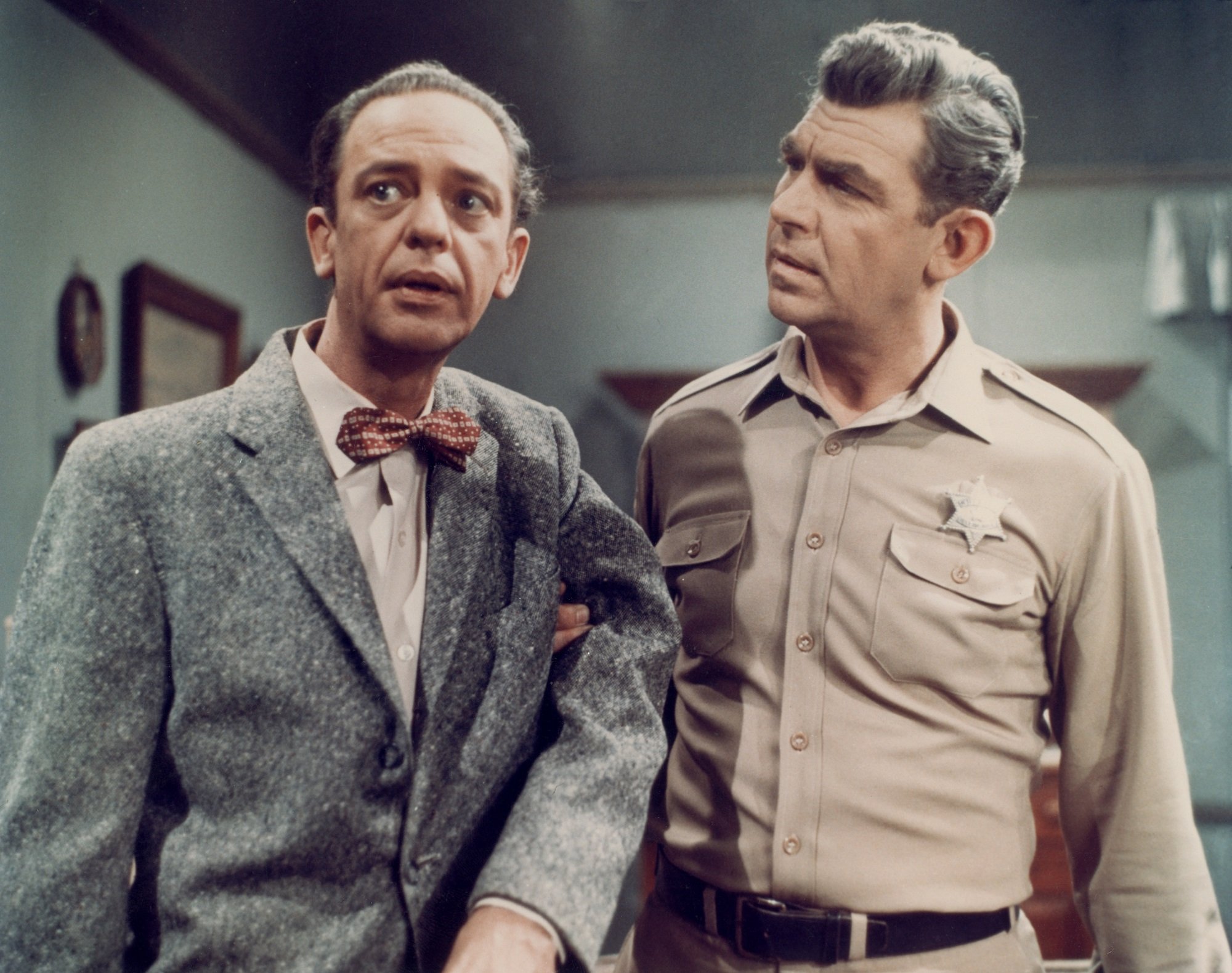 Why Andy Griffith had to wear a bandage on 'The Andy Griffith Show'
Andy Taylor is known to be level-headed compared to the other characters on the show. As sheriff, Andy is often coming up with solutions and settling disputes among people in the town.
Behind the scenes, Griffith was reportedly known for having a short temper. While Season 2 of the series was being filmed, Griffith became angered and punched a wall.
As a result, his character had to wear a bandage for two episodes in the second season: "Aunt Bee and the Warden" and "The County Nurse." Griffith's injury was given an on-screen explanation, and on the show, Andy had to wear the bandage after getting into a fight.
RELATED: The Career Andy Griffith Wanted Before He Became an Actor
What Andy Griffith wanted to be before becoming an actor
Griffith grew up in Mount Airy, N.C. and he was raised Baptist. When he was young, he dreamed of becoming an opera singer. He had a strong interest in music, and a minister named Ed Mickey at Grace Moravian Church taught him to sing and play the trombone.
Griffith began college at the University of North Carolina at Chapel Hill in 1944. Originally, Griffith was a pre-divinity student. His career goal was to become a Moravian preacher.
In the end, Griffith changed his major to music and became involved with different musical theatre and drama groups on campus. He even joined the renowned Carolina Playmakers company. After he graduated, Griffith taught music at a high school in North Carolina before pursuing an acting career.
RELATED: 'The Andy Griffith Show': Andy Griffith Thinks This Set the Show Apart in the 1960s
In 2009, Griffith came full circle with Grace Moravian Church, the church Griffith first learned how to sing and play the trombone. The Mount Airy News reported that Griffith and his wife joined the church's congregation.
The actor received the Presidential Medal of Freedom
In 2005, Griffith received the Presidential Medal of Freedom. President George W. Bush presented the actor with the highest civilian honor for his contribution to the entertainment industry.
The White House released an official statement about why Griffith was honored in 2005, writing:
"Andy Griffith is one of America's best-known and most beloved entertainers. After his introduction to a national audience as a stand-up comedian on The Ed Sullivan Show in the 1950s, he went on to star in such celebrated television shows as The Andy Griffith Show and Matlock. As a legend of the stage, cinema, and television, Andy Griffith has built an enduring career and set a standard of excellence in entertainment. He is a man of humor, integrity, and compassion. The United States honors Andy Griffith for demonstrating the finest qualities of our country and for a lifetime of memorable performances that have brought joy to millions of Americans of all ages."
Griffith died in 2012, but his legacy lives on to this day through his work in film, TV, and music. Every year, his hometown holds a festival celebrating The Andy Griffith Show called Mayberry Days.