'The Bachelor': Did Cassie Randolph Lose Weight? Fans Think She Looks Ultra-Thin
Fans think Cassie Randolph looks like she lost weight since "The Bachelor" ended. Here's what was said.
Even Bachelor fans who've watched the series for nearly two decades couldn't have guessed the turn Colton Underwood's season took. We know now that Colton completely dismissed the final rose ceremony after Cassie Randolph chose to leave the show — but of course, he won her back after jumping the fence for her and risking it all. The two are totally in love now and even planning an engagement for the near future. And fans have been loving all of the adorable photos of them out and about together, too.
It seems some fans have noticed Cassie's physique as of late — and many are noting she's quite thin. Here's what they had to say about it, as well as reasons why she may have lost weight after filming for The Bachelor ended.
The Bachelor mansion is allegedly fully stocked with food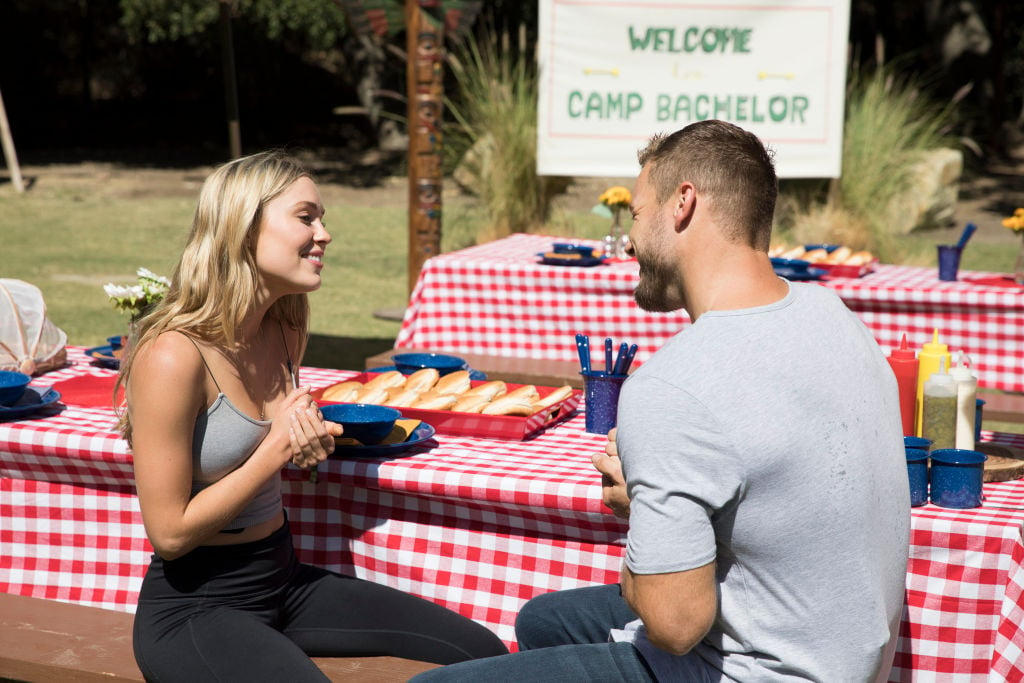 If the women and men on The Bachelor or Bachelorette didn't have fully stocked kitchens at home, they sure did when the show was filming. According to Delish, multiple women living in the Bachelor mansion have commented about the sheer variety of foods they could enjoy while on the show. Contestant Lauren Bushnell even said that the fridge was "so stocked full that sometimes it's even hard to see what's in the fridge, so you really have to do some digging." The contestants also noted that while there was plenty of healthy food in the house, it was the cereal and Oreo cookies that started to run out as the season progressed. And of course, the alcohol was flowing at every turn.
As far as Colton's season was concerned, there wasn't any notable weight gain amongst contestants that fans could notice as the weeks went by. But fans have seemed to notice that after the season is over, some contestants look like they've slimmed down. Cassie, who's known for her beauty (and who has modeling genes as evidenced by her supermodel sister), was one such person that fans think looks a lot thinner now that she's off-camera.
Colton Underwood claims he gained a ton of weight on Bachelor in Paradise
The Bachelor and Bachelorette households aren't the only ones fully stocked with food. Colton Underwood, who's been on The Bachelorette and Bachelor in Paradise before he took over the leading role, said it was the Paradise situation that really caused him to pack on the pounds. "I gained 12 pounds during filming. Chips and guacamole straight to the hips," he told Us Weekly.
The endless supply of snacks certainly didn't help his waistline, but Colton noted that the atmosphere is not too conducive to keeping up with fitness, either. While he notes he "tried" to maintain beach workouts, "it's a big bro-session with the guys. For the girls too, a lot of hanging out and having fun."
Those who watched Colton's season of The Bachelor saw the endless clips of him working out, so it's clear he was in shape for the show. But, like Cassie, fans have also noted that they think Colton's lost some weight too since his season ended.
Fans are now noticing Cassie's slim figure and think she lost weight recently
A Reddit thread cropped up recently regarding Cassie's extensions — and it showed a photo of Cassie and Colton toasting drinks. Fans reacted on the thread to her slim figure. "Woah, she's skinnier than I thought," said one Reddit user. And another commented, "I think her and Colton both lost a good amount of weight post show. I noticed it immediately on ATFR."
Another Reddit user suggested that Cassie may not have actually lost weight, though. Instead, it could have been the camera angles on the show that made her appear larger than she really is. "You see them on screen and have no one normal sized to compare to, the camera frames everything around their build, etc. But every bachelor person that my friends have seen is skinnier than they thought," the user wrote.
It's perfectly reasonable to think that Cassie may be paying more attention to her physique now that she's a public figure, however. And the stress of grad school as well as newfound fame may also be causing her to lose weight. No matter what, fans hope she's healthy.
Check out The Cheat Sheet on Facebook!