'The Bachelor' Fans Are Blasting Blake Horstmann For His Supportive Comment to Peter Weber
Peter Weber's controversial Bachelor season is complete, and fans are still reeling over what went down. The entire season, Madison Prewett appeared to be a frontrunner for Weber. But she shocked everyone by leaving early after Weber admitted to being intimate with other women during the Fantasy Suite dates. This ultimately led him to propose to Hannah Ann Sluss, the last remaining woman. But of course, their engagement didn't last long, as Weber's feelings for Prewett lingered.
Now, fans are ashamed of Weber's actions, as they feel he should've never messed with Sluss's heart in such a reckless manner. But Weber does have a few supporters by his side — and Bachelor in Paradise star Blake Horstmann is one of them. Here's what Horstmann's saying and why he's being put on blast, too.
Peter Weber made several controversial decisions at the end of 'The Bachelor'
Weber's Bachelor season was one of the most dramatic yet. We know he chose Sluss in the end, as she loved him and promised to give him her whole heart. But after their engagement, Sluss noticed some major red flags.
"Beginning of January was when he approached me he needed to speak with Hannah Brown. That was the first red flag," Sluss told the Bachelor Happy Hour podcast. "I was questioning my own self because he was trying to convince me that was something he needed. I didn't feel settled with that."
When the two finally broke off their engagement on camera, it was a week after the comment about Brown. And Sluss was surprised when she and Weber ended things, as she thought they were going to work through it.
During the live finale of the show, fans saw Weber approached Prewett in the hope of reconnecting after his breakup. While he and Prewett agreed to stay connected and see where things could go, it was clear Weber's mother didn't approve. And days after the finale, both Prewett and Weber announced an official split.
Blake Horstmann wrote a supportive comment to Weber
Weber's Instagram statement regarding his breakup states, "Madi and I have mutually decided to not pursue our relationship any further. Believe me this was not easy for either of us to be ok with, but after a lot of honest conversations, we have agreed that this is what makes most sense for the two of us." And his critics are hitting him hard in the comments.
"Proposing to Hannah Ann when you were so undecided and in love with another girl at the same time was so wrong and sleeping with her and Victoria F If you were planning to pick Madison wasn't fair to her either," one follower commented.
"All I saw through your season was poor choices and indecision," another noted. "Sadly after watching your mom manipulate you it's obvious to many of us as to why you had such struggles."
Despite the conflict, Weber has a few supporters who know a bit of what he's been through. And one of them was Bachelorette and Bachelor in Paradise contestant Blake Horstmann.
"Keep your head up man! You will become a stronger man through all of this!" Horstmann commented.
Fans are criticizing Horstmann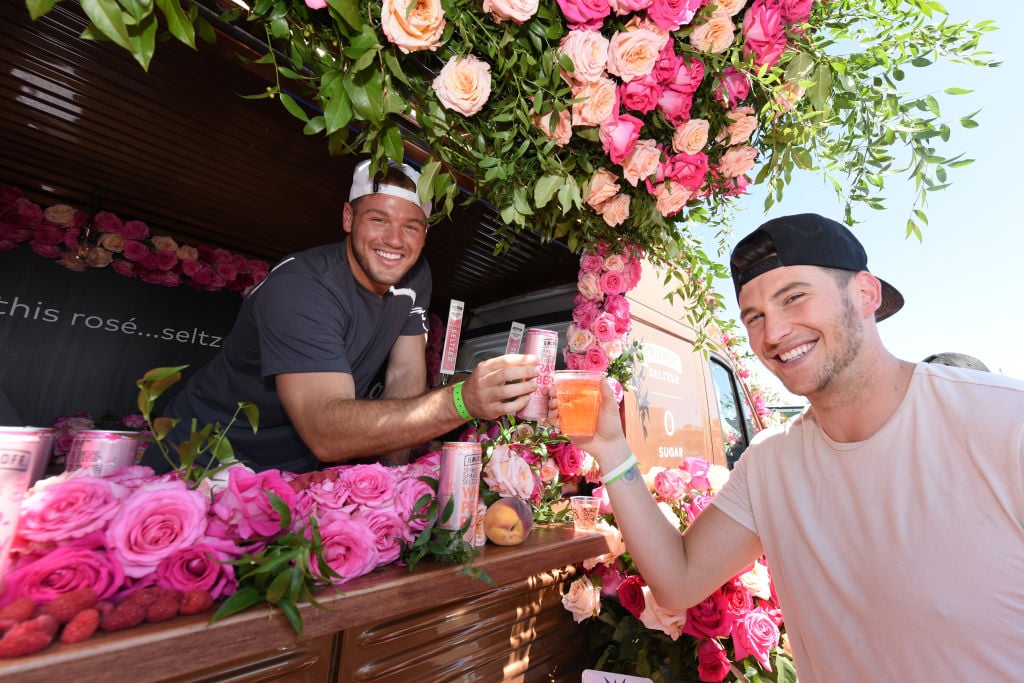 Horstmann has been in quite a lot of trouble with fans in the recent past. During Season 6 of Bachelor in Paradise, he was known for his romances that happened prior to the show. While at Stagecoach Festival, he had relations with both Kristina Schulman and Caelynn Miller-Keyes, and he also allegedly tried to contact Tayshia Adams and Hannah Godwin.
It was Horstmann's relationship with Miller-Keyes that got the most attention, though. Miller-Keyes accused Horstmann of ghosting her mid-relationship prior to BIP. And Horstmann later released private texts between him and Miller-Keyes to help prove his point.
Given Horstmann's past, fans weren't too happy about his message to Weber.
"Give it a d*mn rest blake your reputation is trash already," one follower commented.
Another wrote, "seriously you suck the worst.. just go away dude."
A number of others made jokes about bringing Weber to Stagecoach, too.
Despite the hate, we're sure this isn't the last we'll hear of Horstmann. And we'll have to wait and see what happens with Weber and his relationships in the future.
Check out Showbiz Cheat Sheet on Facebook!