'The Bachelor': Hannah Ann Sluss Alluded Her Relationship With Madison Prewett Is Extremely Strained
Peter Weber's Bachelor season didn't go down exactly as anyone planned. While he proposed to Hannah Ann Sluss at the end (much to the delight of his mother), their relationship didn't last. Sluss was madly in love with Weber, but Weber had lingering feelings for one of the women who left the show on her own accord, Madison Prewett. And we know after Sluss and Weber ended things, Weber and Prewett attempted to give their romance another go.
Sluss and Prewett were good friends, as they developed a close bond while both competing for Weber's heart. But now, it seems the whole situation with Weber may have soured things. Sluss admitted to former Bachelor Nick Viall via The Viall Files podcast that her friendship with Prewett isn't what it used to be.
Hannah Ann Sluss told Peter Weber their relationship involved 3 different women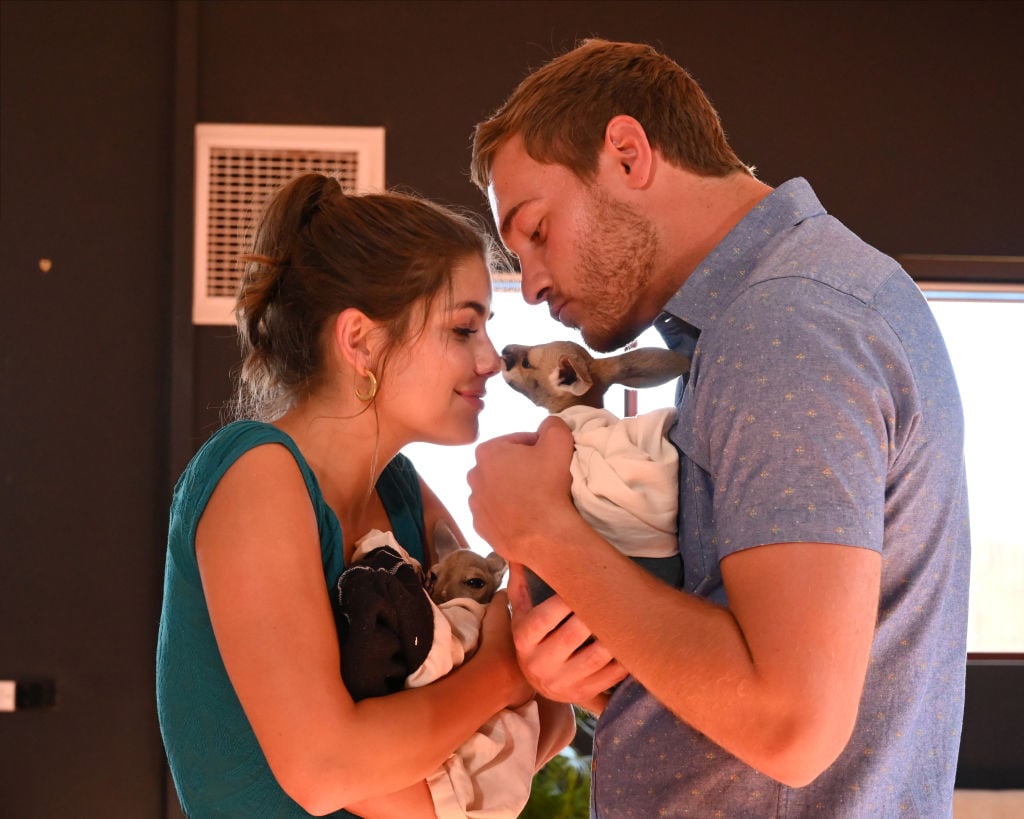 Sluss and Weber broke off their engagement with the cameras rolling — and viewers got to see Sluss' betrayal and hurt. It seemed Sluss had no idea that Weber was still stewing over losing Prewett. And Sluss also noted that he asked her if he could contact ex-Bachelorette star Hannah Brown for additional closure.
This, of course, didn't fly with Sluss. And she confronted him about how his uncertain feelings gravely hurt her during the After the Final Rose special.
"So really, looking back at it, our engagement involved three women. Me. You still being in love with Madison and proposing to me. And you needing closure with Hannah Brown," Sluss told Weber in front of a live audience. "That's three women involved in our engagement I was completely blindsided to."
After Sluss had her words with Weber, it was revealed that Weber and Prewett reconnected. And they appeared to both desire to give their failed relationship another shot, though they called it off shortly after.
There's evidence on Instagram that Sluss and Madison Prewett get along
Despite everything that happened between Weber, Prewett, and Sluss, it seems Sluss and Prewett are on the same side. Now, Sluss is offering her life advice to others who may need a few kind words. And Prewett approves.
"Forgiveness Moves You Forward – When we are hurting, it's easy to believe the lie that holding resentment is our only and best option," Sluss captioned her post from March 24. "Forgiveness is a choice, and most often times, a daily choice."
To that, Prewett commented with the hands-raised emoji. And Sluss replied back with an emoji of a kissing face and a heart.
This is far from the first public Instagram exchange between the ladies, too. Since both of them went their separate ways with Weber, it's clear they're supporting each other through the process even if that support is only shown through Instagram emojis.
Sluss alluded her friendship with Prewett isn't the same anymore
Sluss spoke to Viall via The Viall Files about her breakup and how her life has changed since then. And she spoke out about her current status with Prewett.
"I spoke with her right after her and Peter broke up," Sluss explained. "We're gonna plan to go get some coffee."
Sluss then noted that Prewett was the one to reach out first. "So, she reached out to me after the breakup. We were really good friends on the show. Really good friends, actually," Sluss noted.
"Are we good friends now? I'm definitely open to going to get coffee. I said, hey, let's go get coffee or dinner next time you're in L.A. and we'll go from there. I think everyone involved just wants to move forward. And, me and Madison, we were really good friends on the show. And we'll see where this coffee date brings us."
Judging from what Sluss said, it seems she and Prewett aren't nearly as close as they once were. But we're hopeful the ladies can reconcile their differences and come out with respect, love, and admiration for each other.
Check out Showbiz Cheat Sheet on Facebook!