'The Bachelor': Hannah Ann Sluss Said She Was 'Miserable' With Peter Weber Since January 2020
Those who watched Peter Weber's season of The Bachelor are well-aware of what occurred during the finale. Weber adored contestant Madison Prewett, but Prewett decided to leave early, as she didn't think she and Weber were truly compatible. This led Weber to choose Hannah Ann Sluss. While Weber's family adored Sluss, their relationship didn't last, as Weber still had lingering feelings for Prewett and his other ex from The Bachelorette, Hannah Brown.
Now, Sluss is dishing on what her engagement with Weber was really like. And she told the Bachelor Happy Hour podcast that she was completely miserable while engaged to Weber back in January 2020.
Hannah Ann Sluss and Peter Weber ended their engagement after 'The Bachelor'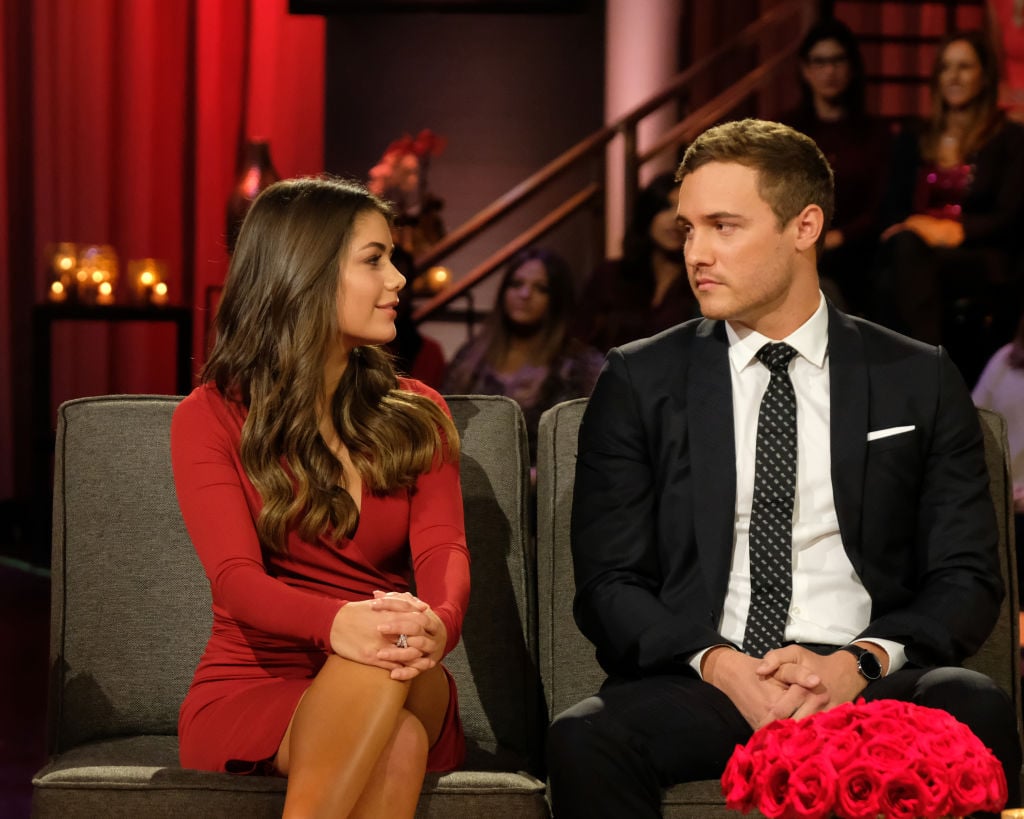 Sluss is going down in Bachelor history as one of the strongest women to ever be on the show. There were red flags littered throughout her relationship with Weber, and she was able to address a number of them during the live finale. Perhaps the biggest bomb she dropped was about Weber wanting to contact Brown during her engagement.
"So really, looking back at it, our engagement involved three women. Me. You still being in love with Madison and proposing to me. And you needing closure with Hannah Brown," Sluss told Weber on the Bachelor live finale stage. "That's three women involved in our engagement I was completely blindsided to."
We know Weber attempted to reconcile his relationship with Prewett, but that ended quickly. As for Brown, Sluss told the Bachelor Happy Hour podcast she believes Weber is still in love with her now.
Sluss says she was 'miserable' with Weber
Sluss didn't know she and Weber would break-up on camera. Prior to their taped conversation, she thought she and Weber agreed to work things out. The relationship-ending conversation they had that was aired was totally unplanned.
"I knew it was going to be a tough conversation. And we both even said we will move past this, we will overcome this as a couple," Sluss told the Bachelor Happy Hour podcast. "Through text messages and voicemails, I trusted his word."
Sluss notes she's "happy how things ended," because the relationship was totally unsustainable with Weber being unsure of what he wants. "Gosh, I was miserable with him," she added. "Once January started because of the whole wishy-washy-ness started. And I was just like, 'I need someone who knows who they are, who knows what they want, who's not going to be with someone just because their mom told them to.'"
She's now vowing to help others get past the dark times in their lives
Sluss's cheerful spirit has inspired many, and she's now looking to help others who are going through a dark time. "For the next 10 days, I will be sharing a series of post called 'Finasco to Fabulous' to share 10 ways that helped me through my difficult experience," Sluss captioned her Instagram post on March 17. "Feel free to share with a friend in need. If my pain helps anyone else then it will be worth it!"
Within the video, Sluss also explained to her followers what she's up to.
"Whether you're going through heartbreak or a difficult situation, if you can just focus on the positive and focus on taking everything in life to grow you and to make you a better person, then you will start to see the light at the end of the tunnel," Sluss promises.
We're looking forward to hearing more about what Sluss has in mind. For now, we're loving her positive spirit!
Check out Showbiz Cheat Sheet on Facebook!