'The Bachelor': Katie Thurston Was 'Shocked' She Was Cast Because She's 'Older' in 'Bachelor World'
After this week's episode, Katie Thurston is on a lot of Bachelor fans' minds. She had a really great run this season and was one of the few voices of reasons in the house through the heavy drama Matt James' contestants have faced. But she was actually shocked when she was initially cast. [Spoiler alert: Spoilers ahead for The Bachelor Episode 5]. 
Katie Thurston remembered being shocked that she was cast because of the typical women on the show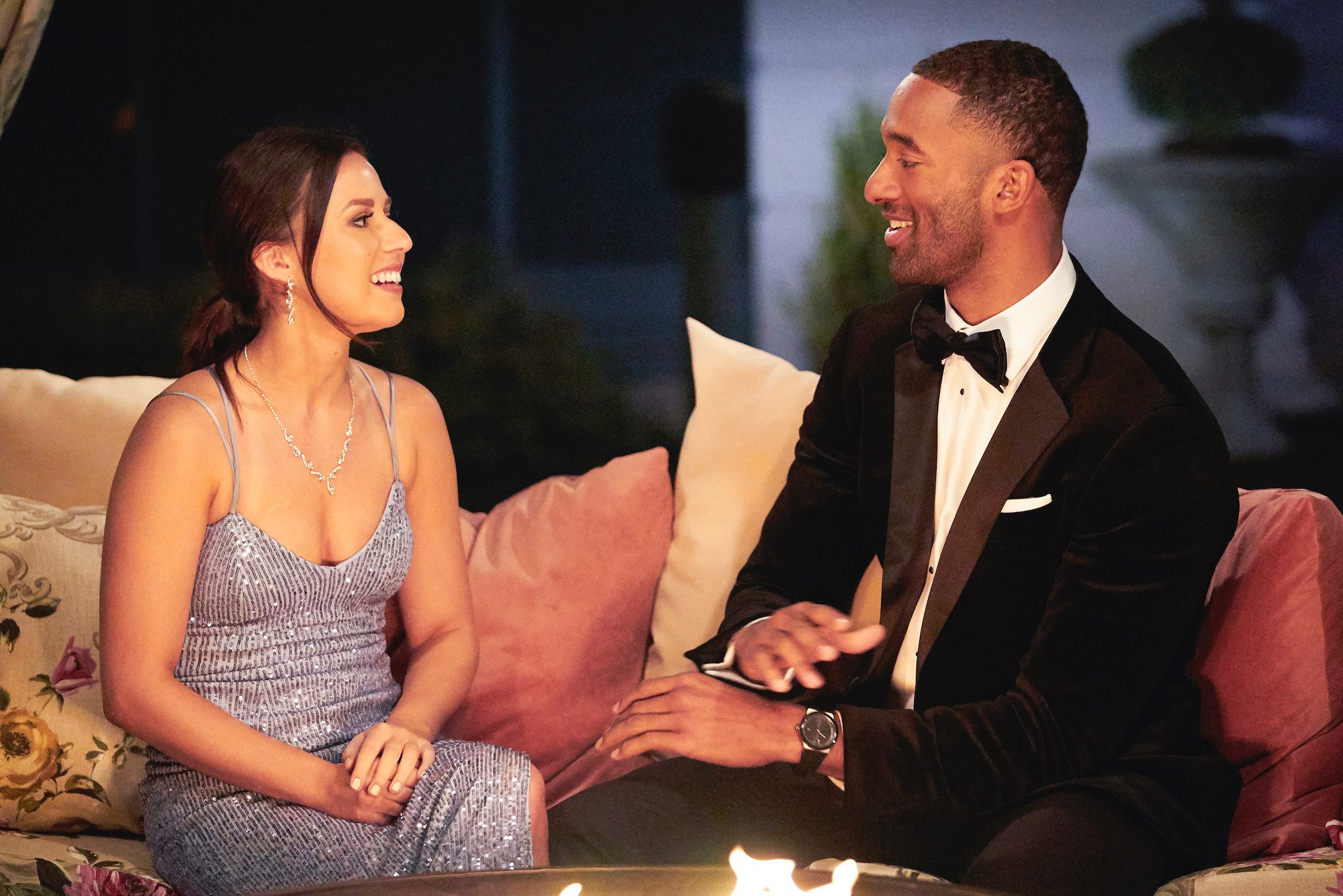 Even though Thurston was unfortunately sent home this past week, she accumulated a lot of fans in her process on the show. And with that, her time on The Bachelor was definitely not a bad one. And when she went on the Bachelor Happy Hour podcast on Jan. 19, she told co-hosts Rachel Lindsay and Becca Kufrin that she put her own name in and applied on her own.

"It's so funny because I joke with my friends that I'm the target version of a contestant," Thurston said. She went on to say that there are a ton of "beautiful" supermodel-esque women that go on the show, so she feels doesn't fit in that category of Bachelor contestants. 
"In Bachelor World, I am considered 'older,'" she continued, referring to her age since she just turned 30. "And so when I was cast I was actually pretty shocked. I was kind of in denial. Even getting ready for it."
So when it came time to audition, she laid it all out there and was just "100 percent" herself. 
"I guess they found that pretty refreshing," Thurston said. "Like, I had no filter, I didn't hide anything. And I was like, 'Ok, they must think I'm a good match for Matt, let's go with it.' And it's a pandemic, this is the perfect opportunity to date somebody… online dating sucks…" 
Katie brought a vibrator on Night 1 because it really established who she was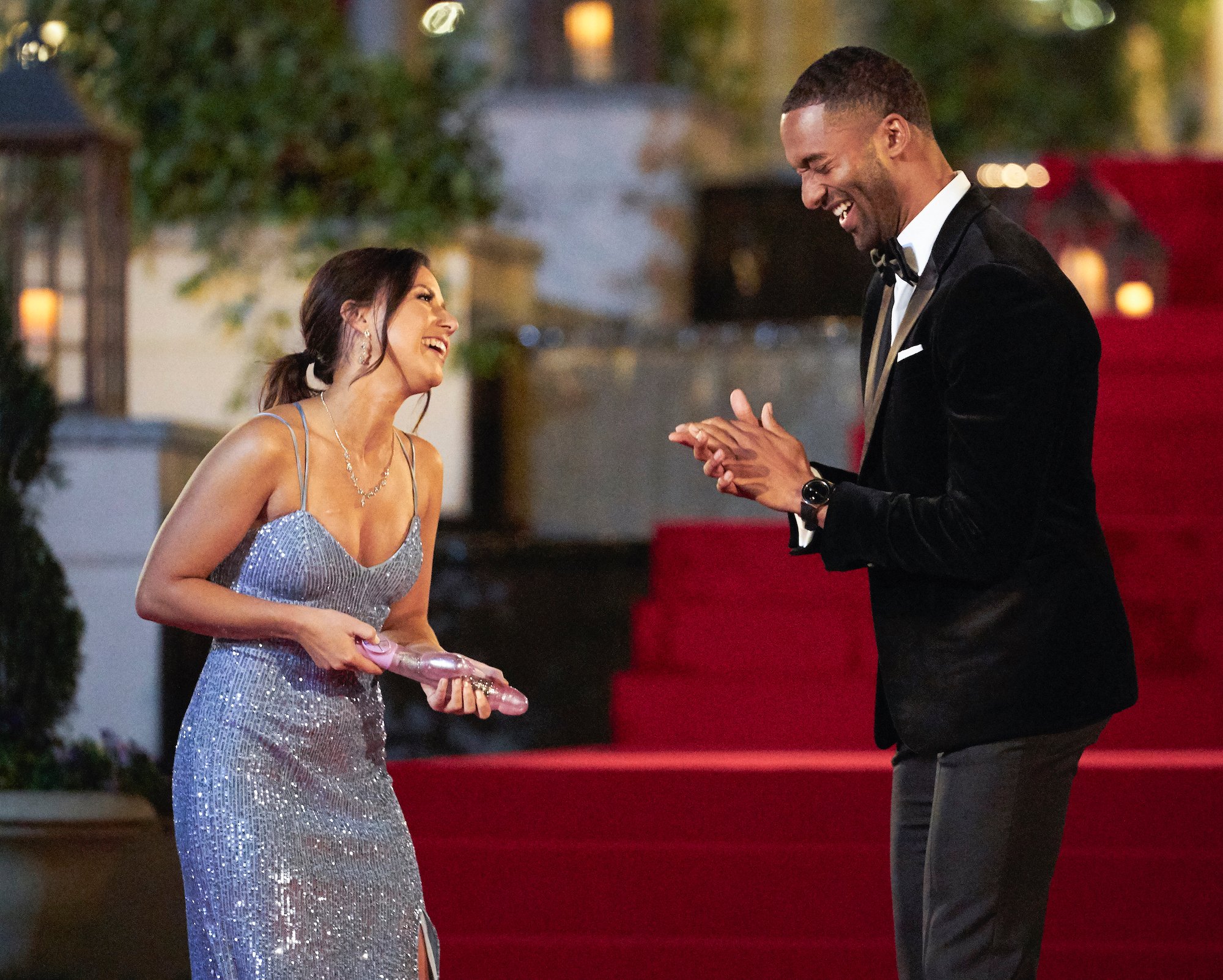 And, of course, Katie's personality didn't stop at her audition to be on the show. On her first night on The Bachelor, Thurston turned heads — on and off the show — by bringing a vibrator as her "thing" to make an impression on Matt. 
"For me, it actually summarized me perfectly," Thurston told Lindsay and Kufrin about why she used a dildo as her icebreaker. "And our time is so short and I could do nothing but be myself and I knew Matt is religious, I know I don't know him personally. So I knew it could very well send me home Night 1. And I would have no regrets. Because it really summarizes… my sense of humor, my confidence, my sexual empowerment for females, and I didn't know what to expect with my little stunt."
Thurston lasted six weeks on The Bachelor and definitely established herself as a confident, sex-positive contestant who stood up to bullies and warned James about ongoing tension and harmful rumors in the house. And seeing him laugh right off the bat when she pulled out her vibrator was all the reassurance she needed on Night 1. 
"I just felt this huge weight lifted off of me after that when I saw his laugh," Thurston said. "It was just the biggest, most genuine laugh. And I was like, alright."
However, none of Katie's friends or family were surprised by her being on the show, or her how she was on the show
And what fans saw on TV is what fans get with Thurston, according to the Washington state native. Thurston said that none of her family or friends were surprised that she applied or was cast and of course weren't surprised with how she was on TV. She joked that she's a "catch," of course. 
And to that as well, Lindsay also pointed out that with people who watch the show or are familiar with it, sometimes they want to play a role. But for Katie, she really fell into her own role and was genuine to herself. 
"You're so… it comes through the TV screen that you're authentically being yourself, you really don't care, you're very… I don't know. It's very fun to watch," Lindsay said. "And then you find as a viewer, we find ourselves rooting for you."
And root fans are. Thurston is a frontrunner for Bachelorette with many rumors circulating that she was cast as the next lead. But time will tell of that's actually true or not. For now, Katie and her vibrator must wait.