'The Bachelor': Kristina Schulman Clapped Back at a Follower Accusing Her of Copying Dean Unglert and Caelynn Miller-Keyes
We've seen Kristina Schulman on both The Bachelor and Bachelor in Paradise, and fans have grown to either love her or hate her. The Russian-born beauty originally competed for Nick Viall's love, but she was sent home earlier than many anticipated. While she attempted to find love on BIP twice, that didn't pan out for her, either. And her most recent season saw her with a new attitude that turned many of her fans off.
No matter what, we know Schulman is sticking to her guns and remaining true to herself. And now, she's clapping back at an Instagram follower who accused of copying her ex-boyfriend, Dean Unglert, and his girlfriend, Caelynn Miller-Keyes. Here's what happened.
Dean Unglert and Kristina Schulman have a history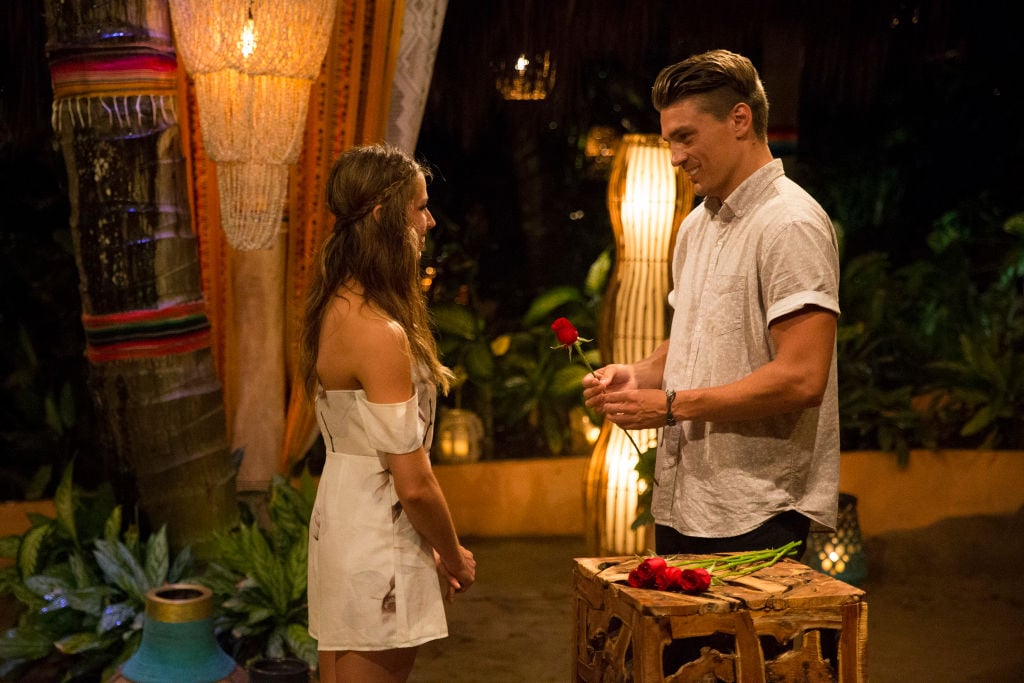 Unglert and Schulman first met on BIP Season 4, and they hit it off from the beginning. Their connection grew from the moment they first met, and they even grew their relationship off the air when filming took a hiatus. Unfortunately, when Unglert laid eyes on another contestant, Danielle Lombard, all bets were off. And a love triangle ensued.
Lombard asked Unglert on a date when she arrived on the beach, and he accepted. This led to Unglert having some seemingly superficial feelings for her, as he liked the way she looked. But, of course, this also jeopardized his relationship with Schulman. Ultimately, Schulman ended up leaving the show on her own accord, as she didn't feel prioritized by Unglert.
We know Schulman and Unglert made up after the show, and they continued to date. Ultimately, though, they called it quits, though they did admit having serious feelings for each other.
Caelynn Miller-Keyes and Unglert have traveled around the globe together
Miller-Keyes and Unglert had a rocky start to their relationship. We know they also met on BIP, but Unglert decided to leave the beach as soon as he started getting close to Miller-Keyes, as he didn't think their relationship would be sustainable. Unglert ultimately came back, as he realized Miller-Keyes was worth the risk. And together, they left Paradise and embarked on their life together.
Unglert has lived an adventurous life for quite some time, as he lives out of a van and travels all across the world. While Miller-Keyes is known for being a pageant girl, she's embracing her adventurous side.
"I'm a pageant girl … but the Miller side of my family … they're very adventurous, they're hiking, they live in, like, Airstreams, you know? And so, I'm kind of embracing that side of myself that I never have before, and it's been great," she told Access at the beginning of their relationship.
Now, both Miller-Keyes and Unglert post all about their travels to Instagram, and they keep a blog where they share where they went, how much it cost them, and where they're planning on going next.
Schulman clapped back at a rude follower
Schulman also loves the great outdoors. On March 17, she posted a set of photos showing her out in nature during the coronavirus quarantine. But a follower accused her of stealing Unglert and Schulman's content.
"Why are you copying Dean and caelynn?" the follower asked with the eyeball emoji.
To that, Schulman replied, "are you saying that anyone who is exploring nature is copying something that's been in existence for millions of years?"
The original poster noted, "sure but they were also exploring the nature during this quarantine time. Just find it a bit odd you were doing exactly the same."
Schulman wrote back, "umm. Lmao ok. I don't know how to respond to that expect that IT IS COMPLETELY NORMAL TO GO OUT AND TAKE WALKS IN NARURE or walk the beach or climb Mount Everest.. idk it's a big world and we're just living in it and exploring it."
Many others backed Schulman up here, and others applauded her for practicing social distancing and getting outside without anyone else around her. And we're sure one comment won't stop her from posting the content she wants to share!
Check out Showbiz Cheat Sheet on Facebook!