'The Bachelor': Many Current Contestants Release a Joint Statement About Racism, Support Rachel Lindsay
Following the last two days of outrage from many fans of The Bachelor franchise following Chris Harrison's tense interview with Rachel Lindsay, many contestants from Matt James' season have done something pretty remarkable.
In an unprecedented move, many women from this current season of The Bachelor have banded together against racism and supported Lindsay in light of said interview. [Spoiler alert: Spoilers ahead for most recent episodes of The Bachelor].
Chris Harrison's recent interview with Rachel Lindsay angered a lot of people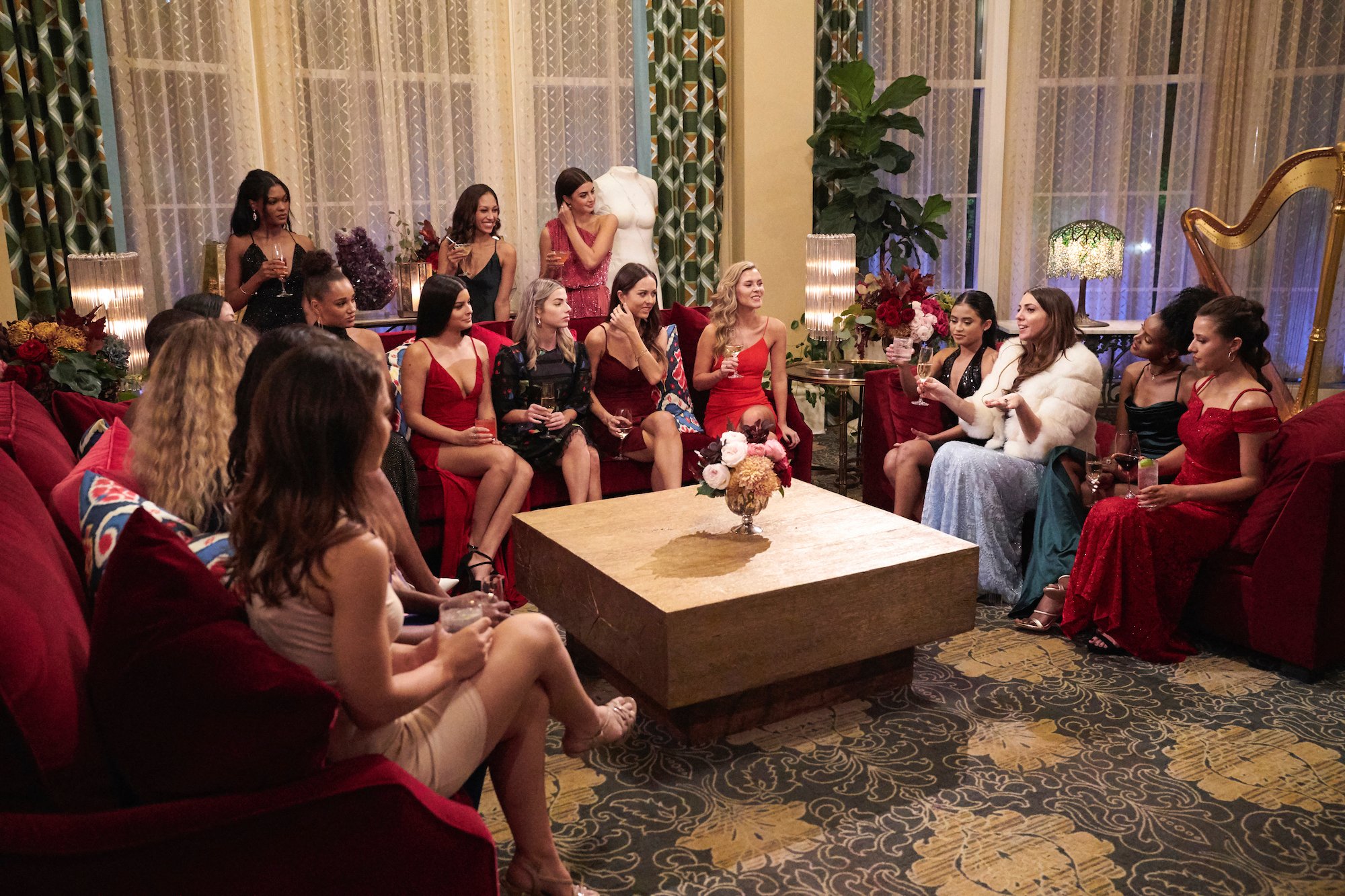 RELATED: Is Rachel Lindsay Leaving 'The Bachelor' Franchise? Fans Defend the Former Bachelorette After Chris Harrison's 'Disgusting' Remarks
The interview in question took place on Feb. 9 on Extra, and Lindsay hosted. The topic turned to Rachel Kirkconnell, another contestant on the season who is rumored to go pretty far in the competition for James' heart. 
Kirkconnell has been under fire with allegations of racism due to social media allegations and a photo of her at a sorority Old South Antebellum plantation themed formal. But in the six weeks since these allegations started coming out, Kirkconnell hasn't spoken out about them at all. When Lindsay pointed out that some fans are frustrated with that lack of response, Harrison defended Kirkconnell. 
"But when do you jump in, when is the time, and who is Rachel Lindsay and who is Chris Harrison and who is whatever woke police person out there, who are you?" he said. "I've heard this a lot of 'I think she should, I think he should,' who the h*ll are you. Who are you that you demand this?"
He also tried to say that the 2018 "lens" through which that Old South Antebellum party was viewed is so different than the one we're viewing it today, in 2021. It's important to note that those types of "Old South" parties were banned by Kirkconnell's university in 2016 according to Refinery29, so the context was already there as to why it was wrong. But also, the "lens" of the horrors of slavery has existed… since slavery. Which was way before 2018. 
Many women from Matt James' season of 'The Bachelor' posted support for Lindsay and against racism in the franchise
It's safe to say, Harrison received a ton of backlash. So much, that he posted a statement in which he apologized for taking a "stance on topics about which [he] should have been better informed." He noted that he was trying to grant Kirkconnell "grace" but in doing so he just "perpetuate[d] racism" by what he had to say.
However, the damage was done and a #FireChrisHarrison tag was trending and a petition was started, Elite Daily reported.
At first, there weren't a ton of voices from previous Bachelor seasons speaking out on the issue. Which is, unfortunately, the case with a lot of race-related issues. Lindsay is typically the sole voice. Taylor Nolan raised a lot of noise on the subject, writing a long post with the words, "just because YOU didn't think it was racism before 2020 DOES NOT mean that it wasn't," on her image.
And then several women from Season 25 banded together to create a joint statement about the issue. The first two paragraphs read:
We are the women of Bachelor Season 25. Twenty-five women who identify as BIPOC were cast on this historic season that was meant to represent change. We are deeply disappointed and want to make it clear that we denounce any defense of racism. Any defense of racist behavior denies the lived and continued experiences of BIPOC individuals. These experiences are not to be exploited or tokenized.
Kirkconnell has since released a statement since Harrison's explosive interview
Among those that shared the post were Chelsea Vaugh, Katie Thurston, Peiper James, and Jessenia Cruz. In fact, it looks like most of the cast from this season posted.
In addition to that first part, the last part of the post they all shared read, "Rachel Lindsay continues to advocate 'grace' for individuals who identify as BIPOC within this franchise," they wrote, with "grace" mimicking Harrison's words. "Just because she is speaking the loudest, doesn't mean she is alone. We stand with her, we hear her, and we advocate for change alongside her."
Since Harrison's interview, Kirkconnell has come out with her own statement in which she addresses her racism. 
"At one point, I didn't recognize how offensive and racist my actions were, but that doesn't excuse them," she wrote on Feb. 11. "My age or when it happened does not excuse anything. They are not acceptable or okay in any sense. I was ignorant, but my ignorance was racist."
Along with writing that she was "ashamed" at her lack of knowledge, she also said she'd learn how to be more antiracist moving forward. In her Instagram story, she also reposted the joint statement from the rest of the women.
Kirkconnell also added a story saying that her apology was for those who were impacted by her racist past. "If you do not identify as BIPOC then it is not your apology to accept or not. Please be respectful to those who have been affected," she wrote. 
RELATED: 'The Bachelor': Chris Harrison Asks Rachel Lindsay 'Who Are You' During Heated Racism Debate