'The Bachelor': Rachael Kirkconnell Finally Released a Statement Following Old South Photo; 'My Ignorance Was Racist'
The Bachelor franchise is not a stranger to controversy. And racist controversies are unfortunately quite prevalent as well in the laundry list of grievances contestants have committed. And Rachael Kirkconnell is the most recent Bachelor Nation member to find herself at the receiving end of such a controversy.
And now after a bit of waiting, Kirkconnell finally released a statement regarding her past and moving forward.
Rachael Kirkconnell released a statement regarding her past racism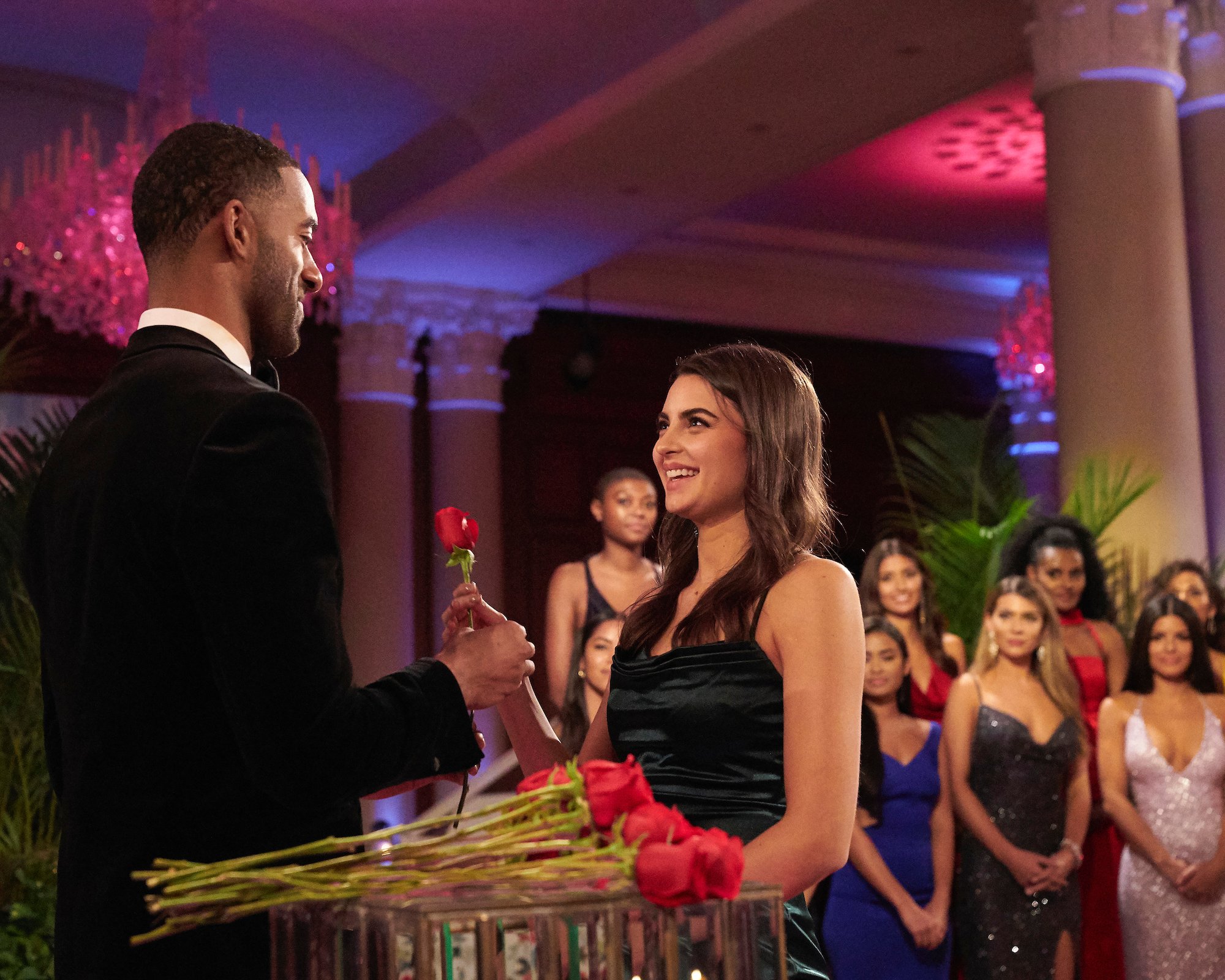 RELATED: 'The Bachelor': Matt James Addresses Rachael Kirkconnell's Social Media Controversy
As one Reddit post showed, a photo from 2018 resurfaced that showed Kirkconnell at an Old South Antebellum plantation themed formal in college. It's offensive not just because of the ties to the confederacy and slavery, but also the fact that "Old South" parties were banned in 2016, according to Refinery29.
That's the most recent, and most flagrant, thing to come out about Kirkconnell since Jan. 4's The Bachelor premiere. She hasn't responded to any allegations or the photo and on Feb. 11 Kirkconnell released an Instagram post addressing her past racism.
"While there have been rumors circulating, there have also been truths that have come to light that I need to address. I hear you, and I'm here to say I was wrong," she wrote. "At one point, I didn't recognize how offensive and racist my actions were, but that doesn't excuse them. My age or when it happened does not excuse anything. They are not acceptable or okay in any sense. I was ignorant, but my ignorance was racist."
A TikTok user also accused Kirkconnell of racism back on Feb. 3, saying she bullied the user for "liking Black guys," and others came forward with similar stories, according to Cosmopolitan.
Kirkconnell continued in her statement, saying that she's "sorry to the communities and individuals" she "harmed and offended." She wrote that she's "ashamed" of her lack of knowledge and education regarding racism. She didn't address the plantation party specifically, or other specific incidents.
Kirkconnell said that she plans to 'learn how to be antiracist' going forward
As for Kirkconnell's action plan for doing that learning, she wrote that she already is learning and will "continued to learn how to be antiracist because it's important to speak up in the moment and not after you're called out."
She also said that she wants to be a learning experience for others. And for those that don't "understand" why people were offended by her actions, "I urge you to learn from my mistakes and encourage you to use them as a teachable moment," she wrote.
She noted how "sick" she is of reading statements like these, and wants to put her "energy towards preventing people from making the same offensive mistakes that I made in the first place, and I hope I can prove this to you moving forward."
"Racial progress and unity are impossible without (white) accountability, and I deserve to be held accountable for my actions," Kirkconnell ended her post with. "I will never grow unless I recognize what I have done is wrong. I don't think one apology means that I deserve your forgiveness, but rather I hope I can earn your forgiveness through my future actions."
This statement comes after Chris Harrison's explosive interview with Rachel Lindsay
The Bachelor fans seemed to be wondering when Kirkconnell was going to address all these allegations, especially following that photo at such an offensive event. And it's worth noting that this apology comes a day after Chris Harrison had a very tense interaction with Rachel Lindsay on Extra on Feb. 9. 
They talked about Kirkconnell, and the Bachelor franchise host said that he doesn't know when she'll make a statement. However, he was perturbed that she was getting "executed" online.
"This is, again, where we all need to have a little grace, a little understanding, a little compassion," Harrison insisted. "Because I've seen some stuff online—again this judge-jury-executioner thing—where people are just tearing this girl's life apart and diving into, like, her parents and her parents' voting record. It's unbelievably alarming to watch this. I haven't heard Rachael speak on this yet. And until I actually hear this woman have a chance to speak, who am I to say any of this?"
As Lindsay tried to educate Harrison why Kirkconnell's Old South photo was so offensive, he tried to say that the lens in 2018 made it different than how people see it now. Even though the context and horrors of slavery are exactly the same.
Lindsay also pointed out that it's been six weeks since allegations of racism came out, and Kirkconnell hadn't said anything. She tried to point out that fans were offended, again, by that silence. And Harrison didn't take that well either.
"But when do you jump in, when is the time, and who is Rachel Lindsay and who is Chris Harrison and who is whatever woke police person out there, who are you?" he said. "I've heard this a lot of 'I think she should, I think he should,' who the h*ll are you. Who are you that you demand this?"
He's since put out a statement saying he'll "do better" in the future.
RELATED: 'The Bachelor': Why Thousands of Fans Are Demanding for Chris Harrison to Be Fired