'The Bachelor': What Hannah G. Really Thinks of Cassie Randolph
Each season of The Bachelor is full of its own twists and turns, and Colton Underwood's season surely didn't disappoint. From the infamous fence jump to surprise heartbreak throughout the show, fans never saw some of the season's most talked-about moments coming. At the end of the day, we know Colton and Cassie Randolph are together and extremely happy, but there was one fan-favorite contestant who was left utterly heartbroken. That was Hannah Godwin.
Hannah was in love with Colton and thought it would be her with him at the end. Unfortunately, Colton broke up with her and pursued Cassie instead. So, what does Hannah G. think of Cassie now that the show is over? Here's what we've gathered.
Hannah G. mentioned she never saw the connection Colton had with Cassie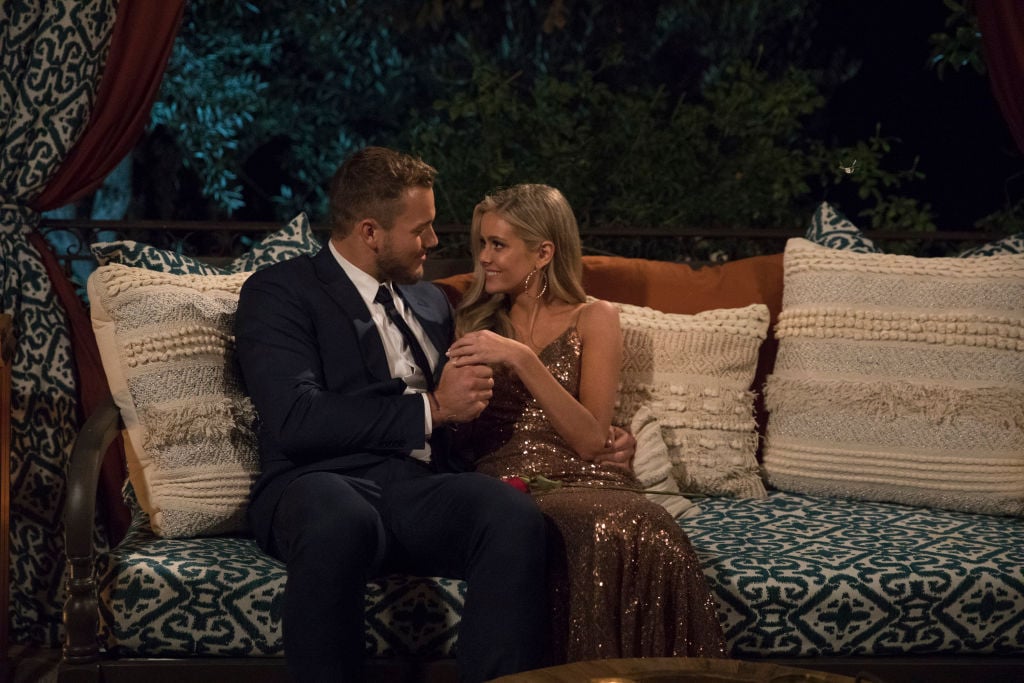 The connection between Hannah G. and Colton was undeniable from day one. Hannah won the first impression rose, proving Colton had his eye on her early on, and there were multiple times throughout the season when the two seemed like the perfect fit. Audiences were just as stunned when Colton let Hannah go as they were when he first jumped that fence — and it seems Hannah didn't see the connection he had with Cassie, either.
During an interview with Access, she admitted she had no idea Cassie and Colton were so close. "But I didn't focus on other relationships," she added. "If I focused on other relationships the whole time, then … I wouldn't have been able to enjoy the moments that I had with him." Hannah also mentioned that she was pretty surprised when Colton told her Cassie was the one who captured his heart. She trusted him with her heart since it was "real life" for her.
It also seems Cassie isn't in Hannah's friend group after the show
It wouldn't be The Bachelor without a little bit of drama in the house. Hannah managed to stay out of it, though we know there was plenty of talk regarding Caelynn Miller-Keyes and Cassie not being ready for engagement at the end. As Hannah told Vulture, "With the drama and everything, I made my relationship with Colton my one and only priority. I tried to stay in my own lane and not get caught up in distractions when I was working on my relationship." As for the rumors regarding Caelynn and Cassie, Hannah also told the publication that she didn't focus or care about what they said — she was only there for Colton's heart in the end.
When Vulture asked if she's still friends with any of the girls from her season, it seems Hannah does keep up with a number of them now. "I'm close with a lot of the women. I love Katie, Demi, Heather, Hannah B., and Kirpa. They're all so different, personality-wise, so I have different threads with each of them," she said. While Hannah never mentioned anything negative about Cassie during the interview, it does seem like she and Cassie weren't the best of friends during the season, either.
They may not be friends, but Hannah thinks Cassie is 'so sweet'
Hannah G. spoke with ExtraTV in regards to how she feels about Cassie and Colton's relationship now, and she had nothing but nice things to say. In regards to the fence-jumping situation, Hannah said, "it shows how much he really did care about her … it's something I absolutely respect." And when the ExtraTV interviewer asked if she and Cassie were on good terms, Hannah responded with an enthusiastic, "oh yeah! I think Cassie's so sweet. Yeah."
While Hannah G. may not be the next Bachelorette, it seems she does have a ton of love for Hannah B., the contestant who did get chosen. "I love me some Hannah B.," Hannah G. mentioned to ExtraTV. "I know she's gonna crush it this year." Could we see an appearance from Hannah G. on Hannah B.'s season? That's really what fans are hoping for.
Check out The Cheat Sheet on Facebook!