'The Bachelorette' 2020: We Finally Know How Clare Crawley's Season Will Play Out
Thanks to the coronavirus (COVID-19) pandemic, Clare Crawley's season of The Bachelorette has been put on hold indefinitely. Though ABC executives and Chris Harrison have assured fans that the season is absolutely still happening, fans have been wondering just how it will play out. Traveling is currently out of the question and, with the virus, fans of The Bachelorette have even been wondering if the contestants will even be allowed to be intimate with one another. Fortunately, we finally have some definitive answers.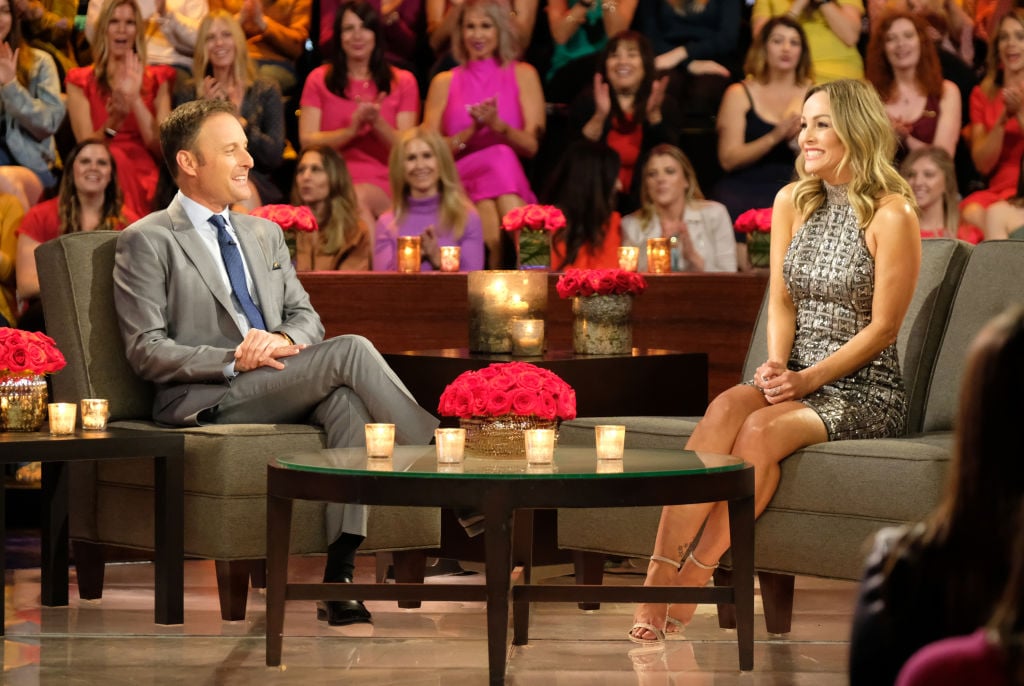 Recently, Rob Mills, ABC's Vice President of Alternative Programming, did an interview with On Air with Ryan Seacrest. Whilst there, he got candid about how the network will go about filming for Crawley's season of The Bachelorette. According to Mills, shooting for the 16th season will begin in July of 2020 and it will all be shot in one location.
How will 'The Bachelorette' 2020 play out?
"Here's what we're going to do: For Clare's season, which is going to come first, that's going to shoot in about a month. Everybody is going to be at one location. Everybody is going to be tested a week before; everybody comes back negative; we shoot, and they're inside that bubble," Mills declared about how the newest season of the Bachelorette will be shot.
RELATED: 'The Bachelor' Fans Feels the Producers Are Full of It
Related post url: 
'The Bachelorette' Season 16 will be shot at a resort
To make the experience a bit more exciting, the contestants of The Bachelorette won't be trapped in the Bachelor mansion. Instead, they'll be at a resort. This will allow for more variety and excitement in terms of one-on-one dates. Crawley and her men will be allowed to do some fun excursions whilst at the resorts. "They won't be at The Bachelor mansion. They'll be at some sort of resort and we've scouted several of them and all of them have been scouted for good date locations," Mills shared.
Clare Crawley's season will not feature any travel
Naturally, this isn't as exciting as traveling abroad, especially considering that a trip to Italy was in the works for the upcoming season of The Bachelorette. But, Mills has promised that selecting a resort as the shoot location will make for a fun experience for Crawley, her many contestants, and Bachelor Nation.
But what about the upcoming season of The Bachelor starring Matt James? Will he and his contestants be confined to a resort as well? According to Mills, not necessarily. Unlike The Bachelorette, The Bachelor isn't set to start shooting until Fall of 2020. Therefore, it may be possible to have a season that's more in line with what fans have experienced in the past. But, it largely depends on the state of the world at the time.
How will 'The Bachelor' be shot?
"We're hoping to start on time which will be the end of September and we'll see where the world is. Hopefully, that's when we would be at The Bachelor mansion. Maybe there's some travel. Maybe it's just domestic. Maybe it's by bus, but we'll see. If not, if things aren't that safe, we'll shoot it the same way [as Clare's season of The Bachelorette] where everybody is safe; they're tested; they're quarantined," Mills shared.
Only time will tell how James' season will play out. But, Bachelor Nation can expect new content sooner rather than later.