'The Bachelorette' 2021: Did Katie Thurston Make out With the Most Men on Night 1 in Show History?
Katie Thurston started her journey on 'The Bachelorette' last night with a lot of kissing. Did she kiss the most men in night one history?
Katie Thurston's journey to find love on the 2021 season of The Bachelorette started last night. The star failed to make a strong connection on Matt James' season of The Bachelor, so now, she is getting a second chance. On most seasons of The Bachelorette, the lead may kiss one contestant on night one, on some seasons, they don't kiss anyone that first night. But Thurston kissed a number of men.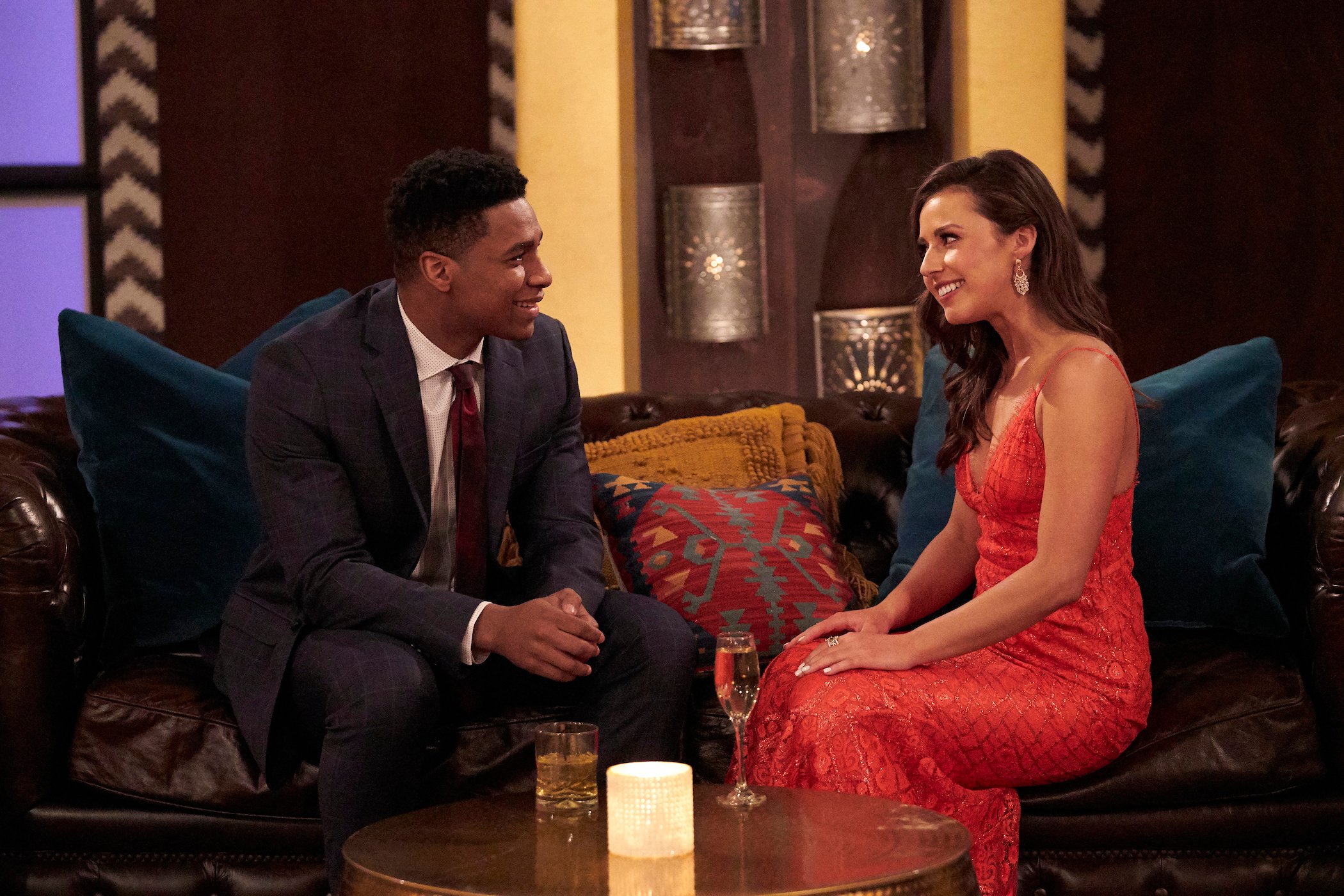 Katie is sex positive on 'The Bachelorette' premiere
The Bachelor franchise has gotten some backlash in the past for featuring men who shame women for having sex or being sexual. But the 2021 season of The Bachelorette will be different. When Thurston showed up on James' season, she hopped out of the limo with a sex toy. Since then, she has often spoken about sex and sexuality. Given her entrance, lots of men made sexual innuendos last night. Cody brought a blowup doll he claimed to have gotten close to over quarantine, Justin made a sex joke about a paint brush and Christian quipped about rubbing a genie.
For some people, these jokes might have been too much, but as fans know, Thurston is down for a little sexual humor.
"If a guy can't accept me being sex positive or talking about sex, it's just not gonna work out," she told Entertainment Tonight. "There are some people who are a little traditional and old school, but people around my age and younger, we're here for it. It's 2021, embrace your sexuality and be an empowered woman."
Who did Katie Thurston make out with on the 2021 premiere of 'The Bachelorette'?
Several men on The Bachelorette 2021 season premiere got kisses. Connor B., who showed up dressed in a cat suit, ended up getting quite an intense kiss from Thurston on night one. But that didn't guarantee him the first impression rose as she also ended up kissing Justin. She later told the outlet that Justin "is one of those guys who surprises you. He's very talented as an artist, but he's very sexy and mysterious as well."
In addition to Connor B. and Justin, Thurston also kissed Greg before giving him the first impression rose.
"Greg was just so authentically himself," she told the outlet of why she gave Greg the rose. "He was like, 'I'm nervous. I'm scared. I don't know what I'm doing.' That's what I loved about him. He wasn't trying to be too cool."
Katie doesn't care that she kisses a lot of guys as the Bachelorette
Thurston may not have realized how many men she was kissing in the moment, but looking back, she saw it was quite a bit throughout The Bachelorette 2021.
"Seeing the promos, I am making out with a lot of guys," she told People. "You never really see yourself kissing anyone. So it's like, 'Oh boy.'"
But she doesn't regret moving quickly.
"Time is short," she continued. "You can't be okay with me possibly getting engaged in two months but not kissing on the first date. I've got to use my time wisely!"
Did 'The Bachelorette' 2021 premiere have the most kisses?
Though Thurston did kiss several men on the premiere of the 2021 season of The Bachelorette, she is not the only Bachelorette that likes a little make-out session. During her season, Kaitlyn Bristowe famously kissed almost all the men on her first round of group dates and solo dates.