'The Bachelorette': 3 Reasons Fans Believe Becca and Garrett Already Broke Up
'The Bachelorette' couple Becca Kufrin and Garrett Yrigoyen might have already broken up — according to fans.
It's no secret that The Bachelorette couple — Becca Kufrin and Garrett Yrigoyen — are on the rocks. Their relationship came under fire due to their differing political beliefs. However, there are several other reasons that fans believe the couple is already over, but hasn't announced it, yet.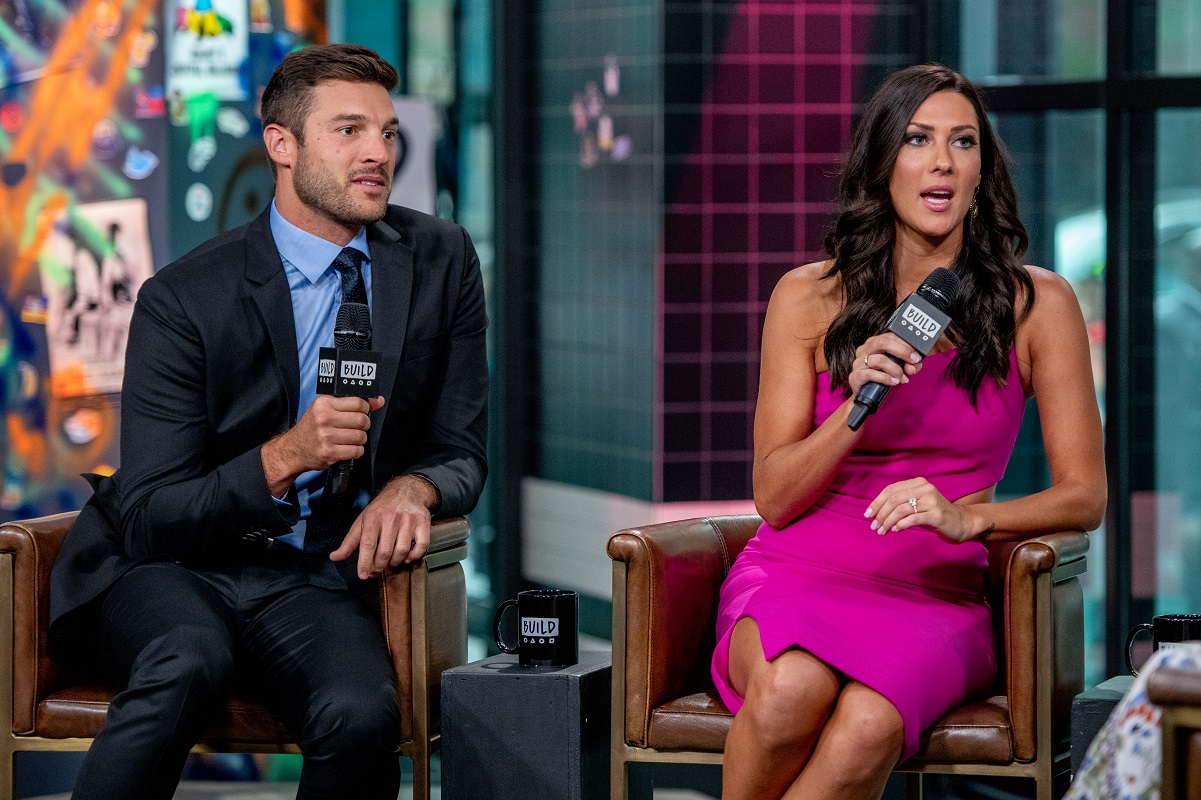 'The Bachelorette' fans notice that Becca Kufrin doesn't talk about her and Garrett Yrigoyen
Kufrin gave an update on her relationship status with Yrigoyen on the Bachelor Happy Hour Podcast on June 16, 2020, but it wasn't good.
"For those who are curious about my relationship with Garrett at this point, all I can say right now is that I don't know," Kufrin told her co-host, Rachel Lindsay. "I can't give anything more than that. It's something that we are trying to work through and discuss and do work on at home at this time, and that's where the work will remain, and that's really the best I can give you at this point."
Since that mention, the former Bachelorette hasn't talked about her fiance at all. Fans point out that Lindsay often talks about her husband, Bryan Abasolo, but Kufrin doesn't add anything about Yrigoyen.
"It's also what she's not saying," one fan wrote on Reddit. "During the podcast, they talked about the types of guys they find attractive. Rachel mentioned Bryan several times in her examples, while Becca didn't mention Garrett once."
Fans believe Becca and Garrett's social media accounts say it all
From following Kufrin on social media, fans notice that she is not living with Yrigoyen anymore. She recently shared an Instagram story of her and their Corgi sleeping in a twin bed together in her mother's house. 
"Later in the podcast, Rachel was talking about watching movies with Bryan during quarantine, and Becca commented, 'me too,'" another fan wrote. Kufrin also said, "she and her mom are always looking for something to watch. I get she's visiting her mom, but there was no reference to Garrett during these chats. By the end, I was convinced they are done."
Yrigoyen's social media posts surround his passion for hunting, fishing, and camping. He hasn't shared a single photo with the Bachelorette in it since the anniversary of their engagement on May 11, 2020. Before that one, he posted pictures of the two every couple of days. So, the fact that it's been over two months since he shared anything about his fiance is very telling.
Kufrin isn't wearing her Neil Lane Diamond engagement ring from 'The Bachelorette'
Every season on The Bachelor and it's spinoff shows, the contestants are given a chance to pick out a Neil Lane engagement ring. The diamond is a gift from the company in exchange for advertisement on the show. However, if the relationship does not last two years, the ring will go back to the company.
Yriogyen proposed to Kufrin on The Bachelorette Season 14 finale on Aug. 6, 2018. She accepted, and the two seemed very happy together. However, fans noticed that the star has not been wearing her famous ring. 
"There's no way Becca wouldn't wear [the ring] for the podcast knowing that Bachelor fans would immediately notice unless they're not together anymore," one viewer pointed out. "She knows people will speculate about it. I think she's just waiting until the two years is up so she can keep the ring to announce the breakup."
The two year mark is Aug. 6, 2020, so fans are waiting to see what will happen.