'The Bachelorette': Bekah Martinez Thinks Clare Crawley and Dale Moss Were 'Coerced' on the Show
Clare Crawley and Dale Moss found love rather quickly on Season 16 of The Bachelorette. After falling for each other, Moss proposed in the fourth episode of the season, and the two left the show together.
Tayshia Adams was brought in to replace Crawley on The Bachelorette and finish out the rest of the season. In a recent interview with Us Weekly, Bekah Martinez, who appeared on Arie Luyendyk Jr.'s season of The Bachelor, said she thinks Crawley and Moss were "coerced into getting engaged."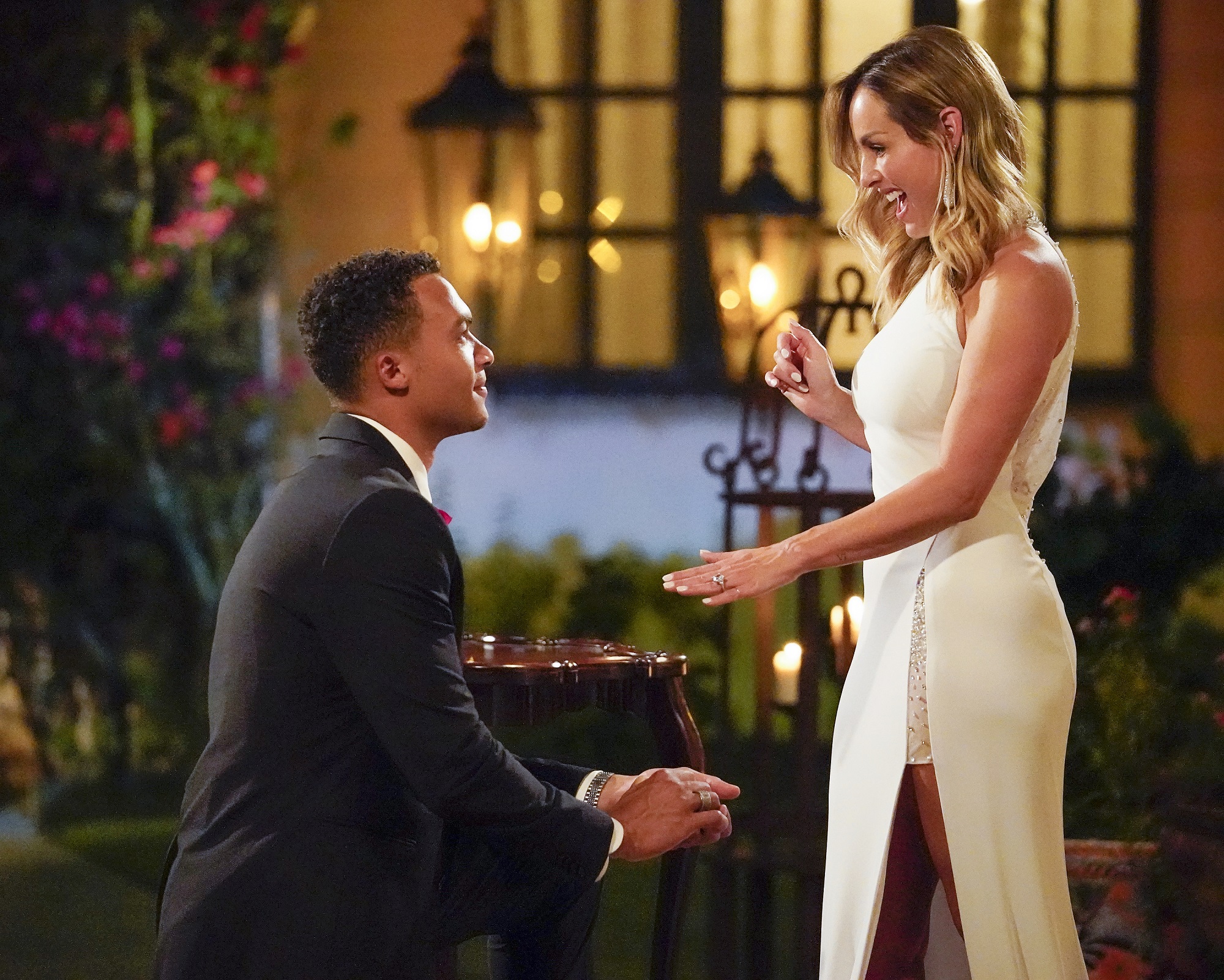 Dale Moss and Clare Crawley are engaged
When Crawley first met Moss on The Bachelorette, it was love at first sight. The fourth episode of the season aired on Nov. 5, and in the episode, Chris Harrison told Crawley the show could not continue with her focusing solely on Moss.
Crawley canceled the cocktail party and rose ceremony to spend the night on a one-on-one date with Moss. They confessed their feelings for one another, and the next day Crawley broke up with the other contestants.
Harrison told both Crawley and Moss that the next step was a proposal, and he called jeweler Neil Lane to have a ring sent over. Moss proposed to Crawley, and the two left the show happily engaged.
Bekah Martinez thinks Clare Crawley and Dale Moss were pressured to get engaged
While speaking with Us Weekly, Martinez admitted that she does not think Crawley and Moss' engagement is the fairytale ending fans were shown on TV.
"I would not be happy if I was her… It just felt like there was a lot of spinning of what happened to make her [leave]. I mean, it was just so obvious as a viewer at the very end that the two of them were almost coerced into getting engaged," she said. "It seems like they really love each other, but that was bizarre, and I would be really upset as a lead."
While Martinez does not like how Crawley's season was handled, she does not fault Crawley for any of it.
"But, you know, at the end of the day, I have to give it to Clare, because I think that she really was there for the right reasons," Martinez said. "She wanted to find love and she fell in love. So, you know, I'm sure she's just happy about that."
Some fans of 'The Bachelorette' agree with Bekah Martinez
While The Bachelor franchise does not have a glowing success rate with couples staying together, a large number of fans are hoping Crawley and Moss' relationship will last. Still, some fans do agree with Martinez that the proposal felt forced.
"I mean are we really still pretending that bachelor engagements are real engagements? Bekah is right that they were coerced, but it's obvious that none of these couples actually consider a bachelor engagement to be legitimate. It's basically a commitment of exclusivity, considering the relationship was never monogamous prior to that point," a fan wrote on Reddit.
One Reddit user wrote, "That's how I felt watching it real time. The proposal idea was brought to Clare on screen. Same for dale. They had no choice."
While some fans of The Bachelorette do think Crawley and Moss were pressured to get engaged on the show, Crawley and Moss made it clear once they were off the show that they never had doubts about one another.