'The Bachelorette': Blake Moynes Answers Whether Katie Thurston Cheated
Season 17 of The Bachelorette ended with Katie Thurston and Blake Moynes engaged. However, the pair broke off their engagement and went their separate ways after six months. Now Katie is dating a contestant from her season named John Hersey. This may have sparked rumors regarding any overlap between the two relationships. Blake recently addressed whether Katie cheated during their time together.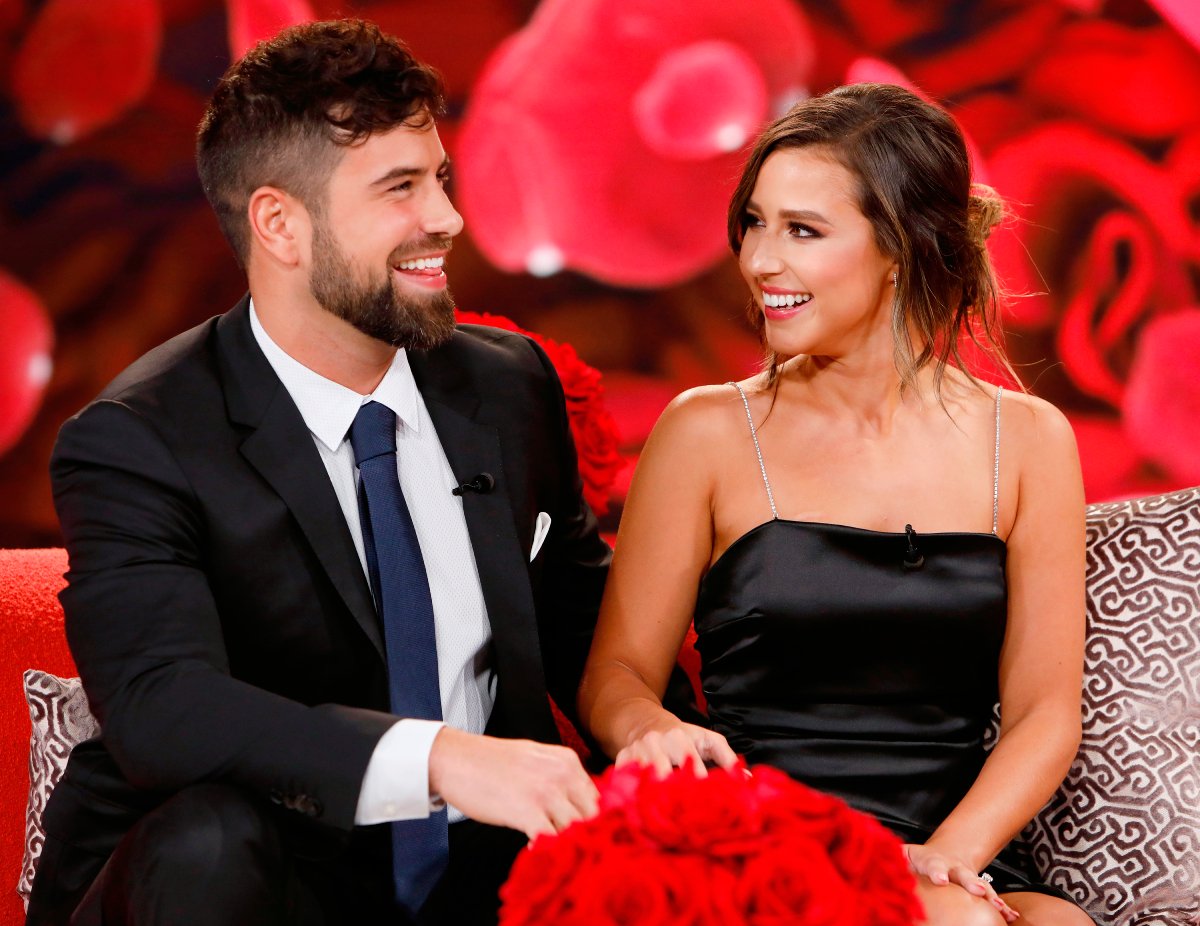 Former bachelorette Katie Thurston maintained a friendship with John Hersey
Bachelorette contestant John Hersey only lasted until week 2 of Katie's season. Blake ended the season engaged to Katie, but the pair had a long-distance relationship for much of their engagement. During this time, Katie maintained a friendship with John, which she said her fiance was aware of and fine with.
"He's not intimidated by anything. I'm actually really close friends with John Hersey, which is a week two guy from my season, which I think most men would be like, 'Well that's kind of weird,' but [Blake's] just like, 'Do your thing, whatever,'" Katie said on Whitney Cumming's "Good For You" podcast.
Blake Moynes addresses whether Katie cheated
Bachelorette couple Katie and Blake announced their split on October 25, 2021. The pair posted on Instagram saying, "It is with mutual love and respect that we have decided to go our separate ways."
"We are so grateful for the moments we shared together and the entire journey that has unfolded this year, but we ultimately have concluded that we are not compatible as life partners, and it is the most caring choice for both of us to move forward independently."
It didn't take long for fans to speculate about Katie and John's romantic involvement. US Weekly officially broke the news on November 23, only one month after her split from Blake. Of course, fans began to speculate about potential overlap in Katie's two relationships. Blake addressed the rumors during E! News Daily Pop on March 23.
Blake said that there may have been overlap "emotionally" with his relationship with Katie and Katie's relationship with John. However, he denies any physical cheating. "Not physically," he told E! News Daily Pop. "I really don't believe there was anything physical …. She's better than that."
Are Katie Thurston and John Hersey still dating?
As of March 2022, former bachelorette Katie Thurston and John Hersey are still together. John recently wrote a heartfelt message reflecting on his time on The Bachelorette and journey with Katie. John captioned an Instagram photo of the pair at one of Katie's rose ceremonies. He wrote:
"It is mind-boggling to think that it has been exactly 1 year since this evening. Contrary to what @thekatiethurston says, I'd absolutely have believed I could be right here in this moment. Thank you to all of you who have joined me in this journey this past year. I am so grateful to have been surrounded by such a supportive and positive community. With so many adventures on the horizon, I can't wait to bring you all along!"
RELATED: Are 'The Bachelorette' Ratings Down For Michelle Young's Season?