'The Bachelorette': Blake Moynes Details the 'Rough' Conditions of His Quarantine — 'It Was Really Painful'
Blake Moynes fought for the affections of Clare Crawley and Tayshia Adams on this season of The Bachelorette. Moynes did not win either woman over. But, he did share some behind the scenes information about the quarantining process occurred in order for this season of The Bachelorette to happen.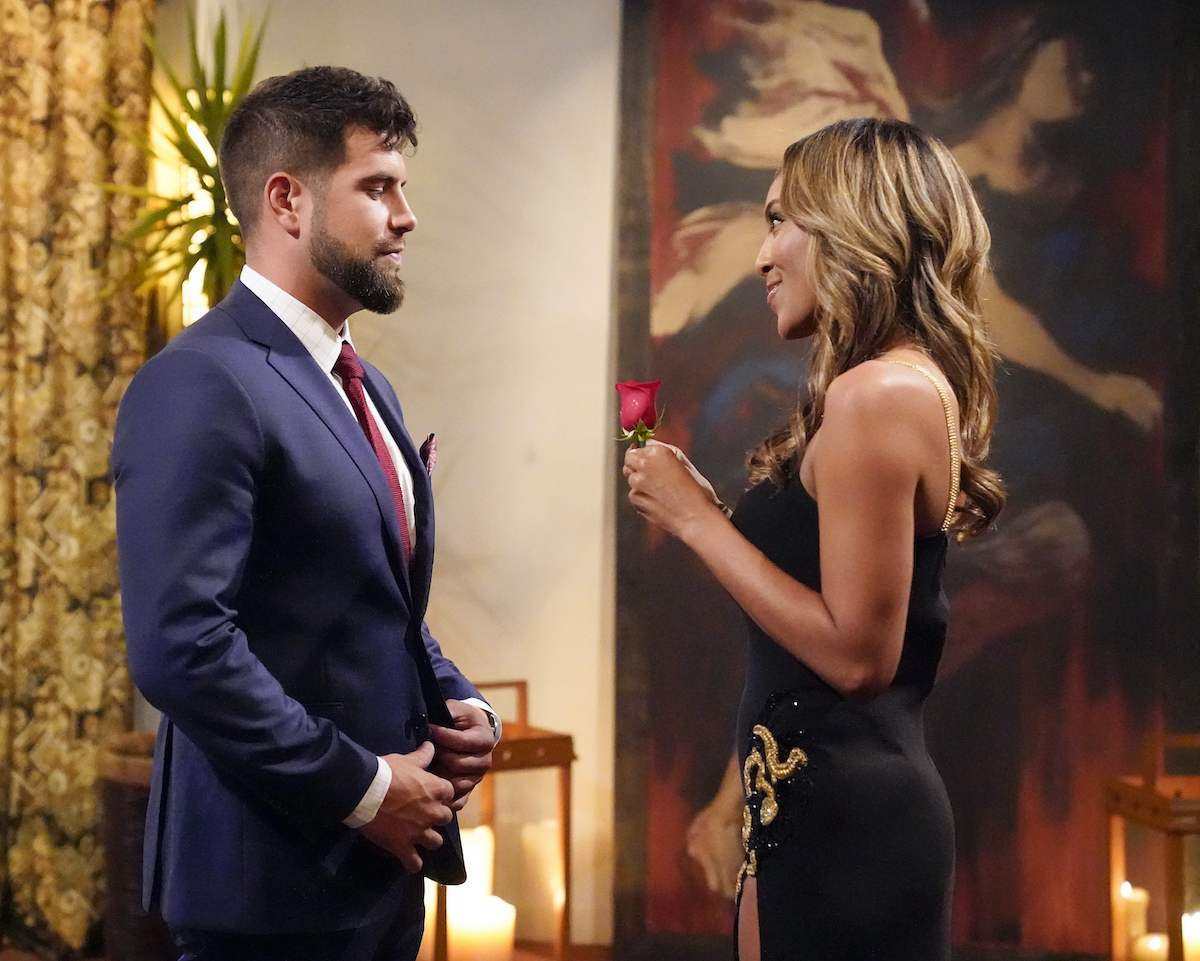 'The Bachelorette' showrunners had a coronavirus (COVID-19) safety plan in place
Before the season even began, many fans wondered how The Bachelorette would film amidst a global pandemic. Rob Mills, ABC Entertainment's senior vice president of alternative series, spoke with Variety in October 2020 to clarify the safety precautions taken to keep the cast and crew safe. 
"Everyone was tested so they could do everything they'd do on a normal season," he began. That includes kissing, hugging, and "everything else," according to Mills.
"It will be acknowledged at the start, in terms of what everybody had to do," Mill continued. "They had to quarantine and get tested — but then once you're in the bubble, you're in. There won't be travel, but it looks like a regular season. It's not socially distanced in any way, shape, or form.
Now, thanks to The Ben and Ashley I Almost Famous Podcast, fans have an even better idea of what it was like going through the process of filming this season.
Quarantining for this season of 'The Bachelorette' was 'rough' and 'painful' according to Blake Moynes
When asked about how long they had to quarantine alone in their hotel rooms before filming began, Moynes could only say, "A long time."
Moynes and many of the other men couldn't wait to be released from their quarantine.
"When we got out of there, it was like 'Thank God,'" Moynes said during the "RepuTayshia" episode of The Ben and Ashley I Almost Famous Podcast.
"It was really, really painful to do, especially with the tension and the anticipation of never doing this before," he continued. "We didn't have anyone stopping by or anything. You're literally fully quarantined. It was rough. It was really, really rough." 
'The Bachelorette' producers erred on the side of caution because of the coronavirus (COVID-19) pandemic
Being from Canada, Moynes said the coronavirus had yet to infiltrate the country as it had already in the United States.
"They were overly safe and I hated it," Moynes said of production's safety. "But they did a really good job making sure we could do the season the way that we did it in a safe way." 
Blake Moynes 'was going mental' during his quarantine for 'The Bachelorette' 
Finding a way to pass the time in quarantine proved difficult, especially for the men this season. As in the past, the men's phones, laptops, books, and even magazines were confiscated before filming began. 
"I was going mental," Moynes said. "I feel really bad for the guys who came in late to the season who had to do it even longer than we did. [Quarantine] was way more intense than I thought it was gonna be."
RELATED: 'DWTS': Why Britt Stewart Couldn't Stop Crying When She and Johnny Weir Were Eliminated
When the time came to break quarantine, Moynes was overjoyed. "It was very nice to get out and see everybody," he admitted. "That's for sure."