'The Bachelorette' Chooses 2 Leads for the First Time Ever: Meet Gabby Windey and Rachel Recchia
It was a night of firsts during Clayton Echard's Bachelor finale. However, the biggest announcement of the evening revolved around the next season of The Bachelorette. Producers of The Bachelor franchise often pick the lead for the following season of The Bachelor or The Bachelorette during the finale. Last night was no different except the announcement that there would be two Bachelorettes.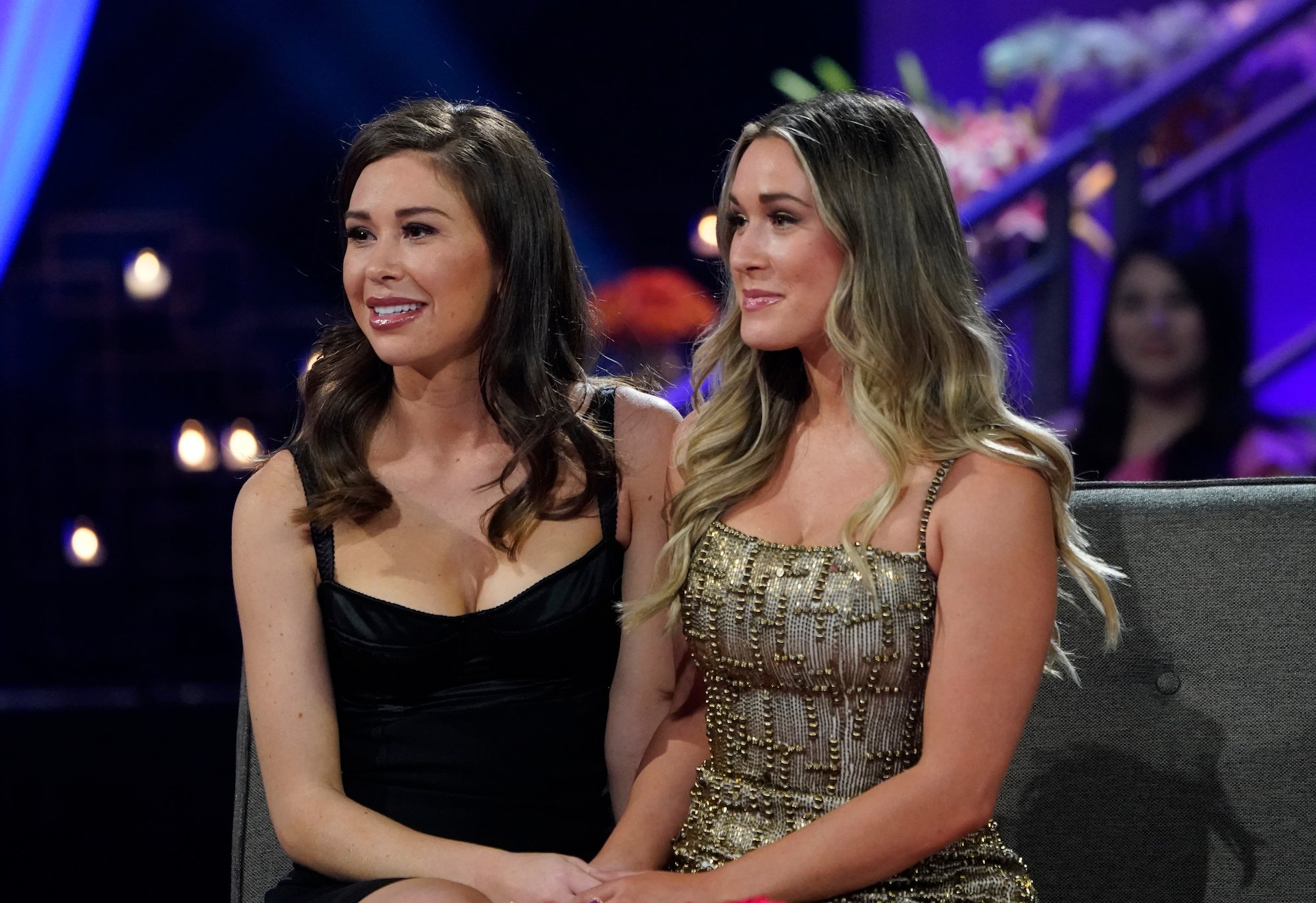 'The Bachelorette' Season 19 will have 2 leads
Typically, The Bachelorette focuses on one lucky lady. Several suitors vie for her heart in a role reversal from The Bachelor. Last night, host Jesse Palmer shocked audiences with the announcement about The Bachelorette Season 19. It would have not one but two different women searching for someone to spend the rest of their lives with. Gabby Windey and Rachel Recchia shed tears while reliving their relationship with Clayton. However, those tears quickly dried once Jesse announced both of them as leads in the upcoming season of The Bachelorette.
The king of spoilers, Reality Steve, revealed that the next season of The Bachelorette wouldn't be similar to the season featuring Kaitlyn Bristowe and Britt Nilsson. The 25 men voted on who they wanted to continue as the Bachelorette during that season. However, the upcoming season plans to feature Gabby and Rachel as leads. Both will compete as Bachelorettes throughout all episodes.
RELATED: 'The Bachelor': Here's What Susie Evans Does for a Living
Here's what we know about Gabby Windey, one of the leads for the next season of 'The Bachelorette'
According to her bio for The Bachelor 2022 on ABC's website, Gabby hails from Denver, Colorado. She's a massive fan of dogs and has her own four-legged friend – a Goldendoodle named Leonardo. This means any man she dates must love dogs because she and Leonardo come as a package deal. 
The newest Bachelorette's bio also says, "not only is she beautiful, but she also has a lot of substance, emotional depth, and a wealth of lived experiences. Gabby is looking for a man with quiet confidence." However, the bio does point out that while she "doesn't have a physical type" when it comes to the man she's dating, he does have to have a personality.
"Her ideal man will challenge her, communicate his feelings and work hard to equally carry the weight of the relationship," the bio continues. Gabby's very independent, so she needs a partner who will appreciate that and not expect her to get completely wrapped up in the relationship and lose herself. Will Gabby find her "person" this time? Fans will have to wait and find out when the new Bachelorette season starts.
Meet Rachel Recchia, the other Bachelorette in season 19
Twenty-five-year-old Rachel works as a flight instructor in Florida. The newest Bachelorette recently earned her private pilot license and wants to find a man who shares her love of travel. She also said she hopes to "find a co-pilot that matches her sense of adventure."
Rachel is from a town called Clermont, Florida. According to her bio for The Bachelor on ABC's website, Rachel considers herself adventurous and a "hopeless romantic." She wants someone who can match her playful personality but needs a man as "passionate and spontaneous as she is." 
Respect is a huge requirement in a partner for Rachel. She believes that her ideal partner "MUST be respectful in all facets of life – to her, to family, and especially to waiters. In the end, Rachel wants to find crazy, insane love that makes sense to no one else but her and her soul mate."
While Susie Evans captured Clayton's heart, Rachel and Gabby seem excited to embark on their new adventure as co-Bachelorettes. ABC announced The Bachelorette Season 19 starts on July 11, 2022.
RELATED: 'The Bachelor' Clayton Echard Breaks Down What He Learned From His Time on the Show