'The Bachelorette': Chris Harrison Just Left the Set
The plot is thickening in the world of The Bachelorette. After Clare Crawley was switched out of the role of Bachelorette for Tayshia Adams, fans weren't exactly sure what was going on. To make matters more confusing, several more Bachelor and Bachelorette alums like Hannah Ann Sluss and Becca Kufrin have been spotted in Palm Springs where filming is taking place. Now, host Chris Harrison has reportedly left the set.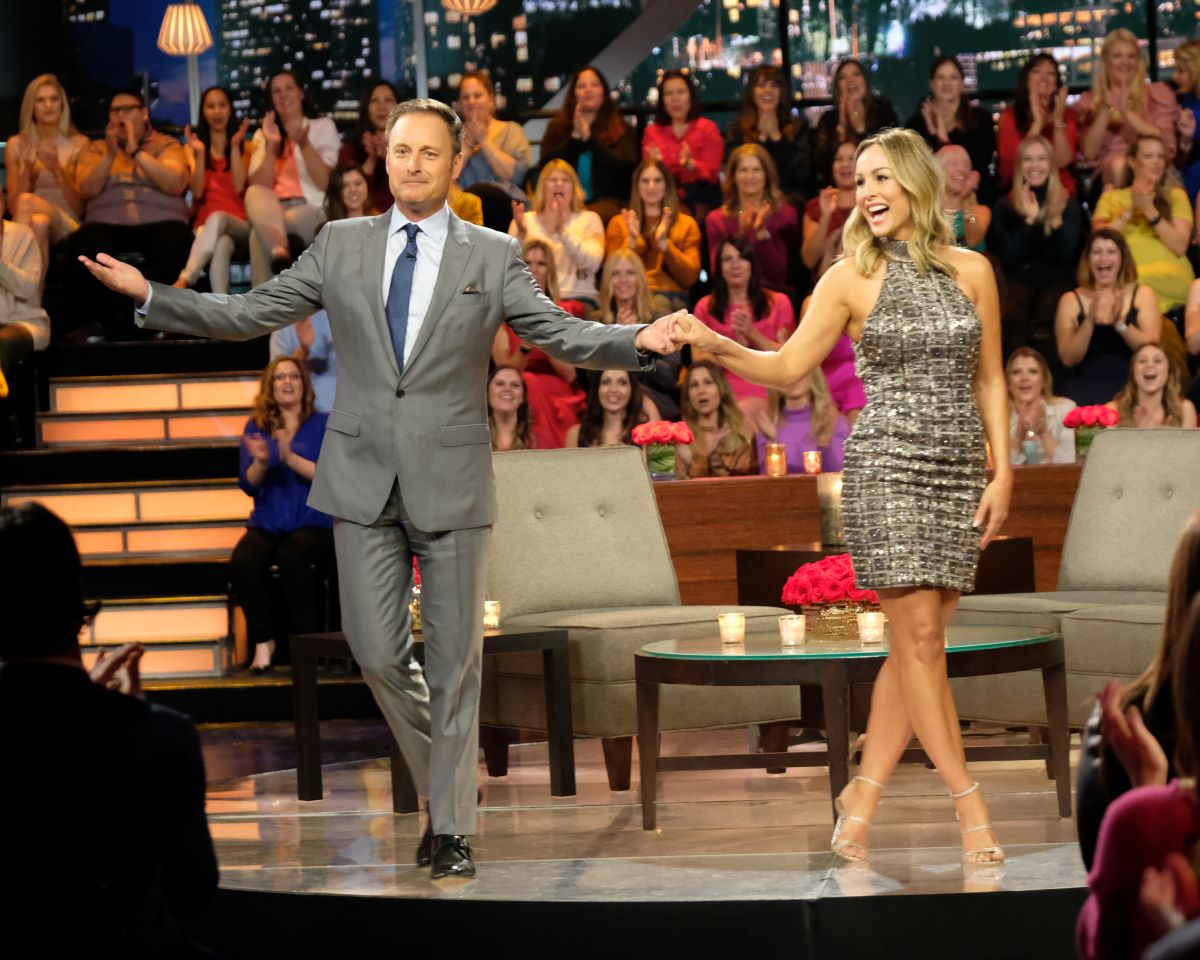 What happened with Clare Crawley?
When Crawley's season got postponed due to the coronavirus (COVID-19) pandemic, it changed things.
"One of her potential guys found a way to get in touch with her and they began talking," a source told People. "By the time filming officially began, they were basically already in love. No one else stood a chance. It just became so obvious from her subsequent few dates that her heart wasn't in it and she just wasn't feeling it. Then she said she wanted out."
Two weeks into filming, Crawley told production that she wanted to leave. Luckily, Adams had already been vetted for the role as she was also on the short list to be the Bachelorette before Crawley was chosen.
Hannah Ann Sluss and Becca Kufrin show up
Fresh off of her public breakup with Garrett Yrigoyen, former Bachelorette Kufrin showed up to Palm Springs shortly after news broke that Adams was the new Bachelorette. Sluss, who was famously proposed to and then dumped by Peter Weber, was also seen in the filming area. So, fans started speculating that maybe Bachelor in Paradise was happening.
Reality Steve shut those rumors down quickly.
"(SPOILER) Can't make this any clearer – BIP is not happening at filming. Tayshia is the Bachelorette," he tweeted. "All the other appearances by alumni are cameos being done bc of the weirdness of the season. Not a normal season, so they are doing non-normal things. It's as simple as that."
Then, others wondered whether Adams, Kufrin, and Sluss would all be Bachelorettes together.
Chris Harrison leaves set
Usually when filming for The Bachelorette is going on, the cast must be in total lockdown from the outside world. This rule usually doesn't extend to Harrison, who hosts the show, but now with the threat of COVID-19, the entire cast and crew has had to be quarantined in order to film.
Harrison recently posted a photo of himself dropping his son off at Texas Christian University, meaning he broke the quarantine.
"Just like that he's gone," Harrison captioned a picture of himself and his son. "Thought dropping the big man off at college @texaschristianuniversity  today was going to crush me but all I could feel is pride and excitement. Especially now, so grateful that they have this opportunity. Now go take on the world and have the time of your life my boy."
This break in quarantine does not likely mean that Harrison is off the show though, he's too important for that. He may be allowed to self-isolate for two weeks or take a COVID-19 test before rejoining the crew.
Interestingly enough, Harrison isn't the only one active on Instagram lately. Adams has also posted on Instagram since she was announced as the Bachelorette. So quite frankly, no one knows what's going on with the show.