'The Bachelorette': Clare Crawley Throws Major Shade at Dale Moss Amid His Acting Debut
Clare Crawley and Dale Moss got engaged on 'The Bachelorette.' Now, Crawley is throwing shade at her ex.
 Clare Crawley seems to be over Dale Moss and his shenanigans. After meeting him on The Bachelorette, Crawley quickly fell in love with Moss and ended the competition early. However, after filming ended, the two found out that their love story was not going to be a happily ever after. Now, Moss is pursuing his acting career and Crawley has a few words for her former beau.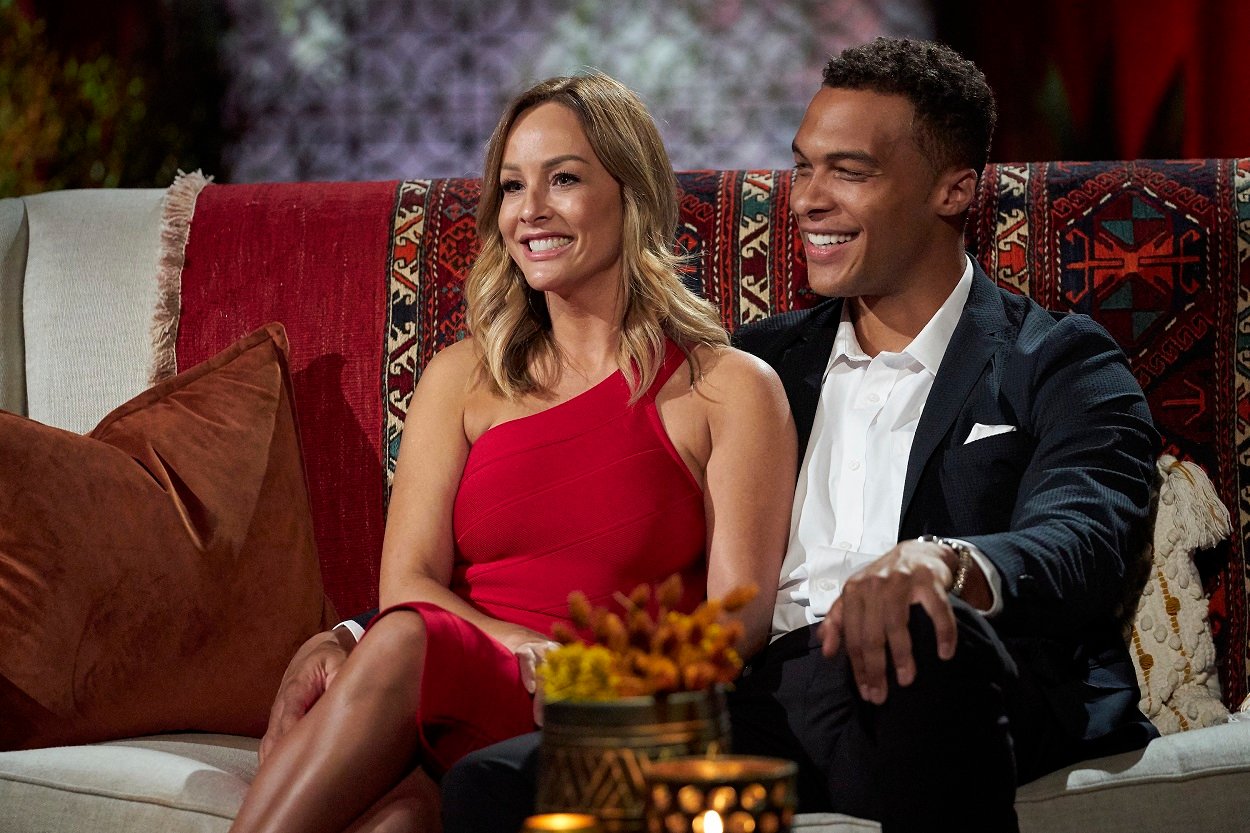 Clare Crawley throws shade at Dale Moss
Moss has spoken about his aspirations to be a television personality before. Earlier this week, his dream began coming true when the trailer for his new rom-com Love, Game, Match was released. In the film, Moss plays high school tennis coach, Ted. Ted and his coworker, Liz, are tasked with trying out their students' matchmaking service, and of course, fall in love in the process.
Apparently, fans began sending Crawley the trailer after it dropped, which caused her to take to her Instagram Stories to respond.
"For the record, you guys can stop sending me all the acting reel clips … I had a front-row seat to that since day one," she wrote on Dec. 14 over a photo of her pampering herself in a sauna.
What happened between Dale Moss and Clare Crawley?
After getting engaged on The Bachelorette, Moss and Crawley broke up in January.
"I wanted to share with you all that Clare and I have decided to go our separate ways," Dale wrote on Instagram before deleting the post. "We appreciate the love and support we've received from so many people, but this is the healthiest decision for both of us at this time,we strongly believe in leading with love and always remaining true to oneself – something our families have taught and instilled in us throughout our lives. We only hope the best things for one another."
At the time, Crawley alleged that she found out about the split with the rest of the world when Moss released his statement. However, despite that, the two were back together by February.
Clare and Dale's final breakup
Their relationship lasted a little longer the second time around but ultimately ended in September.
"I'm choosing not to speak right now on the details of my relationship because at the end of the day anyone can put on an ACT or throw words together to form any narrative they want," Crawley wrote on Instagram. "What I will speak on is emotionally and physically I'm going through a lot with healing from my recent [breast implant removal] surgery still, and my mother being placed on hospice care now. So my energy is focused on grieving, healing, and being present at home here in Sacramento while trying to share and help others going through similar life experiences as I'm sharing today. I am just thankful for the people in my life who offer genuine unconditional love with no personal gain, and stand by me through thick and thin. ESPECIALLY WHEN THE CAMERAS ARE OFF with no accolades. Actions speak for themselves."
In the photo, Crawley tagged Bachelor Nation star Abigail Heringer, which made fans wonder if she had something to do with the split. However, that was never confirmed.