'The Bachelorette': Connor B's Kisser Knows a 'Big Brother 23' Star
The Bachelorette Men Tell All had some shocking moments. Connor Brennan opened up about his relationship with Katie Thurston then was unexpectedly kissed. It turns out the woman also knows a Big Brother 23 houseguest.
[
Connor B was surprisingly kissed on 'The Bachelorette: Men Tell All'
RELATED: 'The Bachelorette': Will Michael A. Be the Next Bachelor?
Connor B. took the hot seat on the Men Tell All special to talk about his time with Thurston on The Bachelorette. Their connection started off strong with him dressing in a cat suit on the first night and still having a steamy kiss with her. He was also able to make Katie laugh and cry with his songs. But in the end, she dumped him and said she was missing passion in their relationship.
"It's so tough because if it started out that strong, what did I do wrong?" he said. "You know you can't help but think that. Like what could I have done better? That's a tough thought, but I think in the end, there's nothing I did or didn't do. It just wasn't–that spark wasn't there for her."
Some fans criticized how Connor B. kissed Katie on the show. Their kisses would quickly become intense, and his hand usually ended up on her head. He responded to it on Twitter. He tweeted, "dear god PLEASE just let tonight's episode not have any scenes of me kissing, i want to sleep tonight #thebachelorette #thebacheloretteabc #stop,"
Men Tell All acknowledged this with co-host Kaitlyn Bristowe asking him if he was ever told he's not a great kisser. He claimed he texted three people he kissed in the past to see if he was a "trash kisser." But a woman from the audience interrupted him. 
"I just wanna say Connor that I watched you on the show, and you're absolutely adorable. And I know that you can't be a bad kisser," she said. She then walked down and kissed him.
Connor B's kisser knows a 'Big Brother' star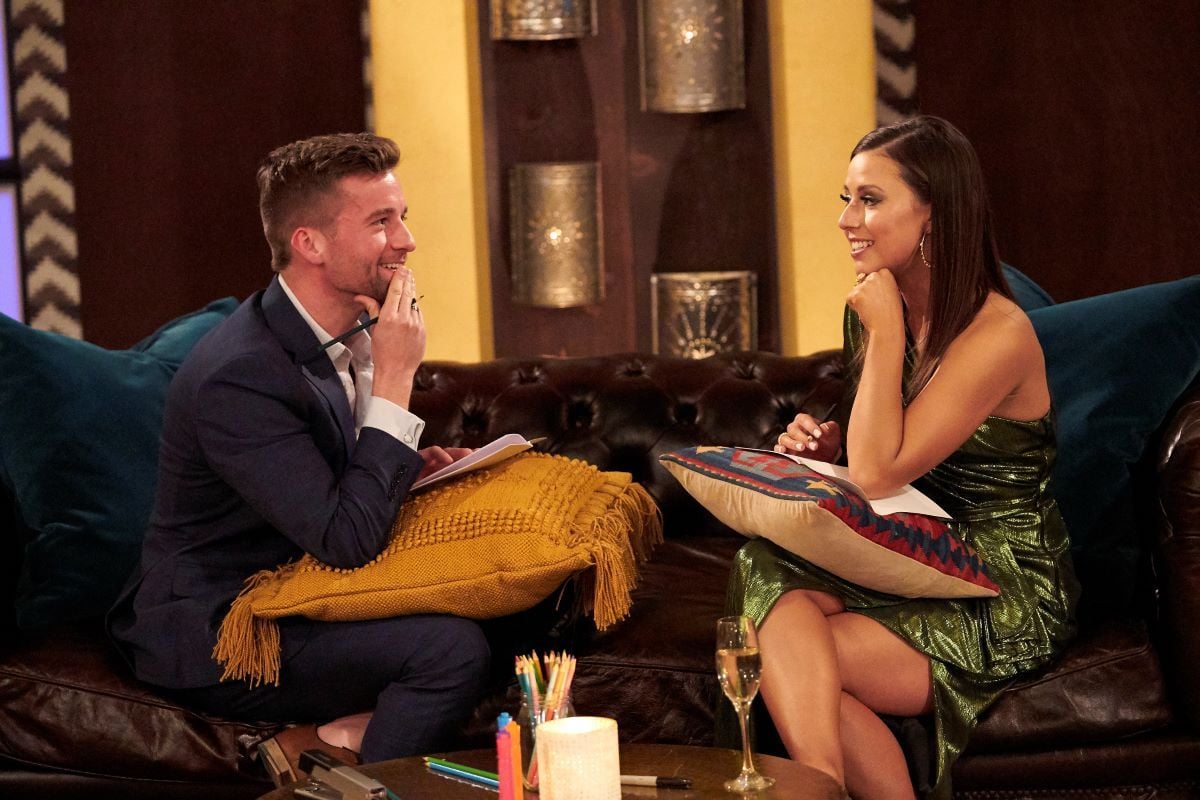 RELATED: 'The Bachelorette': Katie Thurston Wants Andrew Spencer to Be the Next Bachelor
That woman was Tara Kelly, and she is a music artist. She posted a video of her kissing the reality star on her Instagram and wrote in the caption, "For all my friends & family asking, it's me What a wildly surreal night. Hi and welcome to everyone new here and thank you to all the incredibly supportive people in my life, I promise I will answer your text messages. @bacheloretteabc @connorfalcon #mentellall." Connor commented on the post with, "can't stop grinning every time i watch this."
Kelly actually knows a current houseguest on Big Brother 23, Kyland Young. She posted a picture with him on her Instagram two weeks ago.
"There's very few people in life that will support you – literally no matter what you do. @kylandyoung is that person," she wrote in the caption. She revealed that they met in a Storytelling & Life class at Pepperdine.
"Proud doesn't even close to cut it," she wrote later in the caption. "I am ELATED that you are walking through those doors to fulfill your dream. To change your family's life. To be the first Black BB player to win it all. You've supported mine and so many others' dreams tirelessly and I will be fighting with you until the end. Mostly by yelling at the television."
He's still going strong at trying to win the Big Brother prize. It looks like he was one fan who happened to make it on another show.