'The Bachelorette' Couple Becca and Garrett — Fans Believe Their Breakup Will Be Over More Than Their Differing 'Political Beliefs'
Fans believe 'The Bachelorette' couple, Becca and Garrett, are heading for a breakup. Here are all of the reasons why they know it's because of more than just their differing political beliefs.
The Bachelorette couple from season 14 — Becca Kufrin and Garrett Yrigoyen — have seen their relationship under scrutiny in the past few weeks. The star commented on their status on her podcast recently, stating, "I don't know" regarding where they stand. Plus, fans point out several other reasons why they are heading toward splitsville. It looks like it might be more than the couple's differing political beliefs.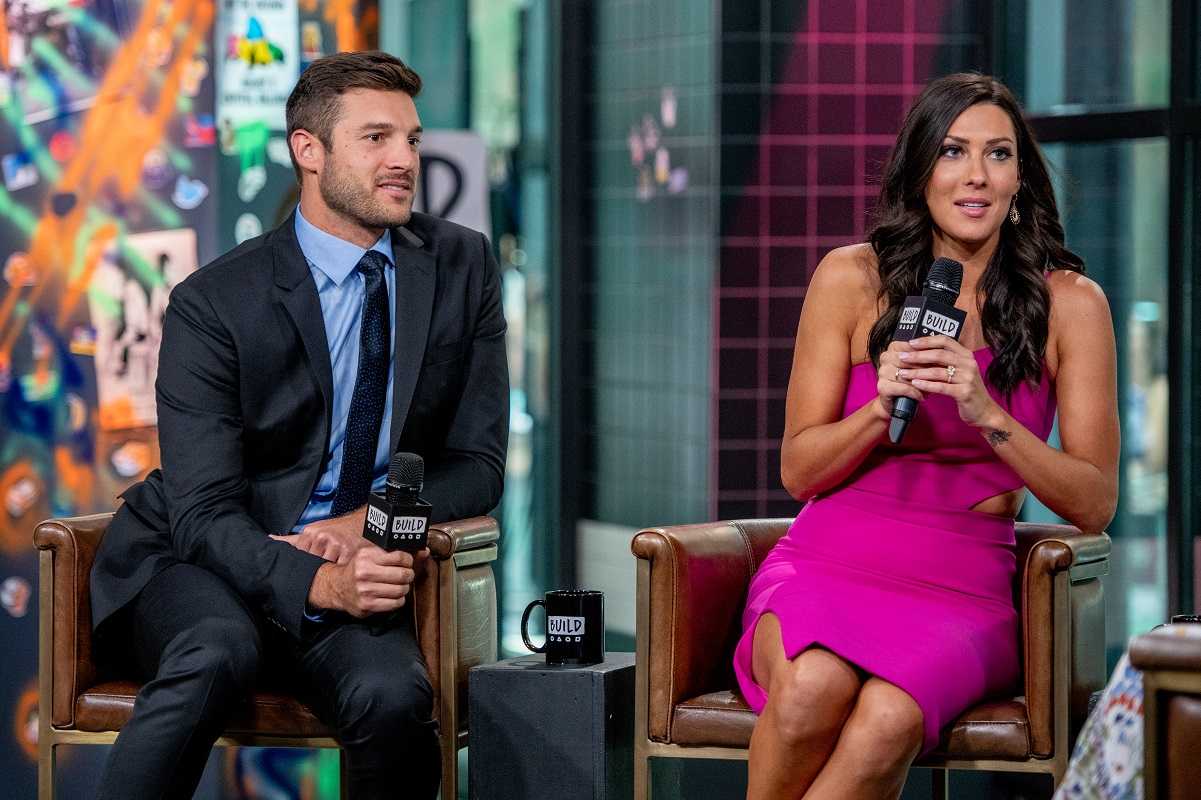 What happened between Becca and Garrett that made fans believe they are breaking up?
The Bachelorette relationship came under fire when fans noticed how different Kufrin and Yrigoyen's political beliefs are. Following the death of George Floyd, protests in support of Black Lives Matter popped up all over the country. Many celebrities voiced their support on social media, including the Bachelor Happy Hour podcast host. 
However, her fiance did not display the same sentiments. Instead of supporting the movement against racial injustice, Yrigoyen posted a thin blue line supporting law enforcement. The former Bachelorette's sister and brother-in-law tried to explain why the Blue Lives Matter post was inappropriate. However, the medical sales representative defended himself. 
Since the differing viewpoints were shared, Kufrin spoke about her relationship on the Bachelor Happy Hour podcast with her co-host, Rachel Lindsay. 
"For those who are curious about my relationship with Garrett at this point, all I can say right now is that I don't know," Kufrin said on the June 16, 2020, episode. "I can't give anything more than that. It's something that we are trying to work through and discuss and do work on at home at this time, and that's where the work will remain, and that's really the best I can give you at this point."
'The Bachelorette' couple, Becca and Garrett, have more issues than political beliefs
Since Kufrin commented on their relationship status, fans have noticed various other signs that point to a breakup. The star rarely wears her Neil Lane diamond engagement ring in her Instagram stories or during the podcast. Fans also note that Yrigoyen still stands by his political beliefs online, although it is causing turmoil for Kufrin.
"I don't think the breakup if it has happened, came from his political beliefs," one fan wrote on Reddit. "I think it came from his reaction to the criticism. He basically proved his need to be right was more important than Becca and used their relationship as his shield of morality. He didn't care for Becca's feelings at all, and she's probably seeing a side of him she's never seen before."
Many other fans agree that the political views morphed into something more. They also note that Becca is staying with her mom, and she doesn't mention her fiance at all during her latest podcast. However, her co-host, Lindsay, often talks about the movies that she and husband Bryan Abasolo are watching. 
"As problematic as his political views are, it's his reaction to criticism that is the dealbreaker in their relationship," another fan added. "I think Becca realized that not only is he not open to change, but he doesn't prioritize her feelings over his need to be right."
Fans think they know when 'The Bachelorette' couple will announce their breakup
It's a common fact among fans that the woman gets to keep her Neil Lane engagement ring if their Bachelor relationship lasts past the two-year mark. The finale of Kufrin's season of The Bachelorette aired on ABC on August 6, 2018. So, the couple is quickly approaching that time frame. 
"I think she's just waiting until the two years is up so she can keep the ring to announce the breakup," one viewer wrote. 
Other fans agree that it does make sense for Kufrin to wait until August 6, 2020, to go public with her split with Yrigoyen. The last time either person posted a cute couples photo was the anniversary of their engagement on May 11, 2020. Kufrin shared one more on May 27, 2020; however, neither are featured in each other's photos since then.
"In the contract, it says if you are not together for two years after the final day of the show airing, you have to give them back the ring," Jesse Csincsak from season 4 of The Bachelorette told Bustle.
Bachelor Nation will be waiting on pins and needles to see if the breakup happens on or after Aug. 6, 2020.