'The Bachelorette': Dean Unglert Opened Up to Tayshia Adams About Why He's 'Anti-Marriage'
Being a part of Bachelor Nation is an entirely unique situation, and fans certainly have their favorites. Dean Unglert attained quite a following after starring on Rachel Lindsay's season of The Bachelorette. While he fell out of favor on his first season of Bachelor in Paradise, he fell back into favor after pursuing Caelynn Miller-Keyes following his second round of Paradise. And now, we're hearing even more about his thoughts, feelings, and relationship advice via his podcast, Help! I Suck at Dating ….
On March 2, Unglert and co-star Jared Haibon brought Tayshia Adams on to the podcast to talk about marriage and relationships. And Unglert opened up about some of his deep-seated anti-marriage sentiments. Here's what he said.
Dean Unglert's difficult family life was showcased on 'The Bachelorette'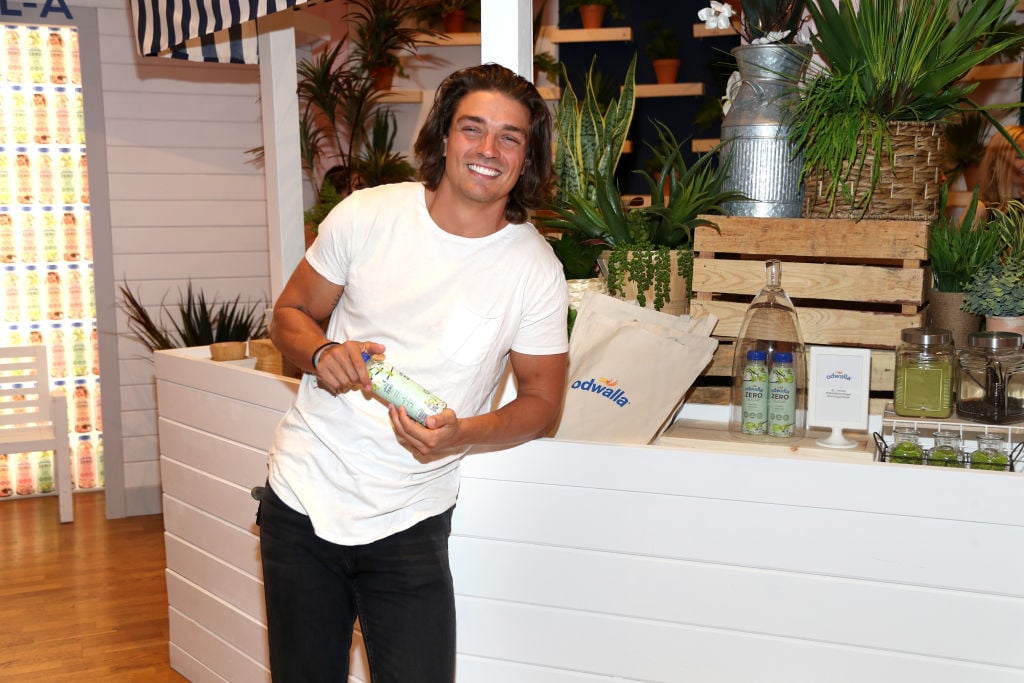 Many families featured on The Bachelor or Bachelorette are affluent and seemingly without major issues. And fans felt for Unglert when it was his turn to bring Lindsay to his hometown. Prior to the hometown date, Unglert opened up to the star about his "eccentric" father and mother who died of cancer when he was young. And he also talked about how his family dynamics stayed strained following his mother's death.
"Things kind of fell apart within the family," Unglert told Lindsay while explaining his family. "Both my brothers moved out, my sister moved out, my father was not there very often, so I had the house to myself from 15 to 18. It was very challenging." 
Producers also filmed a tense scene between Unglert and his father that took place during hometown week. Unglert confronted his dad about how difficult it was for him for his mom to pass, but his father seemed relatively unwilling to discuss it further.
Unglert says he's more serious about Caelynn Miller-Keyes than other girlfriends of the past
Unglert's difficult family life certainly informs how he views relationships now. Prior to his second round of Paradise, he noted he wasn't looking for love and instead hoped for a good time. Of course, when he met Miller-Keyes, everything changed. He left Paradise after first connecting with Miller-Keyes, as he didn't think their relationship would work out. But he later returned to give things another shot.
Now, we know Miller-Keyes and Unglert are still together. And they seem to be getting closer than ever before. Unglert even talked about why he thinks his relationship with Miller-Keyes is more serious than other relationships he's had in the past.
"I'm getting more and more comfortable with who I am, so that allows me to be more confident and transparent, I guess. And I think that, in turn, just leads to a deeper connection with a significant other in Caelynn, in this case, because it's just like, we are who we are," Unglert said on his podcast. "We're not gonna tell each other to do things that aren't who you are. And so it's like, you're kind of getting closer and closer with this person."
He opened up about his 'anti-marriage' sentiments on his podcast
Unglert might be getting closer to Miller-Keyes — but is he truly ready for marriage? He talked about his anti-marriage stance on his podcast with Adams from Colton Underwood's Bachelor season.
"For whatever reason, I'm like a magnet to these bad aspects and attributes of marriages, and I think that's why I'm so, for whatever reason, anti-marriage as an institution," Unglert stated.
"I really don't think you're anti-marriage," Adams called out. "I think, deep down, you really want it. I think, deep down, you would love to have a family and a stable relationship, but you're scared."
Unglert laughed at the call-out and encouraged Adams to go further with her assessment. "I really think, deep down, you want a family and you want something solid, you want a foundation, you want something to build on," she added
Unglert didn't deny these claims. Instead, he added that he does fear starting a family of his own and then, one day, no longer wanting it. But Adams think he would figure it out and he shouldn't live so fearfully. We'll have to wait and see how things with Miller-Keyes go and if he can get over his fears for a stable future.
Check out Showbiz Cheat Sheet on Facebook!