'The Bachelorette: Demi Burnett Confirms That Tayshia Adams May Be Clare Crawley's Replacement
Things are getting weird over in Bachelorette land. After finally starting filming after production came to a halt due to the COVID-19 pandemic, it seems that the show might be in a frenzy again. There have been reports that the Bachelorette Clare Crawley is being replaced.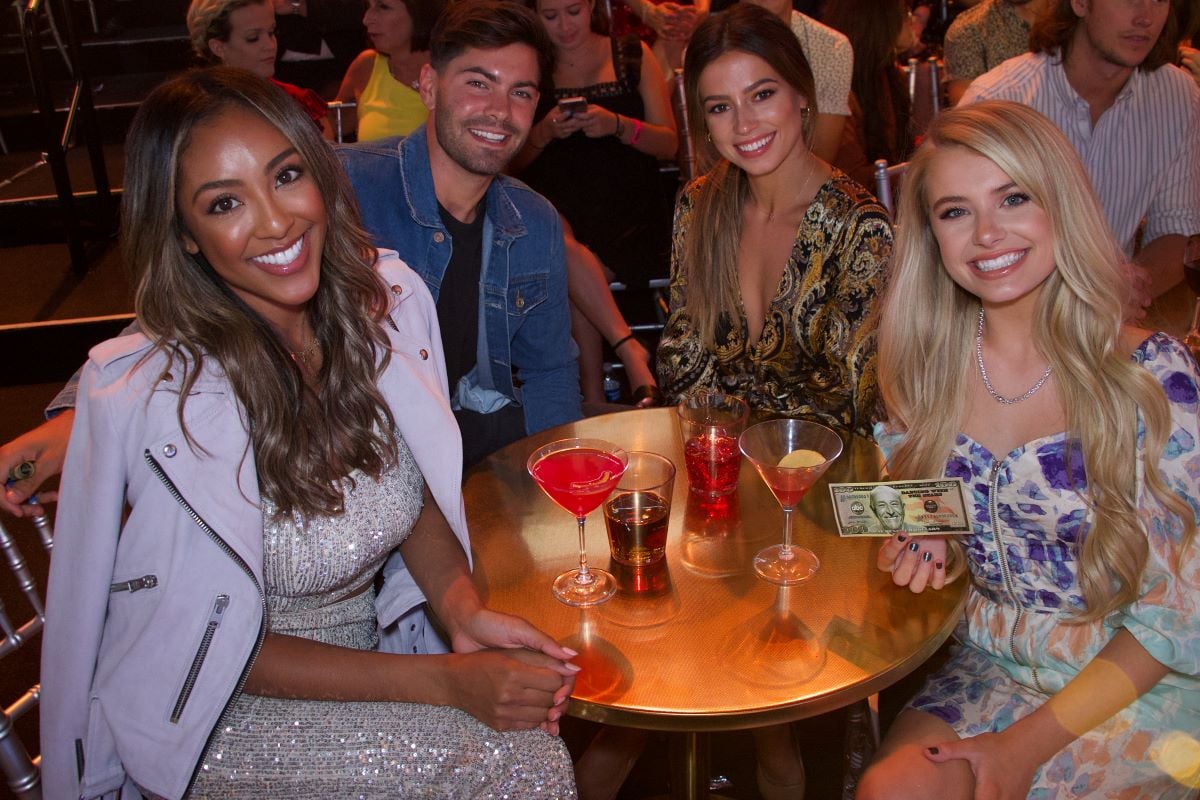 Clare Crawley's 'Bachelor' journey
Crawley has been through a lot in The Bachelor world. First, she competed on Juan Pablo's season of The Bachelor. When he didn't choose her, she told him off in one of the most epic speeches in the show's history.
"I thought I knew what kind of man you are," she said. "I lost respect for you. Because, I'll tell you what. I thought I knew what kind of man you were. What you made me go through, I would never want my children having a father like you."
Crawley went on to appear on Bachelor in Paradise and The Bachelor Winter Games. She did get engaged after Winter Games but the relationship ultimately ended and Crawley was single once again.
Clare wants to quit
When filming first had to be postponed, Crawley made it clear that she was still looking forward to handing out roses.
RELATED: 'The Bachelorette': Everyone Clare Crawley Has Dated
"Talk about most dramatic season ever!" she captioned a photo on Instagram. "In all seriousness, everyone's health is the most important priority at this time, and as I'm sure you've heard, we are pressing pause for now on filming 'The Bachelorette.' 🌹 We are taking it day by day and even hour by hour as this is so unpredictable. All I know for sure is that my heart is so full from all the love and support this far, and am still so excited for my journey to begin! I've waited 38 years for these moments, what's a little bit longer, right."
But once filming resumed at a secluded resort, it wasn't long before Crawley was already done with the process.
"She told producers she no longer wanted to participate in the show" because she had "already fallen in love," a source told Life & Style.
She reportedly fell in love with Dale Moss after just two weeks of filming.
"Producers are scrambling to figure out what to do," the source said. "They are frantic trying to pick up the pieces without having to start over completely."
Is Tayshia Adams taking over?
Though Bachelor blogger Reality Steve originally said that he thought the whole idea of Crawley quitting wasn't contractually possible, he may have changed his tune in an interview with Demi Burnett.
"What the f*ck is going on with your friend Tayshia?" he asked her during an Instagram live.
RELATED: Why 'The Bachelorette' Fans Think Tayshia Adams Might Replace Clare Crawley as the Next Lead
Burnett said that she didn't know and that she had tried to text Adams but her texts were going through green instead of blue which usually happens when an iPhone user's phone is off or out of service. This could mean that Adams is already filming as The Bachelorette famously takes away contestants phones during filming.
"This is the most random thing!" Burnett told Steve of Adams taking over."She was wonderful [on Bachelor in Paradise] and I became really good friends with her and I love her so much."
Adams first rose to popularity while competing for Colton Underwood's heart on The Bachelor. She then appeared on Bachelor in Paradise where she ended the season with John Paul Jones.