'The Bachelorette': Does Tayshia Adams' Ex, Blake Moynes, Really Join Katie Thurston's Season?
A familiar face will be popping up on The Bachelorette later in the season — and it's one of Tayshia Adams' ex-boyfriends.
In a promo trailer of Katie Thurston's season, the co-host's former flame, Blake Moynes, appears on the show. But does he stay to compete for the new leading lady's love? Here's everything we know so far.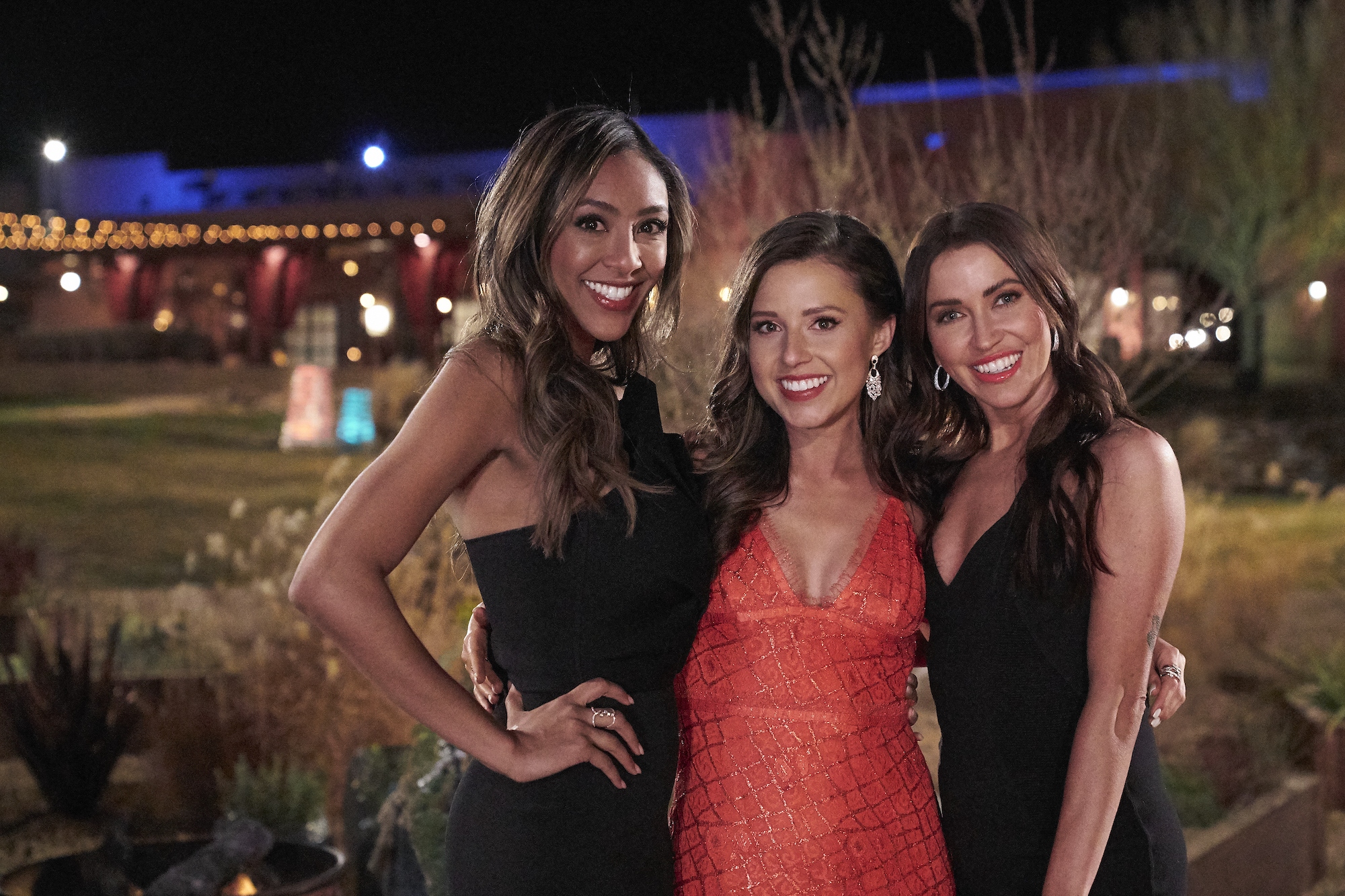 Blake Moynes crashes Katie Thurston's season to 'fall in love'
Thurston's journey on The Bachelorette just started, and there's already drama that is expected to unfold.
In a new preview of the season that aired after its premiere on June 7, Bachelorette alum, Moynes, arrives on the set, where he confesses his infatuation for Thurston.
"I'm a little bit late to this, but Katie is the one, so I just had to show up," Moynes says in a confessional after surprising Thurston at the Albuquerque resort her season is being filmed at. "I know that sh*t is gonna get crazy."
Though seeing former contestants show up on the show to compete for the love of the current bachelor or bachelorette is nothing new, Moynes' appearance comes as a major shock to both Thurston and Bachelor Nation especially since his ex-girlfriend is co-hosting this season.
Those who have been watching the franchise for a while might remember Moynes from Clare Crawley/Adams' Bachelorette season.
Though he signed up for the show to win Crawley's heart, Moynes immediately grew feelings for Adams. The latter took over as the bachelorette after the Sacramento native left the season early to start a life with contestant Dale Moss.
Though Adams and Moynes had a connection, she didn't see a future with him and eliminated him after their first one-on-one ahead of hometown dates.
Katie Thurston spoke to Blake Moynes before he appeared on her season
Back in April 2021, Moynes was spotted in New Mexico while Thurston's season was being shot, sparking rumors that he was competing for her heart along with the other suitors.
It wasn't until just recently that Thurston confirmed that the Canadian contestant did, in fact, crash her season.
"I definitely knew who he was, which also Tayshia's ex-boyfriend! So that's weird," the marketing manager told Us Weekly on June 7. "We had chatted before, but usually what happens is, like, the guys will reach out to the women once they're eliminated and be like, 'Good luck, you did great.' Like very generic, you know? And so to see him, I was like, 'Why is he here?' Like, 'What's happening?'"
As for whether she lets Moynes join her season to see if he's the one for her, Thurston is keeping the answer to that a mystery.
"I mean, we have to see if that's even why he's there," she teased. "Like I said, he's Tayshia's ex-boyfriend, so I don't know what's happening."
Does Blake Moynes still have feelings for Tayshia Adams?
Even though Moynes had developed strong feelings for Adams during her season, he has since moved on and is ready to find love again.
In December 2020, Moynes told Us Weekly that though he still thought about the "what-ifs" with the former bachelorette, he had accepted the fact that they weren't meant to be.
"But, yeah, you just naturally think about the what-ifs and you're always going to until you get closure," he said. "And I know that's why I asked the questions I kind of did at the Men Tell All and I wanted her to kind of give me the answer of, 'You're not The One for me, it wasn't just time.' I didn't really fully get that. But, you know, I've moved past it now. I think she's happy where she's at and, you know, things play out the way they should and I believe in that."
Now, Moynes has his eyes set on Thurston. But will she break girl code and start dating the Canadian native while Adams helps her through her Bachelorette journey? We'll just have to wait and see.