'The Bachelorette': Eazy Nwachukwu Knew Clare Crawley Fell for Dale Moss the First Night When She Did This 1 Thing
Those who've kept up with The Bachelorette know this season is going to be unlike any other. On the first night, bachelorette Clare Crawley falls hard and fast for Dale Moss. And all of the men notice, including contestant Eazy Nwachukwu.
Nwachukwu recently visited the Bachelor Happy Hour podcast to talk about the show. And he mentioned Crawley did one thing during the premiere that proved she liked contestant Dale Moss the most.
Eazy Nwachukwu has new opinions of 'The Bachelorette' now that he's watching it back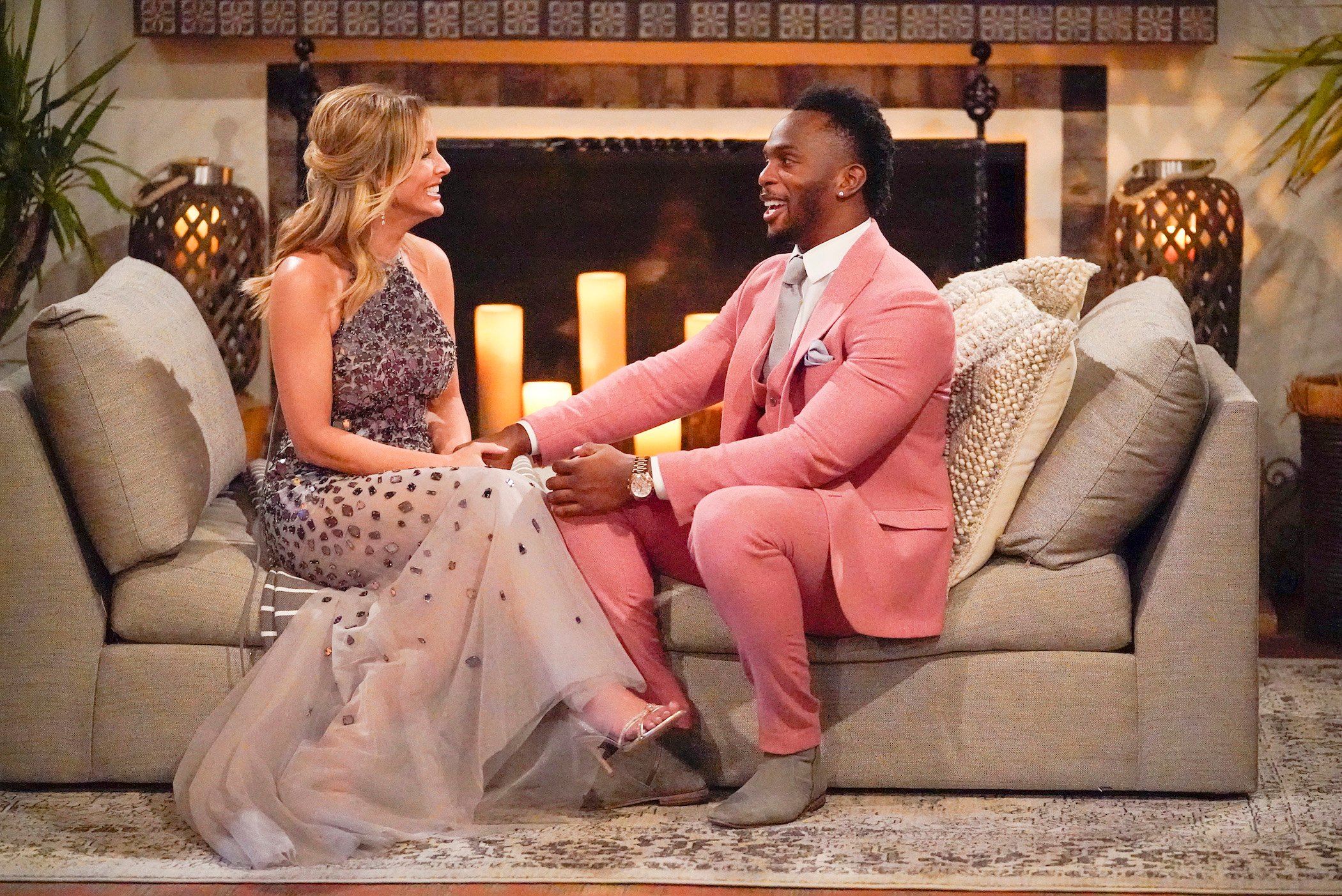 Bachelor Happy Hour hosts Becca Kufrin and Rachel Lindsay noted how much they enjoy Nwachukwu on The Bachelorette so far. Nwachukwu has taken the role of "the narrator," which means producers trust him to tell the story fairly. And he explained to the hosts of the podcast now that he's watching the show back, Crawley's connection with Moss makes perfect sense.
When Crawley and Moss first met, we can't forget she announced to Chris Harrison that she believes she just met her husband. "What did you think about Clare's response when Dale walked out the limo?" Lindsay asked Nwachukwu.
"I felt like everything made sense," Nwachukwu explained. "I've always been one to say if you feel the way you feel and it's genuine, it's OK to see somebody and be like, I see a future with them. But yeah, everything made sense. I didn't know it was that good."
Nwachukwu said Crawley showed she was already falling for Dale Moss when she did this
While Crawley and Moss felt their instant connection, the other men in the house were totally in the dark at first. Of course, the couple's romance quickly came to light. And now that Nwachukwu's watching his season back, he noted Crawley makes one gesture that really shows she was into Moss from the very moment he walked out of his limousine.
"She was definitely in her feelings," Nwachukwu continued. "You can almost tell by the way she hugged him. Like, the neck hugs. You know, when you really wrap your hands around somebody's neck, that means something."
Nwachukwu then joked that he didn't feel any embrace from Crawley that reached his neck. "That's how you know, oh, she was feeling it. If you get the friend hug with the pat … you know that's, nah."
The other contestants aren't happy with Crawley's attraction to Moss
Crawley and Moss are certainly feeling the romance so far on The Bachelorette. And it seems Nwachukwu is understanding of what went down on the show. Unfortunately, not every contestant responded with the same grace. A sneak peek from the season shows tension rose in the house when Moss and Crawley disappeared for awhile in what appears to be Crawley's suite.
"I expected way more from the oldest bachelorette," one of the men calls out to Crawley as he walks away from the house, leaving Crawley in tears.
"I'm the oldest bachelorette that's 39 that's standing here that's single because I didn't settle for men like that," Crawley angrily explains.
We'll have to wait and see what happens between Crawley, Moss, and the rest of the guys. But we imagine if the other contestants who didn't win Crawley's heart are looking back at the show now, they can witness the instant connection between Crawley and Moss just like Nwachukwu did.
Check out Showbiz Cheat Sheet on Facebook!