'The Bachelorette' Episode 6 Preview Teases Dates Next Week and New Clues About Michelle Young's Ending
'The Bachelorette' Season 18 Episode 6 preview hints what's next for Michelle Young, including new one-on-one dates with cast members like Clayton Echard and teasers about a potential engagement in the finale.
We're getting down to the wire on The Bachelorette Season 18, and many fans are wondering whether Michelle Young will end her season with an engagement. Luckily, ABC has been dropping a few clues with the new midseason promo trailer. So here's a breakdown of The Bachelorette preview teasing what happens in the week 6 episode and beyond.
[Spoiler alert: This article contains spoilers about The Bachelorette Season 18 Episode 6.]
'The Bachelorette' Season 18 Episode 6 preview teases new dates next week and beyond
The Bachelorette Season 18 Episode 6 preview starts with fun clips of the dates coming up between week 6 and the grand finale. The caption on YouTube claims there are "five weeks down, five weeks to go," which means the finale could be on Dec. 21. So there's a lot to cover.
In the new promo trailer, Nayte Olukoya, Rodney Mathews, Clayton Echard, Brandon Jones, and Joe Coleman seem to get one-on-one dates with Michelle. The other men — Olumide "Olu" Onajide, Rick Leach, and Martin Gelbspan — also get some alone time with the lead. However, Michelle seems to be wearing the same earrings when she's seen with the three men. So it's possible Martin, Olu, and Rick are in danger of going home in the next few weeks.
Meanwhile, it appears multiple men are truly falling hard for Michelle. Rodney suggests that he knows what he has with the bachelorette is "real." Clayton says he's starting to realize Michelle "could be The One." Joe says he's "falling in love" with the lead. Brandon also tells Michelle he's "in love" with her. That said, The Bachelorette star acknowledges she can't be everybody's person.
'The Bachelorette' midseason promo trailer hints heartbreak ahead for Michelle Young's cast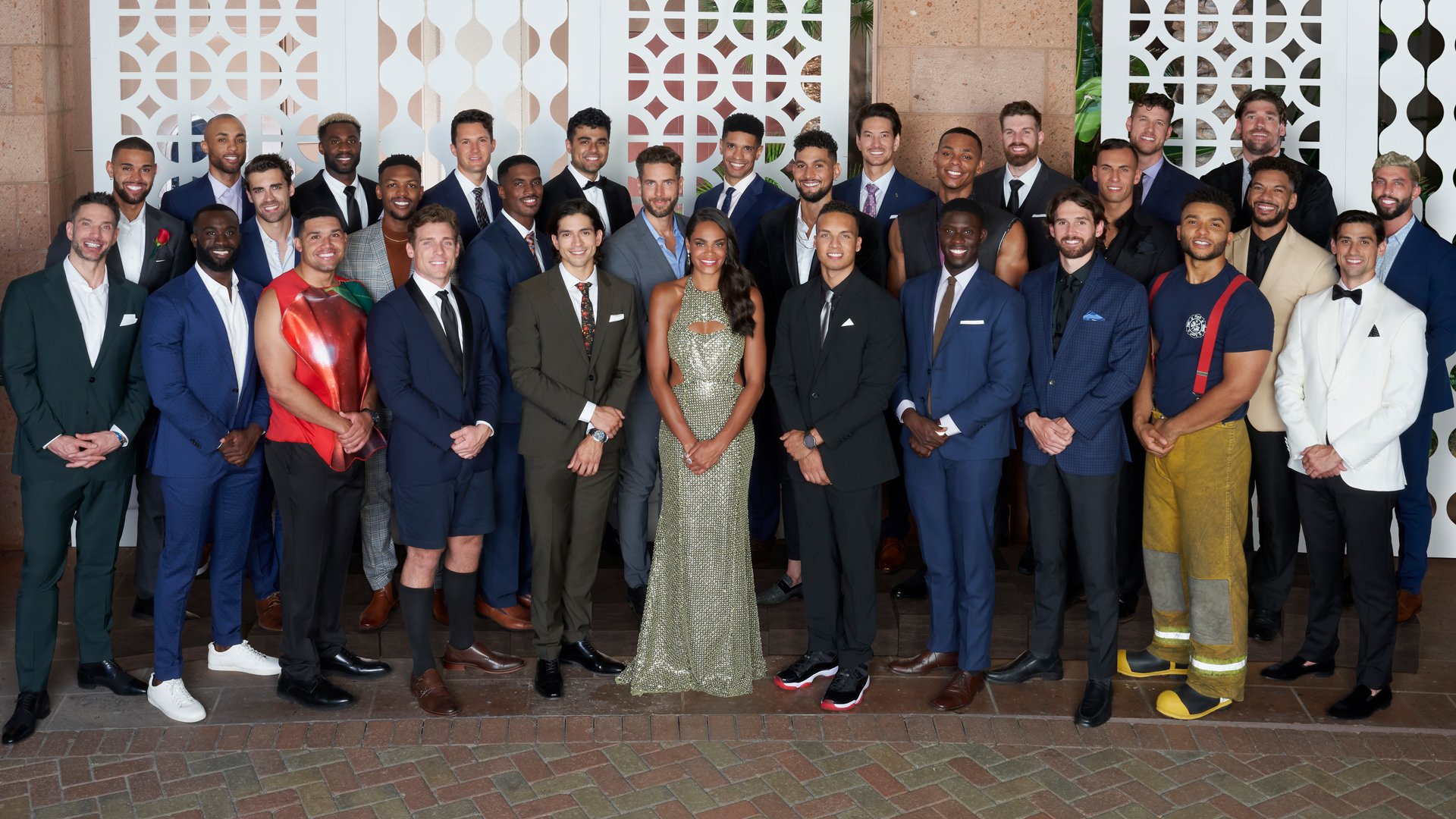 The Bachelorette promo trailer is filled with tears from Michelle and her men. Nayte and Clayton are both seen crying in the preview. Clayton also says he just wants Michelle "so badly," and the expression on his face hints he doesn't get the girl in the end. Then in a voiceover, a cast member that sounds like Brandon says, "I don't want this woman to let me go. I don't want her to let me go."
Throughout The Bachelorette preview, it's clear that Michelle and her cast will head to a tropical destination later in the season. During the early Hometowns and Fantasy Suites teaser, the lead confirmed they will go to Mexico. Then midway through the new trailer, Michelle breaks down crying in front of some palm trees, and it's likely she just broke up with one of her finalists. 
Meanwhile, Joe, Nayte, and Brandon are the only contestants who are in this preview with palm trees in the background. So it seems likely the three men will make it far or The Bachelorette team is just hiding other cast members.
'The Bachelorette' preview teases drama between Michelle Young and who she picks as her finalists
Midway through The Bachelorette midseason preview, Michelle's dad, Ephraim Young, reveals he's "concerned" one of the contestants would "become a jealous person." Then the teaser hints that Ephraim could be talking about Brandon or Nayte. But if that's the case, it's possible the cast members are in the final two because suitors typically meet the bachelorette's parents at that stage in the finale.
Regardless, The Bachelorette promo is building up the narrative that whoever Michelle picks won't be ready for a proposal. During Hometowns, a family member claims a cast member isn't ready for an engagement.
"He's not there yet," the family member says. "I don't want him to hurt himself or you."
Later, in a voiceover, Michelle is worried that she has stronger feelings for her suitor than he has for her. The teaser also jumps to a clip of Nayte. Then at the end of the preview, Michelle is seen walking toward her final rose ceremony on the beach. She's worried her final pick won't be ready for an engagement.
"I'm terrified," Michelle says. "If I get to the end of this and he's not all in, I will be heartbroken."
The Bachelorette trailer ends with Michelle crying at her final rose ceremony. So are these happy or sad tears? The lead puts her hands up to her face, and she could be smiling. But for now, only time will tell.