'The Bachelorette' Fans React After Tearful Tayshia Adams Walks off 'Men Tell All' Set After Breaking Silence on Zac Clark Split
Tayshia Adams tearfully walked off the set of The Bachelorette: Men Tell All after breaking her silence on her split from fiance of one year, Zac Clark. The shocking moment occurred in front of a live studio audience in attendance to see current Bachelorette Michelle Young face off with her former suitors. Viewers reacted to the uncomfortable moment on Instagram.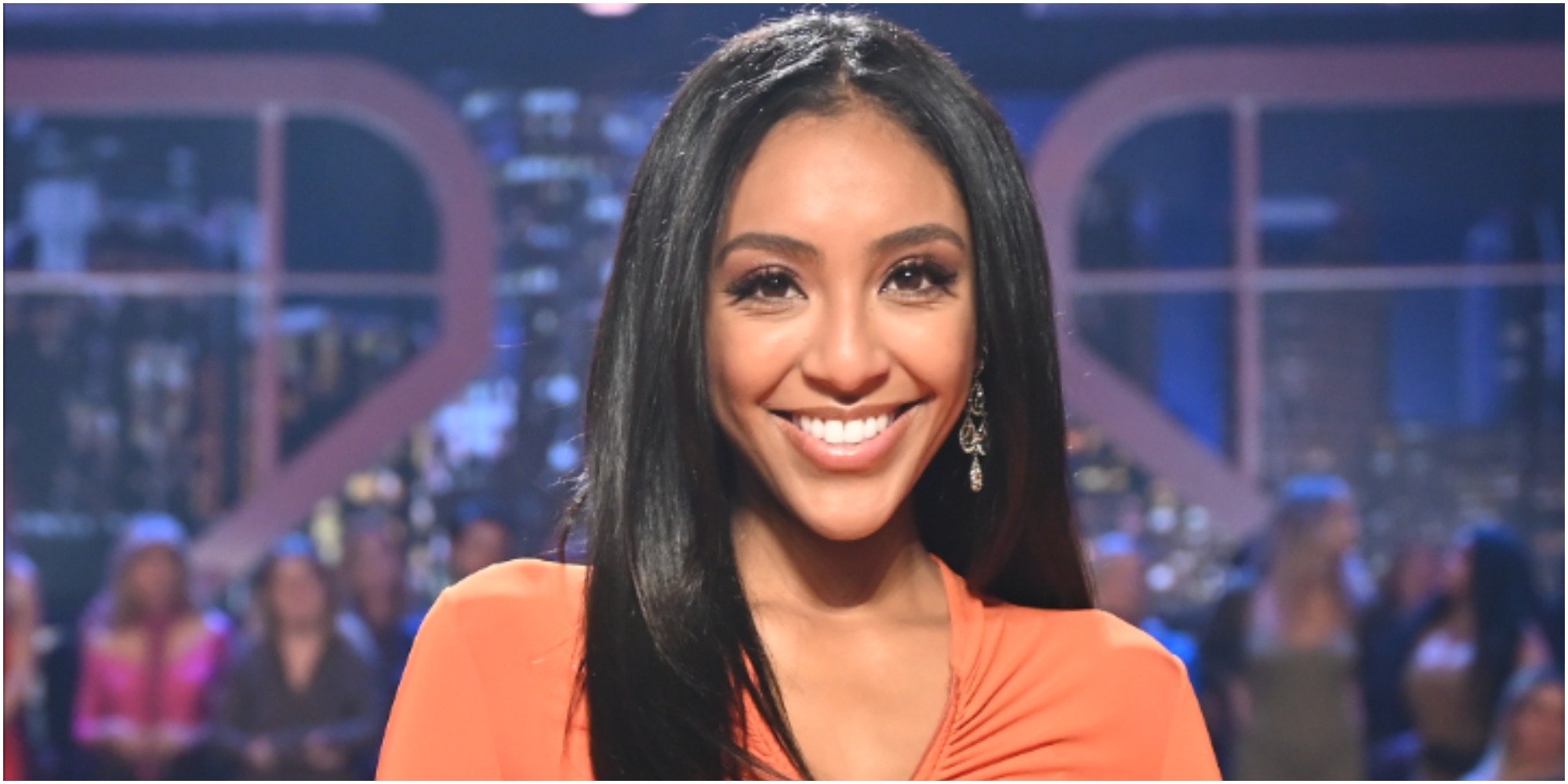 When did Tayshia Adams and Zac call it quits?
On Nov. 22, a representative for Adams announced she and Clark were no longer together per People Magazine.
"Tayshia Adams and Zac Clark are no longer a couple," the rep said to the publication.
The couple appeared to be very happy ever since Clark placed a Neil Lane sparkler on Adams's finger in December 2020. The platinum, 3.25-carat emerald-cut center stone was surrounded by a halo of 27 round diamonds and further accented by 67 round diamonds.
In November, the pair ran the TCS New York City Marathon together. Clark raved about Adams' courage in a touching Instagram post.
The moment that brought Tayshia Adams to tears during 'The Bachelorette: Men Tell All'
During the special, Tayshia Adams' Bachelorette co-host Kaitlyn Bristowe addressed the rumors that Adams and Clark were no longer together.
"Tayshia, I want to talk to you about something. Of course, we've talked about this off-camera. You're not wearing your engagement ring. I know there's a lot of rumors and speculation. But I do think it's important to clear the air and have a voice for yourself," Bristowe said as she held Adams' hand.
"Say what you want to say before other people get to make the story for you. What's going on in your relationship with Zac?" Bristowe questioned.
Tayshia Adams tearful response ended in her walking off the set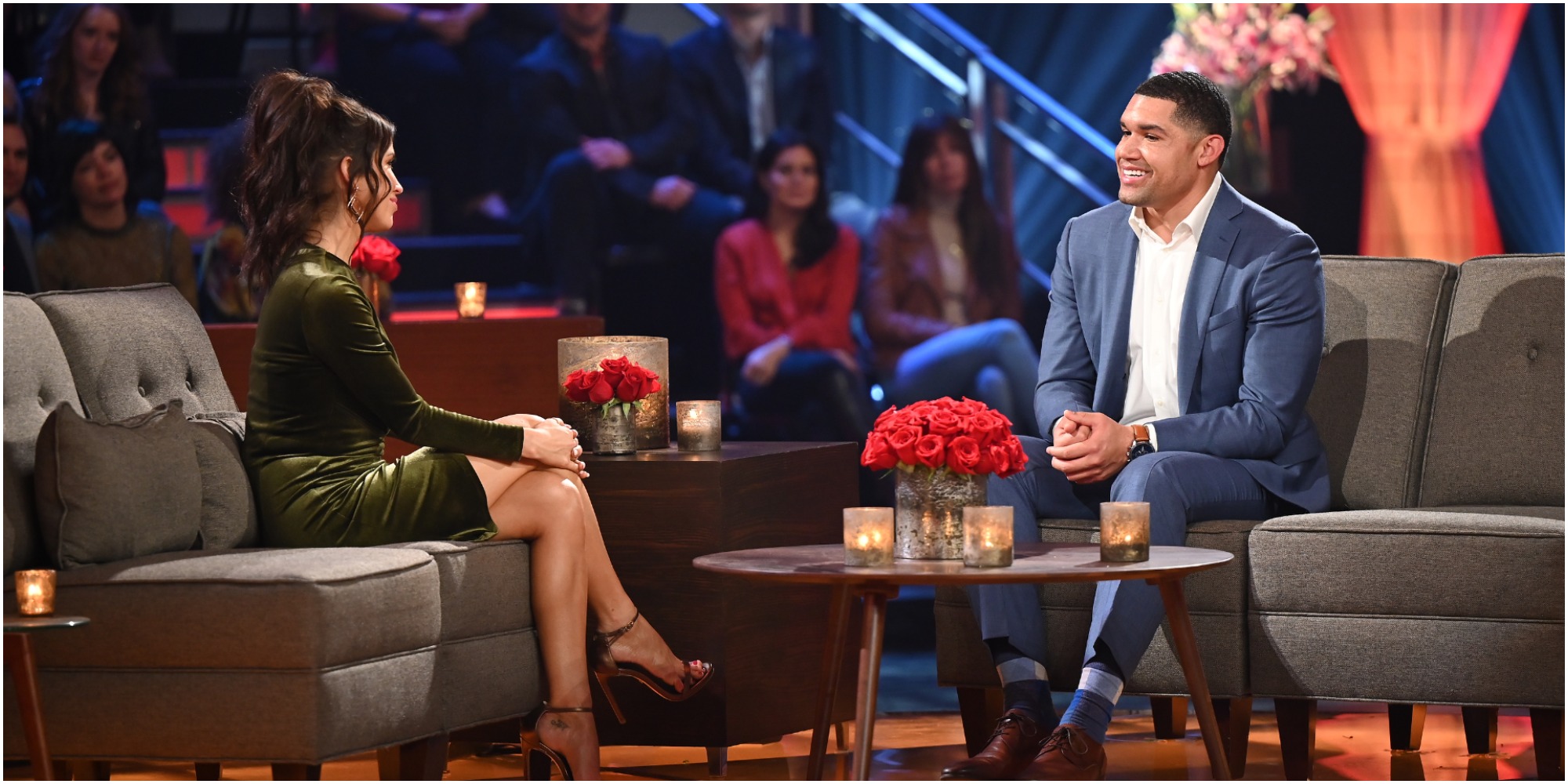 "All in all, all I have to say is that I'm heartbroken," the season 16 Bachelorette said. "But we tried really hard, and I still love him very much. And I'm not sure that the future holds."
"I mean, you know how it is," Adams said to Bristowe. "It's really tough."
Bristowe endured a painful breakup from former fiance Shawn Booth before finding happiness again with Jason Tartick.
"It's really hard, but we're here for you and obviously want you to be happy," Bristowe continued before reaching out and hugging her friend.
Following this, Bachelorette contestant Rodney Mathews joined the hosts on stage.
Before diving into his romantic entanglement with Michelle Young, Mathews told Adams he was "sorry to hear" about her breakup.
His comment caused Adams to get up and leave the set. In response, Bristowe said that her co-host needed a "minute."
Fans responded to the uncomfortable moment
Tayshia Adams fans took to Instagram to respond to uncomfortable moments.
"So happy she gets to speak on it before others, can't wait to listen & continue to watch her keep thriving no matter what gets in the way," wrote one follower.
"I love you, Tayshia. You deserve the best. I wish you and Zac nothing but the best, even if that means not being together," claimed a second fan.
"I'm heartbroken for you. I loved you together, but sometimes things don't work as we envisioned. You will get through this," penned a third viewer.
The Bachelorette airs Tuesdays at 8 p.m. EST on ABC.
RELATED: 'The Bachelorette': Jimmy Kimmel Predicts Who Wins Michelle Young's Season — Will the Host Start a New Streak?