'The Bachelorette': Some Fans Think Tayshia Adams Is 'Stealing the Show'
Katie Thurston's season of The Bachelorette is well underway and already it's different from any other season in previous years. Not only is the show not being hosted at the infamous Bachelor mansion, thanks to the coronavirus (COVID-19) pandemic, but Thurston's season is also the first to not be hosted by Chris Harrison. Instead, The Bachelorette is being co-hosted by Tayshia Adams and Kaitlyn Bristowe.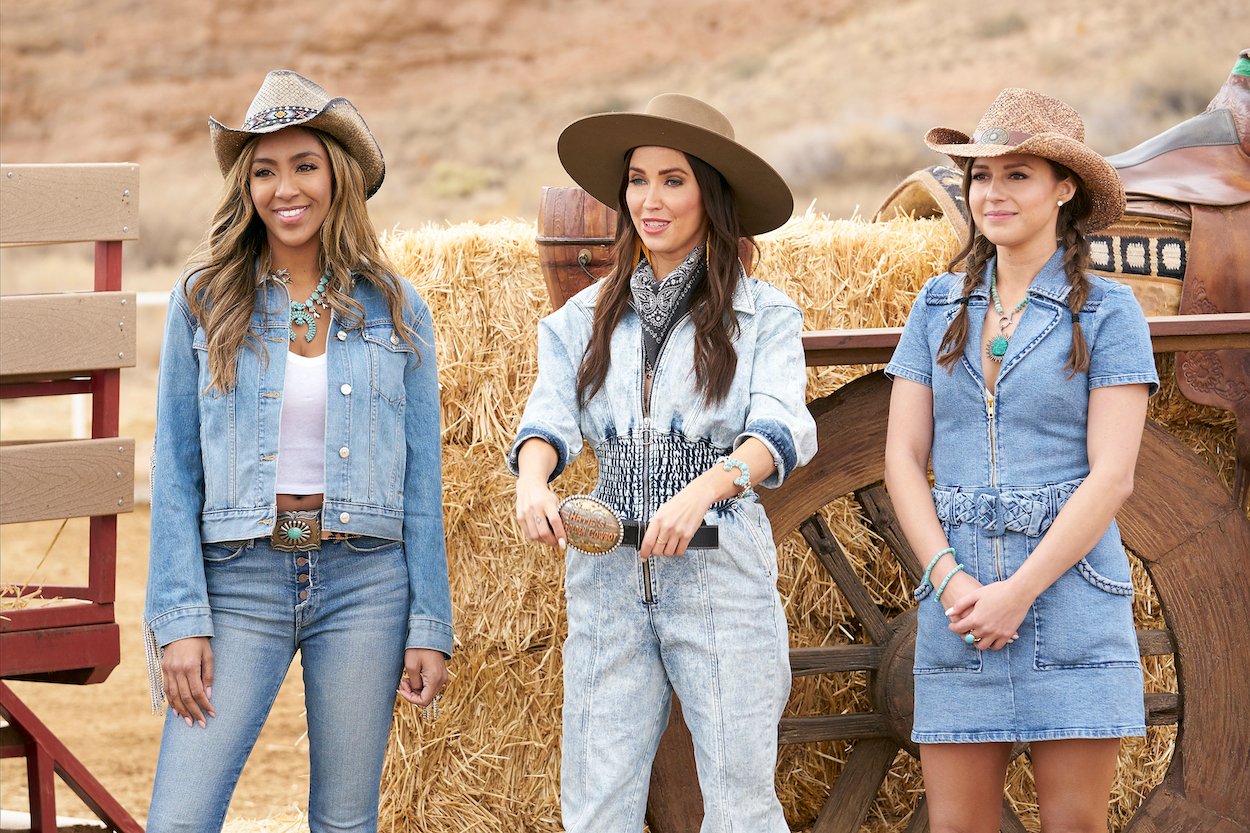 Fans of the reality TV show now know that Harrison has officially exited the franchise. After a 19-year run of hosting The Bachelor, The Bachelorette, Bachelor in Paradise, and more, Harrison left the franchise after receiving a multimillion dollar payout. This, of course, came months after he found himself in hot water after he defended Matt James' winner, Rachael Kirkconnell, for past racist behavior and weeks after it was announced that Bristowe and Adams would be teaming up to replace him for Thurston's season.
'The Bachelorette' 2021 is being co-hosted by Tayshia Adams and Kaitlyn Bristowe in lieu of Chris Harrison
Casting Adams and Bristowe as co-hosts was a wise move on the part of ABC. As they both have served as The Bachelorette in the past, they are able to give Thurston advice as she navigates her journey. Furthermore, both women are considered to be fan favorites within the franchise. Adams even shared that Harrison gave her his blessing prior to the season starting and offered her advice on how to host. However, some people think that Adams and Bristowe are inadvertently stealing the show.
On June 14, 2021 Adams posted a photo of herself, Thurston, and Bristowe to promote the new episode of The Bachelorette. All three women are decked out in blue denim, cowboy boots, and cowboy hats. "Giddy up!" Adams captioned the photo. "Y'all ready to see these men fight for our girls heart? Get your best boots and denim on, then tune into the Bachelorette tonight on ABC!🤠🐴👖👢✨"
Some fans believe Adams and Bristowe are stealing Katie Thurston's thunder
While some fans of The Bachelorette loved the photo, others felt that Adams and Bristowe were both styled better than Thurston and thus were stealing her thunder. "I absolutely love all three of you, but Kaitlyn and Tayshia are styled better than Katie, as well as Kaitlyn is standing in the middle when it's supposed to be about Katie!!" one Instagram user wrote. "I love watching all three of you and it's hilarious but it seems like they are kind of stealing the show!!"
Others quickly expressed similar sentiments. "So everyone knows, I think Katie is stunning!" one fan of The Bachelorette wrote. "She's cute in this pic but I think Tayshia and Kaitlyn kinda outshine her as far as style. Def not hating on Katie! Just think she should be and look like more of the main character." "Why are y'all styled better than the bachelorette," another person asked.
'The Bachelorette' fans have mixed feelings about Thurston's outfits and the way she's being styled
Of course, not everyone agreed that Adams and Bristowe were stealing Thurston's thunder with their looks. Some shared that it was clear that Thurston was the focus since she was the only one wearing a dress. "Katie is the only one wearing a cute, sexy little dress showing her leg…That's not a wardrobe mistake," one fan declared. "That's on purpose ! She's the focus ;)" Others pointed out that the bachelorette herself chose the outfit that people were critiquing. "On TikTok Katie said that she picked this outfit!!!" one person declared.
Clearly, fans of The Bachelorette have mixed feelings about Thurston's styling and whether or not she is being outshined by Adams and Bristowe. But Thurston doesn't seem concerned about the other women are stealing her thunder, so fans probably shouldn't be either.