'The Bachelorette': Hannah Brown and Other Former Stars Explain Why Their Relationships Didn't Work
The Bachelorette is a reality TV show where the contestants are looking for true love. The series has a better track record of lasting love than its counterpart, The Bachelor. However, many stars of the show don't end up staying with the person they choose. Let's take a look at what happened with Hannah Brown's relationships from the show — with Jed Wyatt and Tyler Cameron. Plus, we will recap a few other former stars and what happened.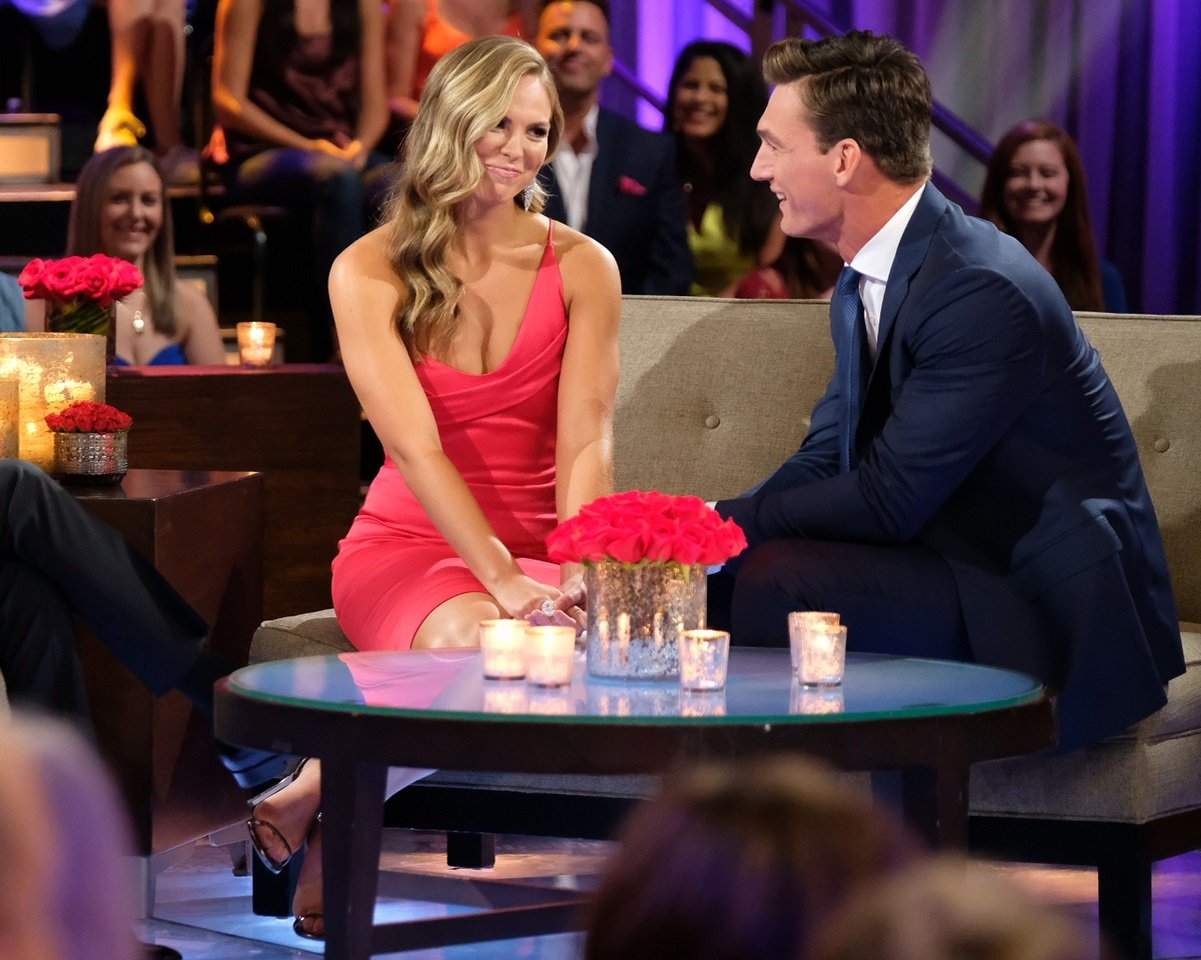 Why didn't 'The Bachelorette' couple Kaitlyn Bristowe and Shawn Booth work out?
Kaitlyn Bristowe was the star of The Bachelorette Season 15 in 2015. She chose personal trainer Shawn Booth in the final rose ceremony. However, the couple split after a three-year engagement. The Off the Vine with Kaitlyn Bristowe podcast host opened up in March of 2019 to explain why her relationship with Booth didn't work.
RELATED: 'The Bachelorette': Kaitlyn Bristowe and Shawn Booth Didn't Work Out — We See Another Massive Difference of Opinion Now
"We were kind of struggling for the last little while," she told the Raw Beauty Talks podcast. "I just wasn't feeling loved for over the last year. It really just started weighing on me. I just felt very alone in the relationship, and I felt like I had a best friend, but I didn't feel like I had a partner. We just started growing apart."
Are 'The Bachelorette' star Hannah Brown and Tyler Cameron dating?
It's no secret that Brown broke things off with Jed Wyatt because he had a secret girlfriend before going on the show. However, fans still want to know what's going on between Brown and Tyler Cameron — her runner-up.
The pair spent some time together in August of 2019; however, Cameron was spotted with GiGi Hadid only a few days later.
"I wish I would've got a little bit more than two days. But, you know, it is OK," Brown said on The Bachelor Happy Hour Podcast.
Brown and Cameron quarantined together in Jupiter, Florida, for what seemed like months during the coronavirus pandemic. Fans loved her TikToks with Cameron and his friends; however, she returned to her hometown, Tuscaloosa, Alabama, on April 2, 2020. 
RELATED: 'The Quarantine Crew': A Run-Down of Everyone That Hannah Brown and Tyler Cameron are With During the Coronavirus Pandemic
The Tannah shippers took a blow when both parties announced that they are not dating. On April 14, 2020, Brown shared in an Instagram live that she is currently single. 
"You know, I definitely want to be in a relationship," Brown said in an Instagram live on May 6, 2020. "I think I'm finally getting to the point where I can say that I could do that at this point in my life. I think I needed a little break, and I definitely took that. I'm going to be single until it's right. I don't date around, really. You have to date people, but I date, like, seriously."
Although she doesn't explain why she's not dating Cameron, we can see that they make great friends. The former Bachelor contestant said that the quarantine was good for them.
"We got to kind of air a lot of things out and become friends again and put a lot of stuff in our past," Cameron told Entertainment Tonight.
'The Bachelorette' star Andi Dorfman reveals why she and Josh Murray didn't work
Dorfman detailed her relationship with Murray in her book titled, "It's Not OK." The novel is a raw account of what happened on The Bachelorette Season 10 and her engagement with Murray.
It was "the most volatile and f*cked up relationship of my life," Dorfman wrote in her book.
RELATED: 'The Bachelor': 10 Things Andi Dorfman Has Said About Nick Viall
The reality TV star explained that Murray was jealous and emotionally abusive. The main issue that was always brought up during fights was the night she was intimate with Nick Viall during her season. The Viall Files podcast host was Dorfman's runner-up, but Murray could never forgive her for having sex with another man.
"That one sexual escapade would become a power play used by my fiancé to justify his mistrust in me," she wrote. "It would be an excuse to call me a whore. And it would eventually lead to the demise of my engagement."