'The Bachelorette' Hannah Brown Reveals Her Thoughts on Tyler Cameron's New YouTube Video — Which Opens With Their Breakup
Fans were ecstatic when they saw The Bachelorette star Hannah Brown and her runner-up Tyler Cameron quarantining together in 2020. However, the pair shot down rumors that they were dating again. Now, fans are worried that Cameron's latest YouTube video upset the Dancing with the Stars winner.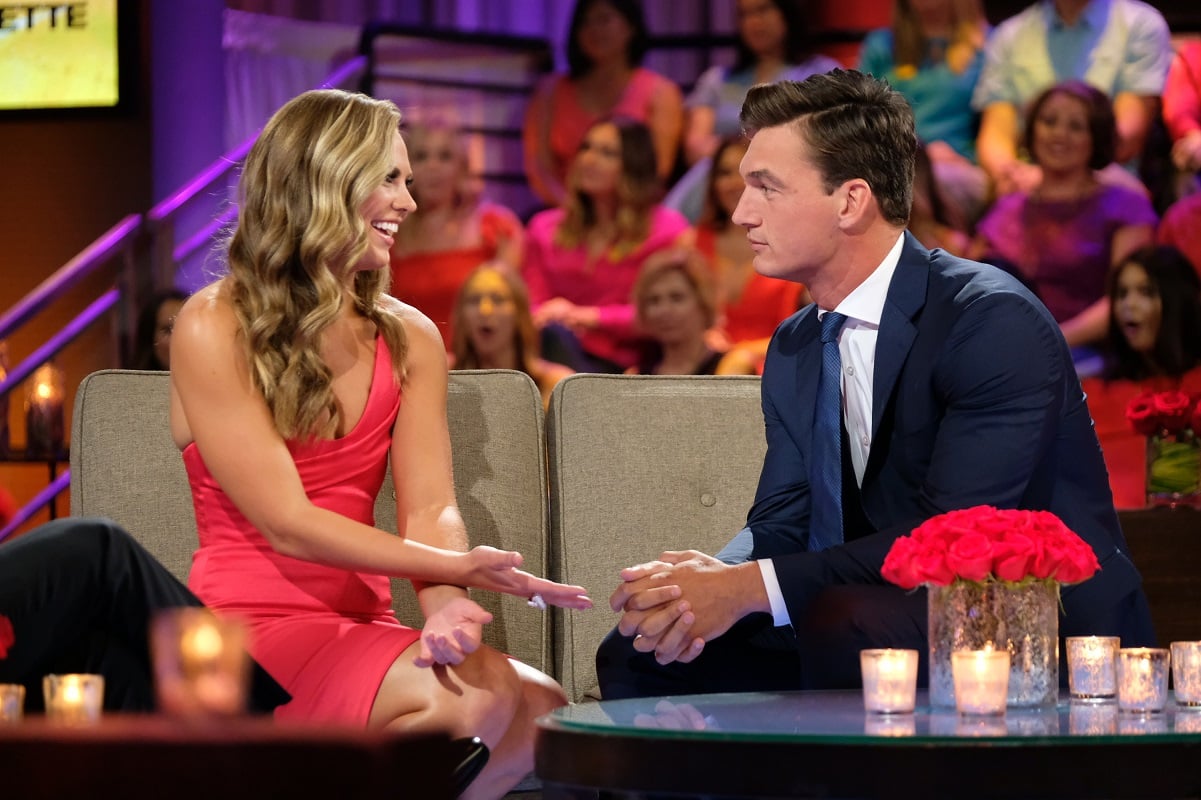 What is Tyler Cameron's new YouTube channel?
Fan-favorite Tyler Cameron, from Hannah Brown's season of The Bachelorette, is telling all with his new YouTube channel. He started with a series of rapid-fire questions and answers to get fans excited. No one was shocked that Cameron was shirtless the entire 10 minutes.
At the end of the video, the contractor turned Reality TV star teased his next installment, a short clip advertising his new channel. 
RELATED: Bachelor Nation Alum, Tyler Cameron, Finally Claps Back at Trolls on Social Media — Fans Are Here For It
The minute and a half clip begins with Brown telling a heart-broken Cameron, "I love someone else." Then the video zooms out to Cameron, presumably naked in a bathtub clicking "pause" on the video. 
"You think you know me, ya'll don't have a clue," he tells viewers.
Then the trailer ensues with a series of clips of the 27-year-old wakeboarding, traveling, working out, and helping children in need. He explains that he started his YouTube channel to give an inside look into who he is.
Fans believe Hannah Brown was angry with Tyler Cameron after he featured her in his YouTube video
"Way to use Hannah Brown," one fan wrote on Tyler Cameron's Instagram post. "Geez. She came and supported you when you were in a tough spot. This is just passive-aggressive and immature, tbh."
Many other fans were also upset by Cameron using the clip of Brown to open the video. Since it's an advertisement for his YouTube channel, critics point out that he uses her to gain subscribers.
RELATED: 'The Bachelor' Fans Now Feel Strongly That Hannah Brown Asked Tyler Cameron Out Over Peter Weber Due to Producer Meddling
"I have to agree," another fan added. "I wish this wasn't used."
Other viewers question whether the two are still friends after he chose to use the clip of Brown.
Sleuth 'Bachelorette' fans point out that Brown liked and commented on Cameron's video
"She liked and commented on this post," one viewer responded to the negative comments. "She is good!"
A fan also shared Brown's reply to Reddit. After a fan wrote on the Instagram post that they were "so pissed" during that episode, the Bachelorette agreed.
"Me too," she responded to the user.
RELATED:'The Quarantine Crew': A Run-Down of Everyone That Hannah Brown and Tyler Cameron are With During the Coronavirus Pandemic
She implies that she was also upset at herself for choosing Jed Wyatt over Cameron. The star found out later that Wyatt had a girlfriend when he left to be a contestant on her season. Fans feel the fact that she liked Cameron's post and commented on it shows that she doesn't mind if he used the clip.
"I'm not sure why so many people thought that [she was mad] before," one Redditor wrote. "It's really nice to have confirmation from Hannah that they were wrong."
Several fans defend Cameron's choice to use the clip, stating that other previous Bachelor contestants use their time on the show as a stepping stone on YouTube as well.