'The Bachelorette': Have JoJo Fletcher and Jordan Rodgers Set a New Wedding Date?
JoJo Fletcher and Jordan Rodgers quickly became one of the most well-known couples of The Bachelorette franchise. Fans weren't sure how they felt about Rodgers when Fletcher first said yes to his proposal, but over time, people grew to love the connection the couple had.
Fletcher and Rodgers have taken their relationship slowly, but the pandemic has caused them to reschedule their wedding once, then cancel it altogether the second time. Have the two finally picked a new wedding date?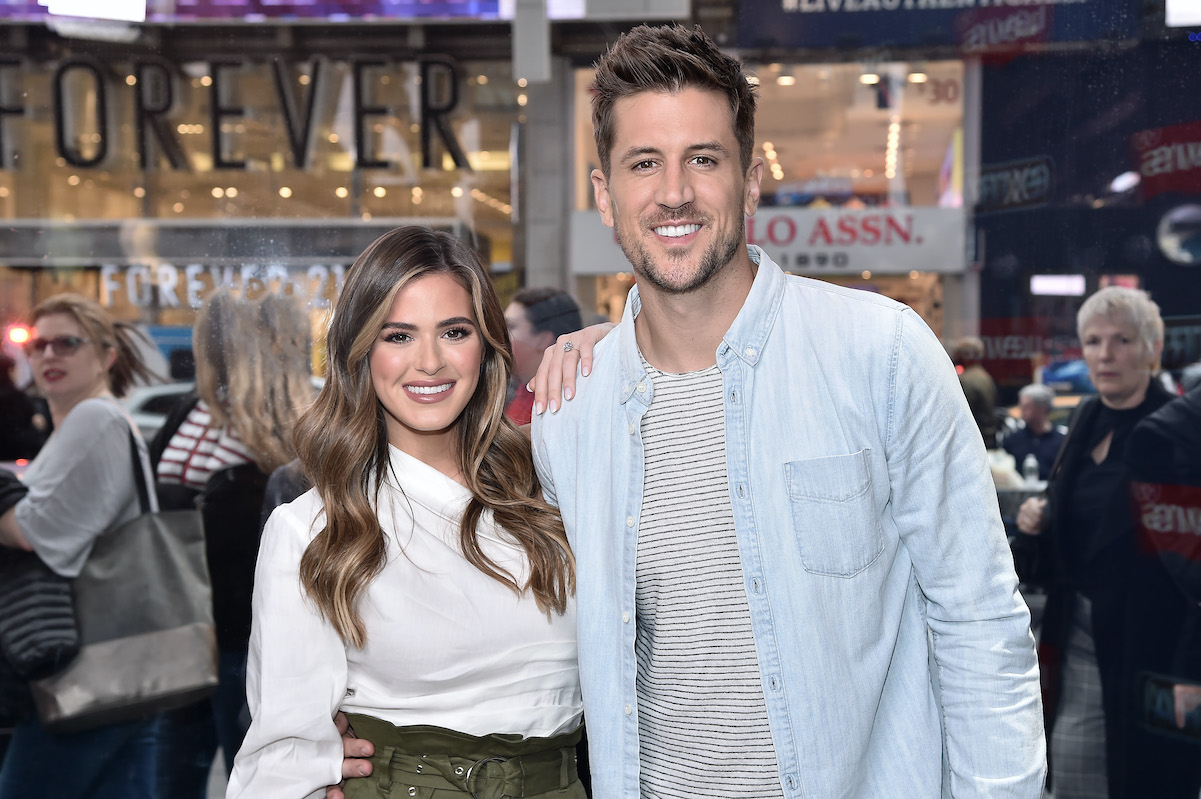 'The Bachelorette' stars JoJo Fletcher and Jordan Rodgers have taken their time building their relationship
When Rodgers proposed to Fletcher at the end of her Bachelorette season back in 2016, she quickly said yes. However, the two recognized that, while they wanted to be together, they weren't quite ready to walk down the aisle.
"There was a lot of work involved in getting to know each other," Rodgers once said in an interview with E! of his relationship with Fletcher post-Bachelorette. The two actually came close to breaking up, but when they were between breaking up or staying together, they chose to fight for their relationship.
Fletcher revealed in the same interview that the couple's relationship was "bad" in its first year. Though they wanted to plan a wedding, they ultimately wanted to avoid the stress of wedding planning until they felt they were in a strong enough place to handle it.
JoJo Fletcher and Jordan Rodgers canceled their May 2021 wedding — and they haven't rescheduled
Once Fletcher and Rodgers felt they were in a good place, the couple decided to start the wedding plans. Rodgers re-proposed to his future wife, and the two set a date. The two initially planned the wedding for June 2020. However, due to obvious circumstances regarding the pandemic, they canceled their initial nuptials.
Still, prior to the cancelation, the couple did provide some details on what their special day would be like. The two revealed to E! that they plan to get married at an outdoor venue in California. They also gave a few hints about who would be invited. Becca Tilley and Chris Harrison of The Bachelorette franchise were certainly on the invite list.
Despite the excitement surrounding their special day, the couple canceled their June 2020 wedding and rescheduled it for May 2021. However, by the time the date rolled around, two had to cancel again because of a guest capacity limit at the venue. As of now, the two have not rescheduled, but they are planning for sometime in 2022.
'The Bachelorette' couple is aiming for 2022
Though Fletcher and Rodgers have not set an official new date, they have announced that they're looking to nail down a day in 2022.
"The fall is not an option for us," Fletcher said in an interview with Access. "[It's] probably gonna be next year … I know it's going to be everything I want it to be."
While Fletcher didn't love the thought of planning it for a year from now, she said the fall isn't an option because of Rodgers' schedule. Still, she's keeping her head high that the big day will turn out exactly as she and her future husband had always imagined.