'The Bachelorette': How Does Chris Harrison Feel about Being Replaced by JoJo Fletcher?
It seems like the producers of The Bachelorette are just throwing ideas at the wall and hoping something sticks at this point. Every day some new information about this season is released and it keeps getting wilder. Recently, it was just confirmed that host Chris Harrison would be leaving his duties as host for a while and former Bachelorette Jojo Fletcher would replace him. So, how does Harrison feel about all this? Apparently, not great.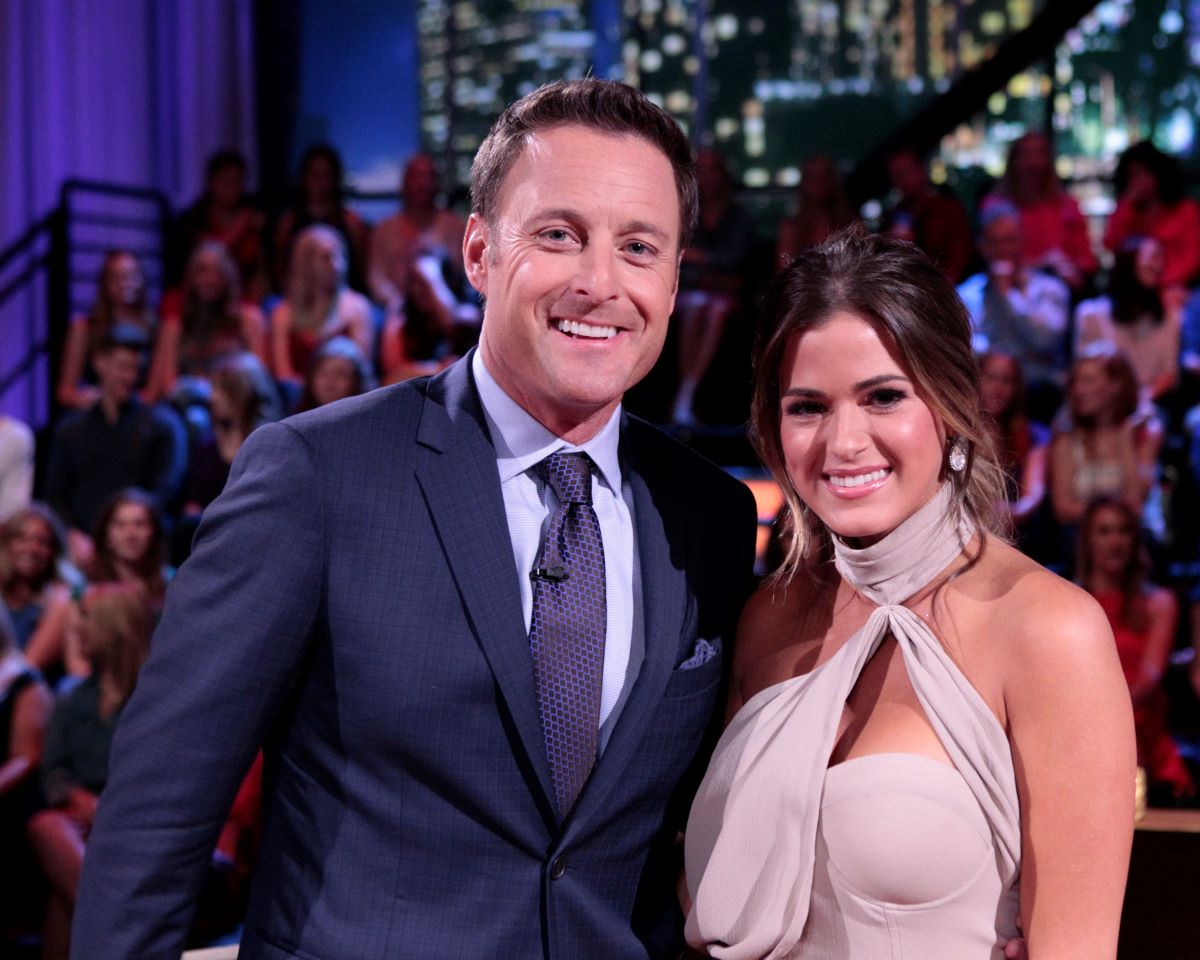 What's been going on with 'The Bachelorette'?
 Clare Crawley was set to be the Bachelorette but filming for her season had to be put on pause due to the coronavirus (COVID-19) pandemic. During the filming pause, she began talking to contestant Dale Moss.
"One of her potential guys found a way to get in touch with her and they began talking," a source told People. "By the time filming officially began, they were basically already in love. No one else stood a chance. It just became so obvious from her subsequent few dates that her heart wasn't in it and she just wasn't feeling it. Then she said she wanted out."
Two weeks into filming, she told producers that she did not want to continue with the show. They were then able to bring Tayshia Adams from Colton Underwood's season of The Bachelor on to be the Bachelorette.
RELATED: 'The Bachelorette': Here's How Past Leads Really Feel about the Casting Switch
But then, former Bachelorette Becca Kufrin and Peter Weber's winner Hannah Ann Sluss were all spotted in Palm Springs along with the rest of the crew. So now, no one is sure what exactly is going on.
Chris Harrison left set
Filming for The Bachelorette had to be moved to Palm Springs so that the cast and crew could quarantine together and minimize the risk of spreading COVID-19. But Harrison recently broke quarantine to go drop his son off at college.
"Just like that he's gone," Harrison captioned a picture of himself and his son. "Thought dropping the big man off at college @texaschristianuniversity today was going to crush me but all I could feel is pride and excitement. Especially now, so grateful that they have this opportunity. Now go take on the world and have the time of your life my boy."
Now, before Harrison is allowed back on set, he will have to quarantine for two weeks.
How does Chris Harrison feel about being replaced?
Though Harrison must isolate himself for two weeks, the show must go on. In the meantime, Fletcher is filling in for him and Harrison is not too excited about it.
RELATED: 'The Bachelorette': New Promo Reveals Clare Crawley's Exit and Foreshadows Replacement
"The moment he got back, Chris was told he could not set foot back on the set until he went through another 14-day quarantine," a source told Us Weekly. "The show's contestants and crew all had to quarantine on the property for 14 days prior to the cameras rolling. But it didn't dawn on Chris he'd have to do it all over again if he simply left to take his kid to college."
And the host did not take the news too well.
"Chris was not happy they were going to make him quarantine in Palm Springs for two weeks without working," the source revealed. "He insisted he simply dropped his son off in his dorm room and left, social distancing the entire time."
But in order to be safe, production brought in another host.
"They are still using JoJo to fill in," the source said. "She had been self-quarantining at her home."
Harrison may not have to quarantine for the full two weeks, though. More concrete decisions will be made once his COVID-19 results come back.