'The Bachelorette': Is Dale Moss Cheating On Clare Crawley?
Clare Crawley and Dale Moss's whirlwind romance has been documented on this season of The Bachelorette. In light of recent rumors regarding Moss cheating on Crawley, fans wonder if they are still a couple.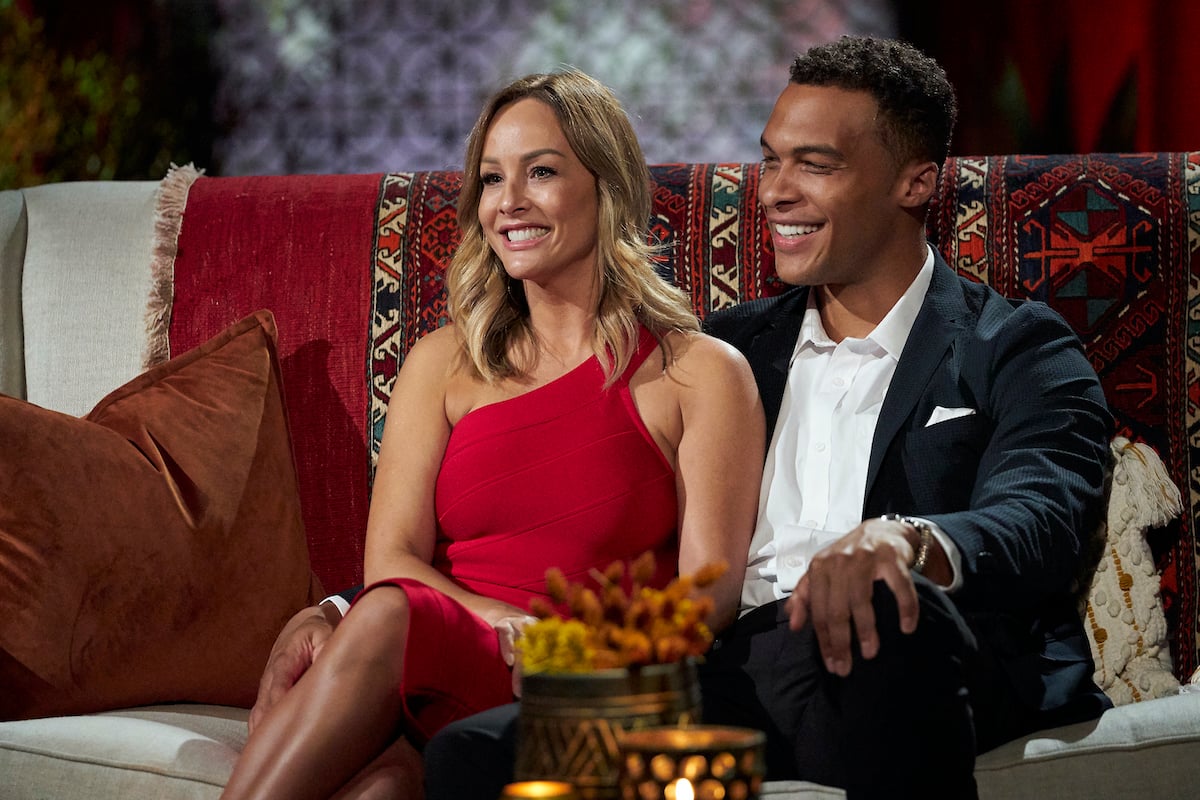 Clare Crawley 'blew up The Bachelorette' 
Crawley's journey to find love was initially postponed because of the coronavirus (COVID-19) pandemic. While waiting for her season to start, Crawley was able to research the men vying for her heart. Though she claims she never contacted her suitors, Crawley felt something special when she looked into Moss's social media presence.
In an interview with Entertainment Tonight, Crawley revealed how Moss would talk about his mother and his family a lot on social media. "That deeply resonates with me," said Crawley. "I just felt on any level, whether it be friendship, whether it be a romantic connection, I just felt like there would be that good connection with him." 
Crawley admitted she wasn't sure if she and Moss would hit it off physically once they met in person. But Bachelor Nation knows that's not the case. 
Did Bachelor Nation catch Dale Moss cheating on Clare Crawley? 
On Nov. 14, Moss shared a photo to his Instagram that had fans thinking he and Crawley were already married. In the photo, Moss is seen wearing a ring on his left ring finger. Naturally, Bachelor Nation assumed he and Crawley tied the knot in a private ceremony. But that remains unclear. 
Allegedly, the same day Moss shared the photo, he was spotted "in SoHo with three women" (via OK Magazine). 
"He went to an event at Hugo Boss and was seen leaving with three model types," an insider told the outlet. "He was later joined by a fourth who seemed to be his friend. Then, he was spotted drinking outside in SoHo, where he was kissing one woman, but like pecks."
'The Bachelorette' fan accounts sent Bachelor Nation spiraling
Fan accounts like DeuxMoi and Bacheloring shared "evidence" of Moss romancing another woman. In a since-deleted Instagram Stories post, Bacheloring shared screenshots of a conversation that a fan allegedly had with Crawley, informing her of Moss's misstep. The discussion included a blurry photo of what appeared to be Moss holding another woman's hand.
"For everyone asking, I deleted the Dale post because apparently the account I reposted from didn't have the consent of the fan (who messaged Clare and spotted Dale) to post the messages," Bacheloring shared after removing the image from their Instagram Stories.
Dale Moss would have to be 'the stupidest man alive' to cheat on Clare Crawley 
At this time, it looks like Moss cheating on Crawley is just a rumor. Moderators on The Bachelor Reddit are working to gain control over the spread of this information.
"We are asking you to PLEASE stop and think before reading [these] submissions as gospel," said moderators. "And PLEASE don't state [these] submissions around the sub as fact without explicitly stating that you heard it from an entirely unverified and baseless source. This subreddit is not here to peddle misinformation or rumors that originate from gossip rags."
Fortunately, Bachelor Nation isn't buying that Moss is cheating on Crawley. 
"Looking at the other headlines on OK it seems like they make stuff up lol," a fan on Reddit wrote. "Also, Dale would have to be the stupidest man alive to cheat on Clare when they're in a very public relationship."
"I think the OK article is pulling from some insta sleuthers," another said. "The stories [seem] to show Clare responding to a woman DMing her about seeing Dale kiss a woman. Another account has some pictures/videos, but they're like VERY far away and those seem to have been deleted already. They're posted on bachelor POC, but they're like far away and grainy so you could be looking at anything, so take that with a grain of salt." 
Are Dale Moss and Clare Crawley still together?
Considering the sources of this information, it's highly unlikely Moss is cheating on Crawley. The former professional football player likely has female friends he maintains relationships with. That doesn't mean he is incapable of remaining loyal to Crawley.