'The Bachelorette': Jason Tartick Had the Best Response to Ryan Fox's Notes
If you caught the premiere of Michelle Young's season of The Bachelorette, you know it was a doozy. We always expect to deliver in the drama department, but it usually takes longer than the first night. That wasn't the case for this season when Ryan Fox showed up. Here's what went down on The Bachelorette Season 18 premiere.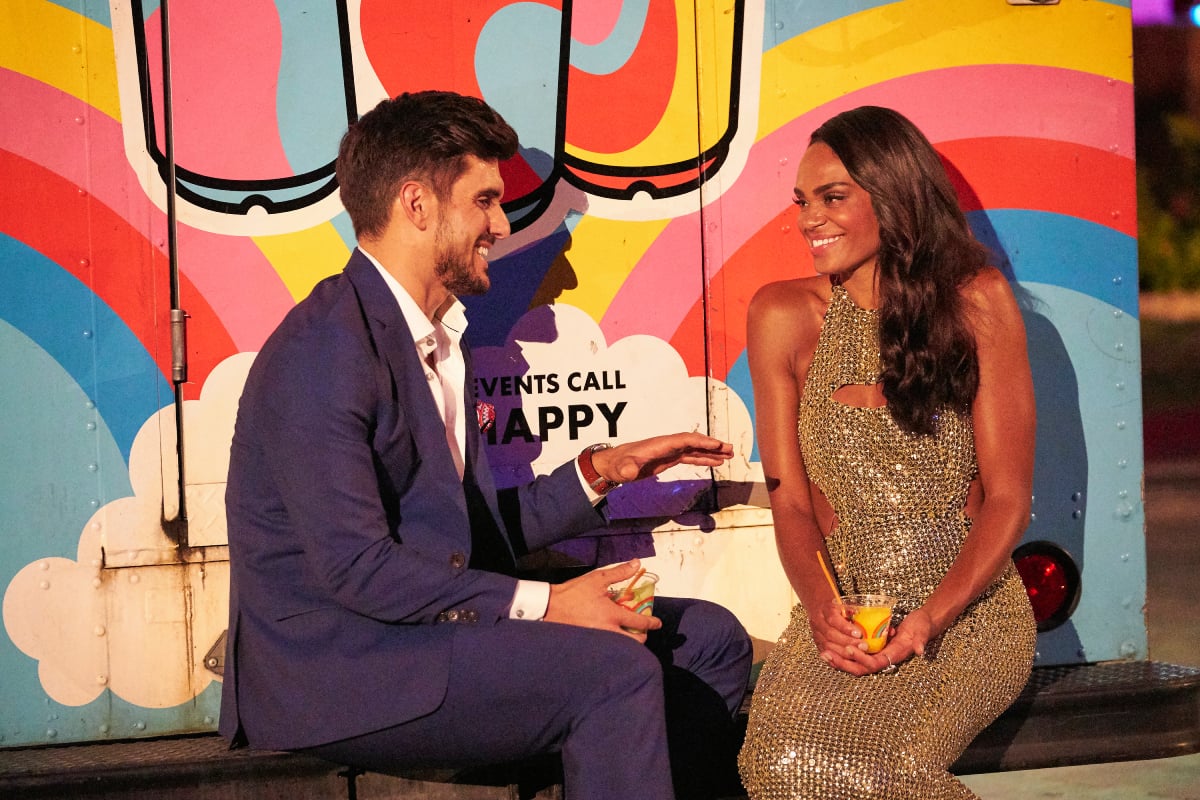 Ryan Fox creeped everyone out with his playbook for Michelle Young's season of 'The Bachelorette'
Ryan was one of 30 men vying for Michelle's heart this season on The Bachelorette, but he quickly became the early villain. Before Michelle met the men, new co-hosts Tayshia Adams and Kaitlyn Bristowe did a little snooping around in the men's hotel rooms. It was all in good fun, and we're pretty sure they were just trying to find something to tease the men about. However, the night took a hard left turn when they discovered a full-blown playbook planning out one contestant's every move.
Ryan brought along a couple of folders with notes and strategies about handling his time on Michelle's season, and it was more than a little weird. First of all, he labeled one folder "The Bachlorette," but then another section was labeled "STrategy." 
Listen, we know a typo can happen to the best of us, but we were disappointed in the lack of editing on his part. However, we will give him credit for his attempted drawing of a rose. It's the effort that counts.
Former 'The Bachelorette' contestants Jason Tartick and Mike Johnson were called out in Ryan Fox's notes
As if "planning your every move" wasn't odd enough, Ryan went on to mention actual names of previous contestants and what traits he should or should not emulate of theirs. Jason Tartick was a suitor on The Bachelorette Season 14 with Becca Kufrin, but apparently, he didn't leave much of an impression on Ryan.
Ryan's notes read, "Jason Tartick – not your typical Bachelor" and "wasn't a standout." 
However, Jason wasn't the only former contestant mentioned. Mike Johnson appeared on Hannah Brown's season of The Bachelorette, but Ryan only listed him as having one skill. 
Ryan wrote, "Mike Johnson – Has major swagger."
To be fair, that's not a bad skill to have, but where will it take him in life? Ryan was probably right to be cautious. 
The best part of the night, though, was when both former Bachelorette contestants noticed their names and clapped back at Ryan and his spreadsheets. First, Jason simply wondered, "Why the hell was my name on that piece of paper?" We can't blame him because all of Bachelor Nation was wondering this as well. That wasn't all, though. Next up, he tweeted, "Who to emulate? 'Not your typical bachelor?' 'Wasn't a standout'…Ryan should I be offended or flattered?"  
Mike, on the other hand, wasn't sure how to feel. His tweet read, "Idk if I should feel offended bc I only have one skill lol or is this a proud moment." 
Ryan Fox did at least seem genuine in his explanation to Michelle Young
When Tayshia and Kaitlyn found the playbook in Ryan's room, they pulled Michelle to the side to let her know. Michelle quickly asked Ryan if they could talk and asked him to show her the notes. Fans could tell the contestant was obviously nervous, but Michelle didn't let him off the hook that easily. 
Once she took a look at the spreadsheets and notes, she told Ryan she couldn't dismiss such big red flags, and she would escort him out. He explained that his friend's wife wrote those all out for him because he wasn't all that familiar with The Bachelorette, and he did seem genuine. Ryan did say he loves spreadsheets in his ABC bio, though. It looks like Bachelor Nation might not ever know.
To keep up with all the drama on Michelle's season of The Bachelorette, be sure to tune in every Tuesday on ABC. And, of course, you can always come to Showbiz Cheat Sheet for the latest coverage.