'The Bachelorette': Jed Wyatt Is Clapping Back at His Haters on Instagram After Posting a Loving Message to His Girlfriend
Bachelor fans are excitedly keeping up with Peter Weber's season. And while there's plenty of drama already in the house, Weber made it clear that he fears the women who are fighting for his love aren't being totally genuine with him, as he saw firsthand what occurred with Jed Wyatt on Hannah Brown's season.
We know Brown chose Wyatt in the end, and they got engaged on the show. But it was later revealed that Wyatt chose to use The Bachelorette as a platform to launch his music career, which certainly didn't fare well with fans.
Now, Wyatt has a new love in his life — and he just added a special post dedicated to her on Instagram. While his followers are still dragging him, he's unafraid to clap back.
Jed Wyatt is still getting dragged on Instagram for using 'The Bachelorette' to launch his music career
It's unfortunate that some contestants on The Bachelor and The Bachelorette only use the show to bring them fame, but it does happen. And that seemed to be the case for Wyatt. Wyatt's ex-girlfriend, Haley Stevens, came forward to the press after the season ended to speak her truth — and she alleged that she and Stevens were still very much in a relationship when he left to be on the show.
"I look back now and I'm like, 'Why did you do that, Haley? Why did I not just walk away?' But when you're in the thick of it, it seems you're doing the right thing for the person that you love," she told Us Weekly.
When Wyatt returned from The Bachelorette, he ghosted Stevens completely until later running into her at a music festival. And of course, the truth came out and reached Brown, which caused her to promptly dump him.
He recently posted a sweet message about his girlfriend, Ellen Decker
Despite the sins of his past, Wyatt is looking forward to a bright future. While there isn't much content about Brown on his Instagram, he's posting plenty about his new girlfriend, Ellen Decker.
Back in November 2019, he posted his first photo with Decker to Instagram. And since then, he's shared just how much he adores his new woman. Now that Wyatt recently turned 26 years old, he also took to Instagram on Jan. 20 to publicly celebrate his birthday and give Decker a special shoutout for being the woman of his dreams.
"I can't thank God enough for putting you in my life, Ellen. You are the true definition of a beautiful soul, inside and out," he captioned his post. "Thank you for making my birthday so special. I love you, so much and I can't wait to come see you in the warm weather. … This was such a special birthday. Getting to bring in 26 with some of the most incredible people in the world."
Wyatt's clapping back at all the hate he's getting from the post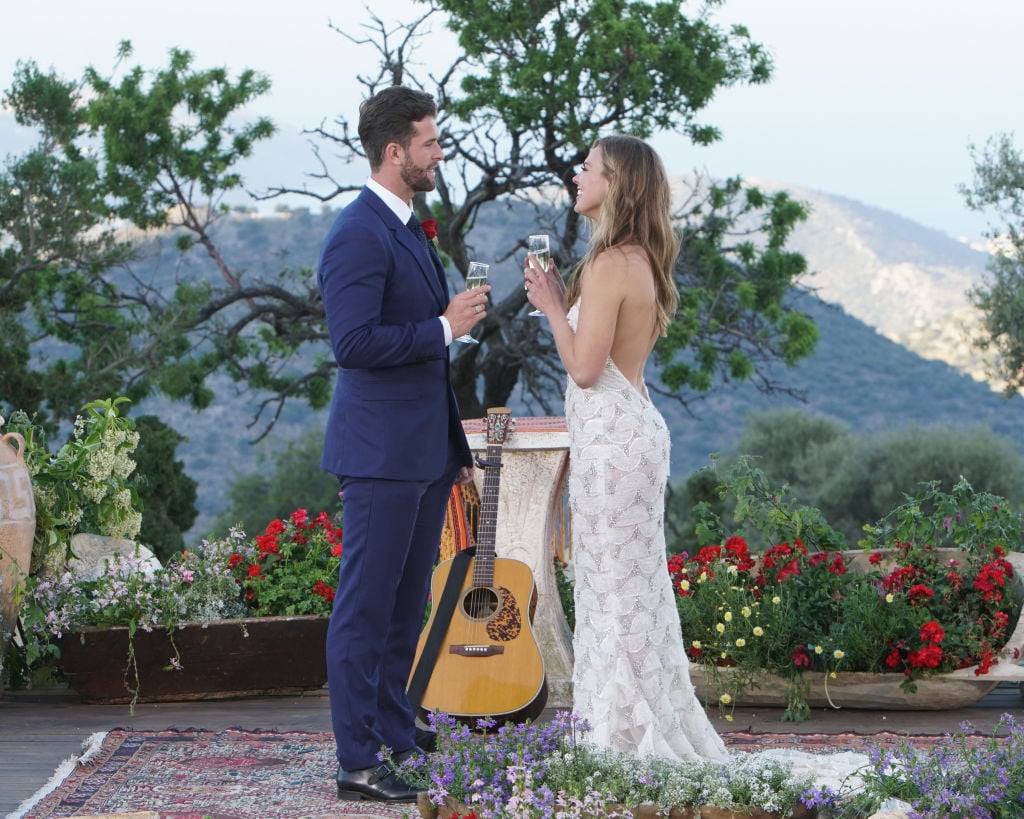 Wyatt may be ready to put the past behind him and get on with his new girlfriend, budding music career, and 26th year of life. But his Instagram followers won't ever let him forget his wrongdoings. They took to his post to slam him — but Wyatt didn't shy away from clapping back.
One follower commented, "girl RUN."
To that, Wyatt wrote back, "get a life."
Another follower mocked, "How's that music career going."
Wyatt didn't let this go, either. He replied back on the thread, "regardless of what I've done, do, or will do, you're always going to be a reality tv junkie."
When another commented, "You're only 26?!" many others added their own snide remarks regarding how they feel Wyatt looks much older.
Wyatt didn't let it get to him, though. At first, he commented back, "Ikr!" And he then added, "26 and two days actually."
We're not sure if all his commenting back is winning him any new fans or just pushing his followers to keep slamming him. One thing's for sure: Wyatt will forever go down in Bachelor history as the man who broke Brown's heart. And for that, he might never be forgiven.
Check out Showbiz Cheat Sheet on Facebook!