'The Bachelorette': Justin Glaze Says Greg Grippo Has an Alter Ego
Greg Grippo became known as "Gaslighting Greg" after he decided to leave Katie Thurston's season of The Bachelorette during his Hometown date. According to Justin Glaze, another man from Thurston's season, Grippo has an alter ego. But it's not what Bachelor Nation might think.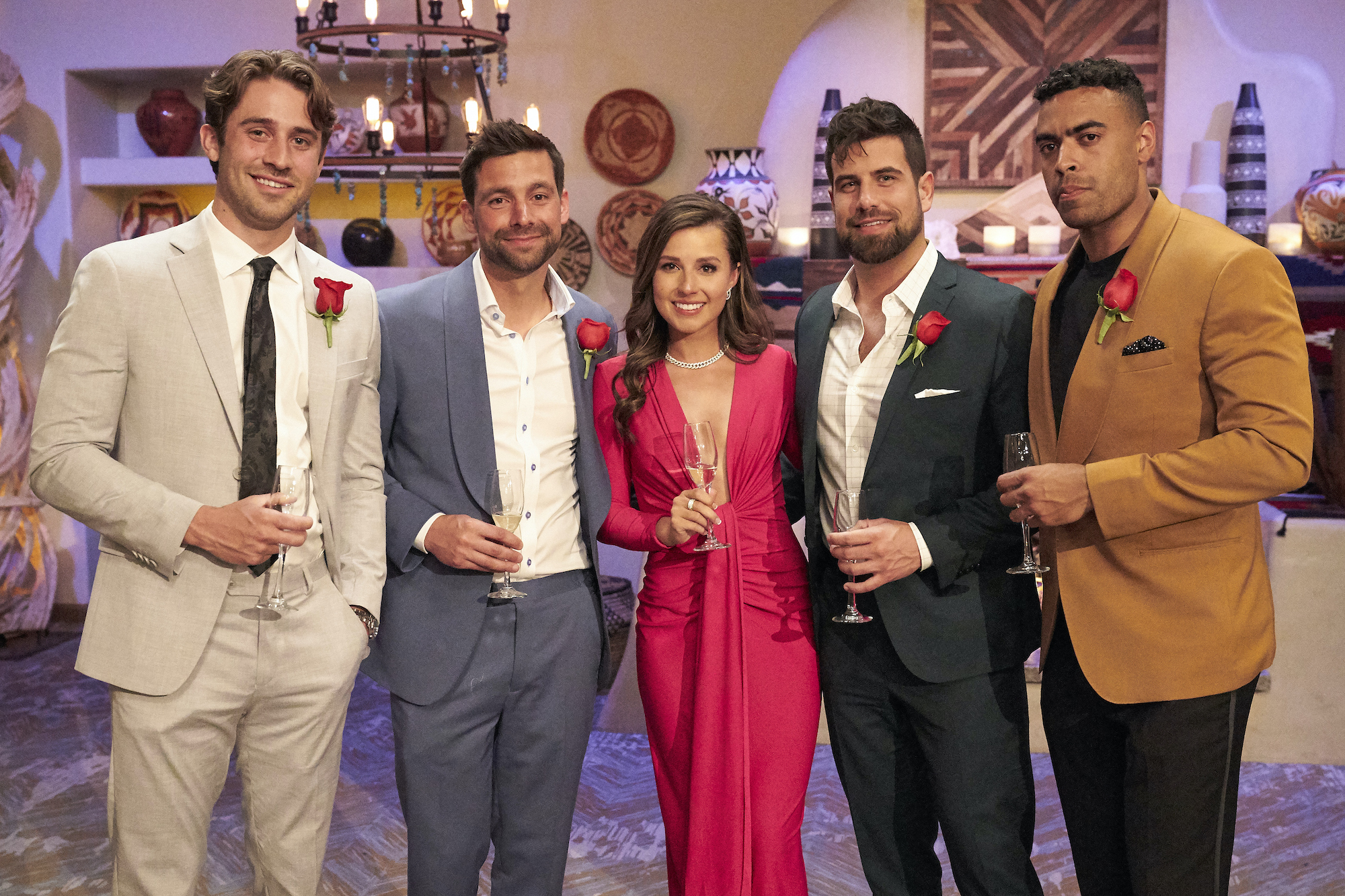 Katie Thurston says Greg Grippo was 'gaslighting' her on the show
When Grippo decided to leave the show during his hometown date, Thurston was utterly shocked. "I feel blindsided right now," she said during the episode. "Today, I'm heartbroken and defeated. It's just this unnatural feeling of, like, trying to fall in love, but also dealing with the biggest heartbreak of your life. It just feels like it's all for nothing."
Grippo left because he didn't feel validated by Thurston. But during The Bachelorette finale, Thurston explained the many times she validated their relationship.
She also called Grippo out for allegedly using the show as a platform to kickstart his acting career. While Grippo did attend acting school in the past, his passions lie elsewhere, according to Glaze.
Greggory James is Greg Grippo's poet alter ego
"Greg has an alter ego, Greggory James," says Glaze in the "Justin Time" episode of The Ben and Ashley I. Almost Famous Podcast. "Greggory James is a prolific poet." As Glaze points out on the podcast, all of the poems Grippo would come up with were "fire." Often, Grippo's poems related to what was going on in the house. 
"They'd be so dumb that you're like 'This is a masterpiece,'" Glaze explains. "You would ask [Grippo] to recite [a] poem [and] he wouldn't do it until he was ready to. You would ask him to write one and he would be like, 'The time is not now.' You don't question Greggory James." 
Glaze recalls a time when he begged Grippo to write a new poem for him. "Come now," Glaze recalls Grippo saying in his Greggory James voice from "around a corner." Glaze ran, knowing Grippo was ready to recite an eloquent piece. 
"He drops the pen, flips his hair, and walks off," Glaze says after Grippo finished his performance. "I think I like Greggory James more than I like Greg. Say what you want about Greg, but get to know Greggory James." 
Greg Grippo and Justin Glaze remain close after 'The Bachelorette'
Like most of Bachelor Nation, Glaze was shocked when Grippo decided to leave Thurston's season. "I've tried to look at it from both lenses," Glaze says of Grippo's conversation with Thurston. Glaze thinks Grippo is a passionate man who was so invested in his relationship with Thurston and that's what drove his reaction that night. 
"There's no script to this," he adds. "You act off of emotion. You act in the moment, and sometimes you say and do things you might regret." Glaze thinks Grippo's past trauma and the high-stress environment in which he was trying to form a relationship with Thurston weighed heavily on his reaction. 
RELATED: 'The Bachelorette': Greg Grippo Was Almost on Becca Kufrin and Clare Crawley's Seasons Before Starring in Katie Thruston's
"Greg is one of my absolute best friends," Glaze shares. Not only were they close during their time on The Bachelorette, but the two remain friends to this day. "He's a really good dude." 
Grippo did not apologize to Thurston during the finale. But Grippo has since admitted his actions were child-like and said his reaction wasn't fair to Thurston. Perhaps a poetic apology is in Thurston's future.