'The Bachelorette': Katie Thurston and Andrew S. Get Real About Race and Their Future Children
Last night's episode of 'The Bachelorette' featured one of the most thoughtful conversations about race and interracial dating in the show's history.
In the past, The Bachelorette hasn't necessarily done a stellar job dealing with race relations. From a lack of diversity among the cast to Rachel Lindsay's claims of production not casting Black men who were into Black women during her season, the show has been called out several times for its lack of care when it comes to race. However, on last night's episode of The Bachelorette, viewers saw the show take a more enlightened route in a conversation about race.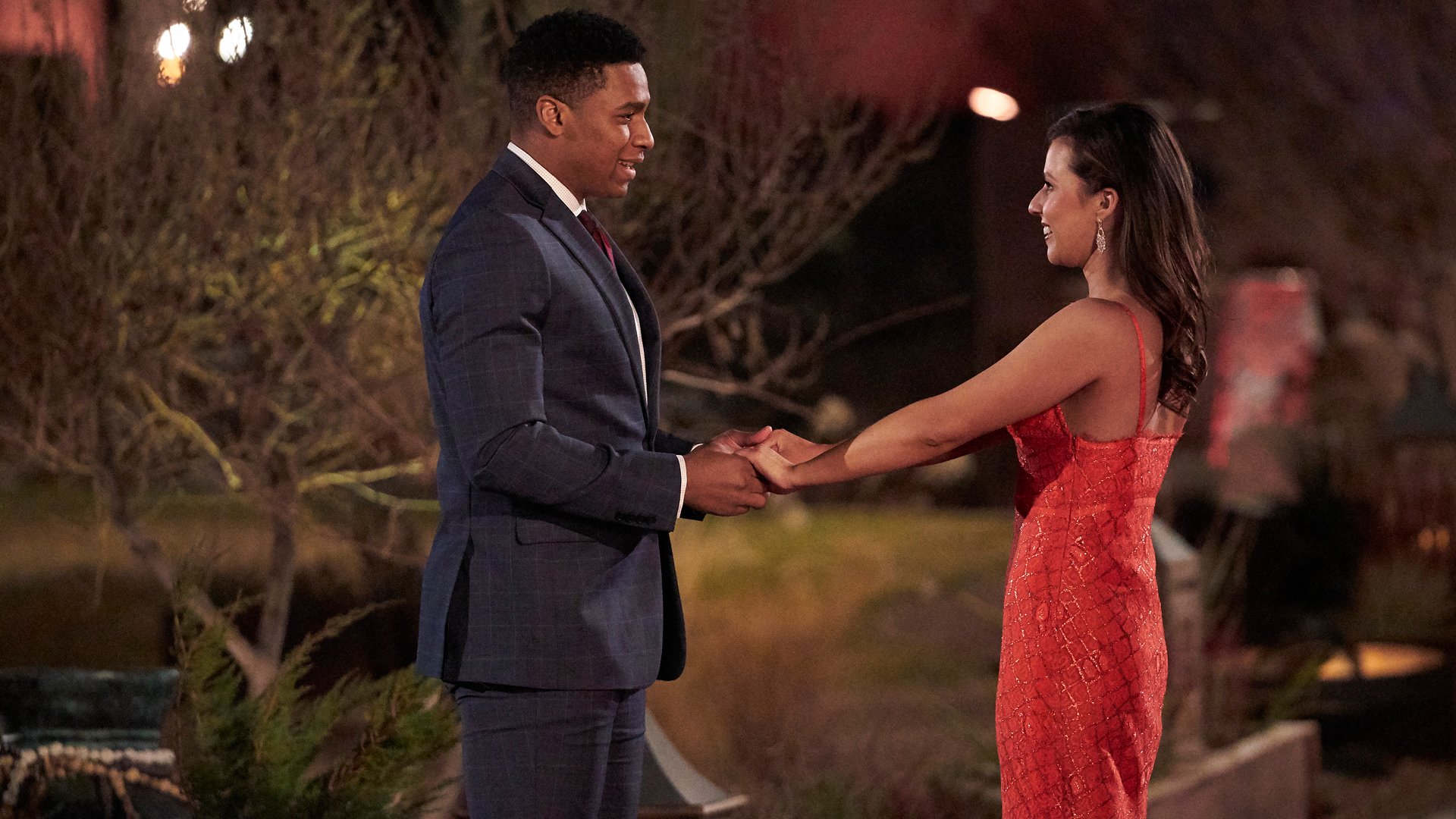 Andrew S. and Katie Thurston talk about race on 'The Bachelorette'
Andrew Spencer received the second one-on-one date on last night's episode. Prior to the date, fans had not seen much of Spencer throughout the season. While sitting with Bachelorette Katie Thurston, Spencer brought up interracial dating.
"I hate that I even have to have this conversation because I don't want to, but the fact that I am, it's because I do truly see, you know, something between us," he told her. "And I am a Black man. And you are a white woman, and interracial couples, there's things that, you know, people look at differently."
He then revealed that the woman he had almost proposed to had concerns about having mixed children.
"I know her heart, and I know her character," he said of his ex. "She's not racist or anything, but she was worried about going to a grocery store and someone asking, 'Are these your kids?' And they'd not look like her. And it was tough for me, you know? That was a woman that I thought, you know, I was gonna propose to soon. And hearing that, it was tough, you know?"
Thurston took the conversation in stride and gave a thoughtful answer.
"That, like, breaks my heart to hear that you experienced that," she said. "I feel so naive as a white woman of the struggles that you experience as a Black man, especially a Black man trying to date a white woman. Know that, for me, I think our love could be so beautiful, and our children would be just as beautiful as that love, and I don't give a f— when people want to look at me."
Spencer said that was exactly the kind of relationship he was looking for and Thurston continued to reassure him.
"Know that that has never crossed my mind, and maybe that's because I'm naive as a white woman, you know, but, and maybe that's just in the community that I live in, but I never had to think that way because, to me, all I want in life is love," she said. "You know, all I want is to have a beautiful family regardless of how they look."
'The Bachelor' has let fans down about race in the past
This conversation, though tough, was a breath of fresh air for fans coming off of Matt James' season of The Bachelor, where race was a huge issue but wasn't discussed until the last moment. While on James' season, contestant Rachael Kirkconnell had photos of her at an Old South party surface. She waited for weeks to make a statement about the photos and only spoke after host Chris Harrison defended her and was met with extreme backlash. James ended up with Kirkconnell, leaving some audiences feeling like the race issue had just been glazed over.
All three Black leads of The Bachelor and The Bachelorette have ended up with partners who were not Black, however, this was one of the first times that the intricacies of interracial dating were spoken about on the show.